EduClips: Was this Florida's Most Stressful School Year?; In CA Governor's Race, Newsom and Cox Offer Differing Views on Education — and More Must-Reads From America's 15 Biggest School Districts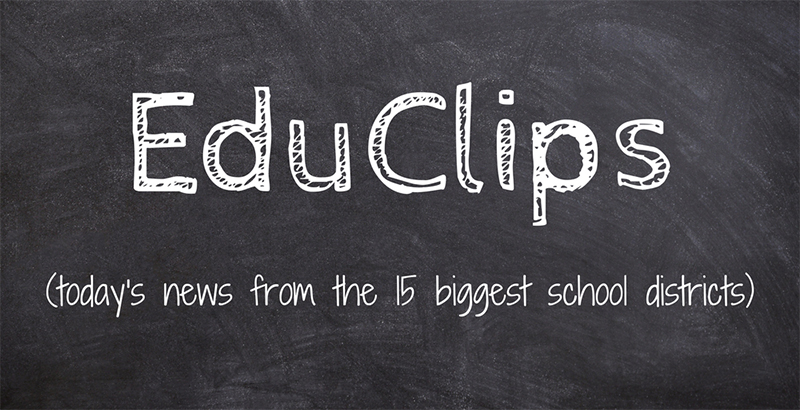 EduClips is a roundup of the day's top education headlines from America's largest school districts, where more than 4 million students across eight states attend class every day. Read previous EduClips installments here. Get the day's top school and policy news delivered straight to your inbox by signing up for the TopSheet Education Newsletter.
Top Story
SCHOOL FUNDING — No matter how much they need, schools can only spend what they have — and that finite pot of money depends on broader economic and political factors largely beyond their control.
So when it comes to spreading nearly $648.6 billion in state, local, and federal education aid across the national landscape, there are bound to be big holes in the funding bucket, even in a generally resurgent economy.
And the pictures that emerge from disparate spending decisions by states and districts can be striking: students shivering in poorly heated classrooms or sweltering without air conditioning; viral posts of taped-up textbooks, outdated computers, and overcrowded classrooms; teachers striking and rallying in multiple states under the banner of higher pay and additional school funding.
The nation as a whole earns a nearly failing D-minus grade on school spending from the Education Week Research Center in the Quality Counts 2018 school finance report, based on several indicators that include per-pupil spending and the proportion of taxable resources they devote to K-12 education. (Read at Education Week)
National News
SPECIAL EDUCATION — Special Education Students on the Rise (Read at U.S. News and World Report)
SCHOOL SAFETY — Federal School Safety Commission Holds First Public Session. DeVos Wasn't There (Read at NPR)
SCHOOL FUNDING — State Grades on School Finance: Map and Rankings (Read at Education Week)
DEVOS — Education Secretary Betsy DeVos stirs confusion, faces criticism over gun remarks (Read at The Washington Post)
SUMMER SLIDE — How a North Carolina District Is Using ESSA's Support for Family Engagement to Give Students 120,000 Books to Help Combat Summer Slide (Read at The74Million.org)
District and State News
FLORIDA — From Hurricane Irma to Parkland, was this the most stressful school year? (Read at the Miami Herald)
TEXAS — Should Texas districts partner with charter operators to save failing schools? (Read at the Texas Standard)
CALIFORNIA — In race for governor, Newsom and Cox offer competing views on California education (Read at EdSource)
ILLINOIS — CPS inspector general wants to take over student abuse investigations (Read at the Chicago Sun-Times)
NEW YORK — In a Twist, Low Scores Would Earn Admission to Select Schools (Read at The New York Times)
FLORIDA — Miami Beach Will Be First in County to Have City Officers at Public Schools (Read at CBS Miami)
NEW YORK — The Search for Diverse Schools That Perform (Read at The Wall Street Journal)
NEVADA — CCSD schools cut French and other electives to help bridge budget gap (Read at the Las Vegas Sun)
TEXAS — Texas Education Agency sets rules on how to exempt Hurricane Harvey–affected districts from state ratings (Read at the Texas Tribune)
PENNSYLVANIA — Action, not just talk, needed to save Philly kids from toxic schools | Opinion (Read at The Philadelphia Inquirer)
CALIFORNIA — L.A.'s school board president wants every district graduate to be eligible for a four-year public university by 2023 (Read at the Los Angeles Times)
Think Pieces
INNOVATION — Thrive Schools: How an Innovative California Charter Network Grew to 700 Students & 4 Campuses in Only 4 Years Through a Focus on Math, Literacy & 'the Light of Kindness' (Read at The74Million.org)
GREEN BUILDINGS — Schools lead the way to zero-energy buildings, and use them for student learning (Read at The Hechinger Report)
INTEGRATION — Can lowering class size help integrate schools? Maybe, according to new research (Read at Chalkbeat)
STEM — Oklahoma externship pays teachers for hands-on experience in engineering and science (Read at The Hechinger Report)
Quote of the Day
"I wish I had known that, even though we're doing big things for kids, that people would dislike us because we have the name 'charter' attached to us. That was shocking to me." —Nicole Assisi, founder and CEO of Thrive Public Schools (Read at The74Million.org)
Want the day's top school and policy news delivered straight to your inbox — for free? Sign up for the TopSheet Daybreak Education Newsletter.
Support The 74's year-end campaign. Make a tax-exempt donation now.