How a North Carolina District Is Using ESSA's Support for Family Engagement to Give Students 120,000 Books to Help Combat Summer Slide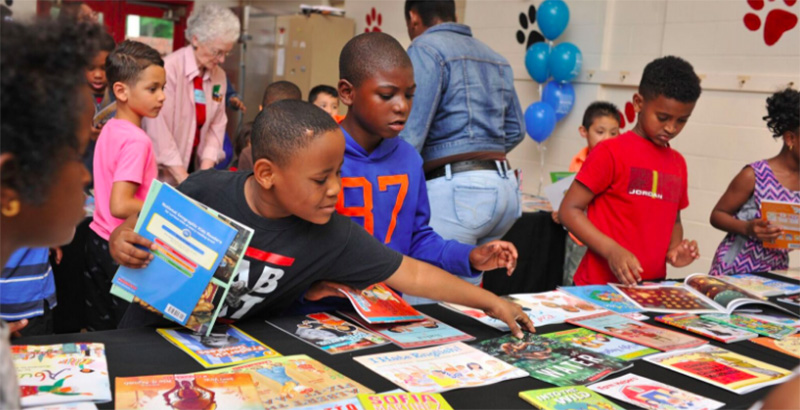 It was like she had told a roomful of adults they had won the lottery.
That's how loud Superintendent Sharon Contreras said her students cheered when she told them they'd each be taking home a handful of new books to read over the summer.
The North Carolina educator runs the Guilford County School District, and this summer, her team is making a large investment to combat summer slide — the loss of academic gains that can occur over idle summer months. More than 20,000 students in the 49 Title I elementary schools will select six books to keep before heading home for the summer, in a new program called "Break with a Book."
Integral to the district's plan to combat loss of learning is an effort to include families, inspired by the Every Student Succeeds Act's renewed support of family engagement. Guilford County parents are encouraged to read with their children, ask comprehension questions, and attend summer engagement events at local schools or libraries to help their kids record the number of books they read in exchange for prizes (like glow-in-the-dark slime).
"We think it's important that reading is a family endeavor and that we're encouraging our parents to read, the older siblings to read, and the younger children in our households to begin the process of literacy," Contreras said. "It will strengthen [familial] bonds and strengthen the learning process."
Research has found that students can lose one month of learning during the summer, when they are not in school — a loss that is usually more extreme for math than for reading. But the research also found that while middle-class students can increase their reading over the summer, poorer students can fall further behind. This is sometimes referred to as the enrichment gap, as wealthier students head to expensive summer camps or learning programs that children from low-income households can't afford.
A study from New York University examining book deserts found that many children living in high-poverty areas had limited or even no access to children's books in their neighborhoods.
The Guilford County district was inspired to create the summer slide program after receiving calls from parents who asked what their children should do during vacation to prepare for the following year, said Lindsay Whitley, director of Guilford Parent Academy, which cultivates family involvement for the district.
In the last few weeks before the final day of class June 12, families were invited to kickoff events at school, usually linked with an academic assembly, where their children got to select six books to bring home.
"Part of the Every Student Succeeds Act discusses the importance of engaging families in the educational process and collaborating with families," Whitley said. "We're … not just planning things for parents but making sure they are part of the planning process."
The district made a concerted effort to offer a range of books with characters who represent the diversity of its students, including titles such as Niño Wrestles the World, Lola Levine Is Not Mean!, and Looking Like Me.
The district used Title I funds to purchase more than 120,000 books, for a total cost of about $300,000.
Home-based reading interventions have proved to be cost-effective in addition to helping prevent a loss of learning over summer months. David Quinn, assistant professor of education at the University of Southern California, conducted a meta-analysis of school- and home-based summer reading programs and found that they improve reading achievement, especially for low-income students who are at more risk of falling behind their peers.
"The less access students have to books, the less able they are to read," Quinn told The 74. "For students with less access, these programs are the most important."
But to be effective, they can't simply hand books to students without direction, Quinn said. Instead, the best programs match students' reading levels to the books, provide books that are aligned with student interests, and are connected with a reading routine, like answering comprehension questions.
Based on her students' enthusiastic reaction to the free books, Contreras said she is confident students and families will engage with reading over the summer and make their way to local libraries and schools for the community events.
"At the end of the day, we're setting a culture and expectation for a love of reading," Whitley said. "That's what we're asking parents to help us do."
Get stories like these delivered straight to your inbox. Sign up for The 74 Newsletter