EduClips: TX District Accepts Gun Donations After Santa Fe High Shooting; Trump Signs CTE Bill — and More Must-Reads From America's 15 Biggest School Districts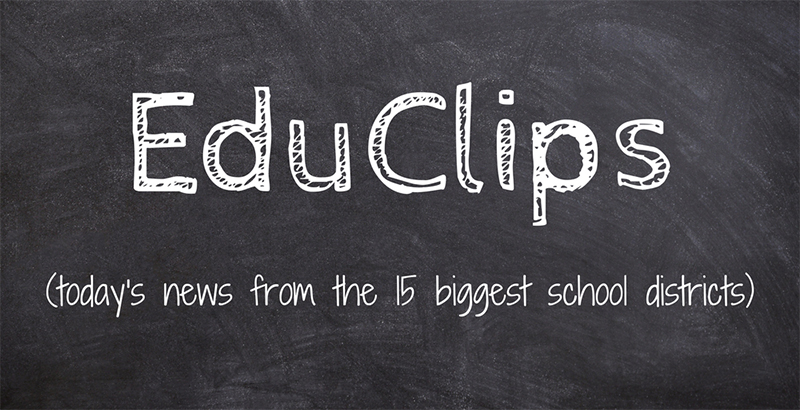 EduClips is a roundup of the day's top education headlines from America's largest school districts, where more than 4 million students across eight states attend class every day. Read previous EduClips installments here. Get the day's top school and policy news delivered straight to your inbox by signing up for the TopSheet Education Newsletter.
Top Story
CAREER & TECHNICAL EDUCATION — In a watershed moment for his administration on education policy, President Donald Trump on Tuesday signed the Strengthening Career and Technical Education for the 21st Century Act, according to senators who attended the signing, the first legislation Trump has signed that makes significant changes to federal education law itself.
The legislation is a reauthorization of the Carl D. Perkins Career and Technical Education Act, a $1.2 billion program last overhauled by Congress in 2006. The new law allows states to set their own goals for career and technical education programs without the education secretary's approval, requires them to make progress toward those goals, and makes other changes to federal CTE law.
Career and technical education is attracting new attention and support, but it's also facing new challenges as programs try to evolve to meet changing labor force demands. (Read at Education Week)
National News
CHRONIC ABSENTEEISM — With Nearly 8 Million Students Chronically Absent From School Each Year, 36 States Set Out to Tackle the Problem in New Federal Education Plans. Will It Make a Difference? (Read at The74Million.org)
SCHOOL SAFETY — Could 3D-Printed Guns Bypass Policies Designed to Keep Schools Safe? (Read at Education Week)
LEBRON JAMES — Inside LeBron James's New $8 Million Public School, Where Students Get Free Bikes, Meals, and College Tuition (Read at Money Magazine)
TEACHER SHORTAGES — Here's How Sen. Tim Kaine Wants to Fix Teacher Shortages, and Why It's Tricky (Read at Politics K-12)
District and State News
TEXAS — Texas district accepts gun donations after school shooting (Read at Education Week)
ILLINOIS — Chicago Watchdog Reveals Tainted Alternative School Bids (Read at U.S. News and World Report)
NEW YORK — Can a proposal to expand gifted classes help integrate New York City's specialized high schools? (Read at Chalkbeat)
TEXAS — Texas schools don't comply with voter registration law, study finds (Read at the Houston Chronicle)
FLORIDA — Study: Florida's education system is a lot better than you probably think (Read at the Orlando Business Journal)
NEW YORK — Pols and activists rally against Mayor de Blasio's desegregation plan for elite public schools (Read at the New York Daily News)
PENNSYLVANIA — Sick kids, hazardous classrooms: The solution requires better planning for Philly's schools | Opinion (Read at The Philadelphia Inquirer)
CALIFORNIA — Two events frame California educational crisis (Read at CAL Matters)
FLORIDA — Broward School Board approves $15 million in budget cuts (Read at the South Florida Sun Sentinel)
CALIFORNIA — San Jose Charter School Delays Opening Over Location Dispute (Read at Mercury News)
Think Pieces
'PORTFOLIO' MODEL — With big names and $200 million, a new group is forming to push for the 'portfolio' model (Read at Chalkbeat)
TESTING — We All Need to Get Smarter About Testing (Read at Education Week)
TEACHER RESIDENCIES — LiBetti: Teacher Residencies Can Help School Districts Flex Their Market Muscle and Get the Educators They Need (Read at The74Million.org)
SMARTPHONES — French to ban smartphones in schools (Read at CNET)
ED TRENDS — Pearson's Former Product Chief Reflects on the 4 Megatrends Shaping Global Education (Read at EdSurge)
Quote of the Day
"If I'm a principal, or a teacher, or a superintendent, does this accountability index help me direct my limited resources — which I always have — and help me make decisions? At the end of the day, from a user perspective, [whether this is] helping stakeholders … that's what's getting really murky." —Anne Wicks, director of education reform at the George W. Bush Institute, on vagueness in state plans under the Every Student Succeeds Act. (Read at The74Million.org)
Want the day's top school and policy news delivered straight to your inbox — for free? Sign up for the TopSheet Daybreak Education Newsletter.
Get stories like these delivered straight to your inbox. Sign up for The 74 Newsletter