EduClips: Two Students Join Philadelphia School Board; Culture Wars Play Out in Texas Classrooms — and More Must-Reads From America's 15 Biggest School Districts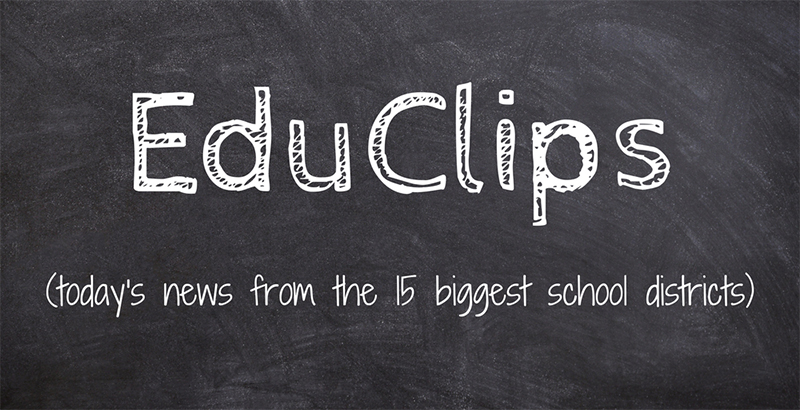 EduClips is a roundup of the day's top education headlines from America's largest school districts, where more than 4 million students across eight states attend class every day. Read previous EduClips installments here. Get the day's top school and policy news delivered straight to your inbox by signing up for the TopSheet Education Newsletter.
Top Story
FUNDING —The Senate has approved a spending package that contains funding increases for prominent education programs focusing on disadvantaged students and special education, among several others.
Senators voted overwhelmingly on Tuesday in favor of the legislation, which was crafted and approved by House and Senate appropriations leaders last week. The bill for fiscal 2019 includes a $581 million increase in total U.S. Department of Education spending over current levels for fiscal 2018. (That figure does not include a provision that rescinds $600 million from reserves for Pell Grants for college students from low-income backgrounds.) Title I and career and technical education grants would get relatively small increases, as would aid to charter schools and a block grant districts can use to help create safe schools. (Read at Politics K-12)
National News
SCHOOL SECURITY — After Recent School Shootings, Teachers Ask Public for Help Buying Safety Supplies (Read at Education Week)
21ST CENTURY SCHOOLS — Look Overseas to Find Keys to 21st Century Schools, Expert Says, More Choice, Strong Accountability, and High-Stakes Tests for Students, Not Teachers (Read at The74Million.org)
District and State News
PENNSYLVANIA — The Philly school board is getting 2 new members. They're 17. (Read at the Philadelphia Inquirer)
TEXAS — Classrooms: the latest battleground in Texas's culture wars (Read at The Guardian)
FLORIDA — How are Ron DeSantis and Andrew Gillum different? Look at their education plans. (Read at the Tampa Bay Times)
CALIFORNIA — California Gov. Brown signs bill banning for-profit charter schools. But will it really do that? (Read at The Washington Post)
PUERTO RICO — Puerto Rico's beleaguered public schools face controversial reform after Hurricane Maria (Read at PBS Newshour)
CALIFORNIA — How LAUSD's superintendent intends to make every school 'a place of great teaching' (Read at LA School Report)
NEW YORK — For the first time in two decades, New York's Teacher of the Year hails from New York City — and West Africa (Read at Chalkbeat)
ILLINOIS — Illinois schools have installed active-shooter alarms — will that do anything? (Read at Yahoo! News)
NEW YORK — Another year, another set of NYC school bus fiascos (Read at the New York Post)
NEVADA — DNA linked Clark County school bus driver to sexual assaults (Read at the Las Vegas Review-Journal)
Think Pieces
GRADE INFLATION — Study: Grade Inflation More Prevalent at Wealthy Schools, Where Parents Have Greater Ability to Game the System (Read at The74Million.org)
SCHOOL LUNCH — A benefit of free lunch for all: fewer students get repeatedly suspended, new study suggests (Read at Chalkbeat)
SCOTUS — The Power of the Supreme Court Inside America's Schools (Read at The New York Times)
BURN VICTIMS — Rotherham: Inside a Very Special Summer Camp for Young Burn Survivors — Where Every Kid Gets to Be a Kid for at Least One Week a Year (Read at The74Million.org)
Quote of the Day
"Last week was a perfect demonstration of why it's a really bad idea for politicians to write curriculum standards that guide what public schools teach. Because then you end up with history that's decided by a majority vote instead of by facts and historical accuracy. But that's what we've got in Texas, unfortunately." —Dan Quinn of the Texas Freedom Network, a left-leaning advocacy group, on the decision to excise Hillary Clinton, Helen Keller, and Barry Goldwater from Texas's history curriculum. (Read at The Guardian)
Want the day's top school and policy news delivered straight to your inbox — for free? Sign up for the TopSheet Daybreak Education Newsletter.
Support The 74's year-end campaign. Make a tax-exempt donation now.