EduClips: The Secret of Chicago Schools' Success; Post-Parkland, an Increase in Threats to Schools — and More Must-Reads From America's 15 Biggest School Districts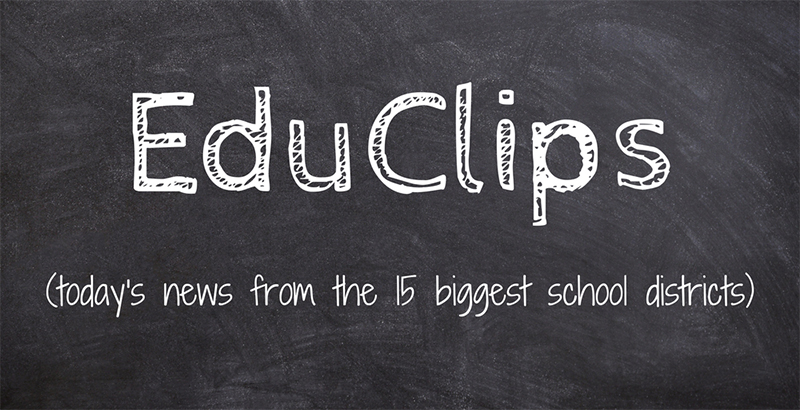 EduClips is a roundup of the day's top education headlines from America's largest school districts, where more than 4 million students across eight states attend class every day. Read previous EduClips installments here. Get the day's top school and policy news delivered straight to your inbox by signing up for the TopSheet Education Newsletter.
Top Story
SCHOOL SAFETY — Two months ago today, a shooter killed 17 students and teachers at Marjory Stoneman Douglas High School in Parkland, Florida.
After the tragedy, threats to schools across the country rose. In the month following, there were about 70 threats to schools per day. In the 59 days since the shooting, there have been almost 1,500 threats to schools across the country. And those numbers are likely under-reported, according to the group that tracks them, the Educator's School Safety Network.
The total includes gun threats, bomb threats, or even vague, "unspecified" threats to public and private schools, including colleges and universities. (Read at NPR)
National News
AMERICA'S SCHOOLS — 25-Year-Old Textbooks and Holes in the Ceiling: Inside America's Public Schools (Read at The New York Times)
TEACHER PROTESTS — After walkouts, U.S. teachers eye elections for school funding gains (Read at Reuters)
DEVOS — Betsy DeVos Has Been Scarce on Capitol Hill; Why Is That? (Read at Politics K-12)
NAEP — Florida Reforms Paying Off, DeVos Says, Citing Otherwise Dismal NAEP Results at 'Nation at Risk' Summit (Read at The74Million.org)
KY TEACHER PROTEST — Kentucky governor apologizes for comments suggesting kids were sexually assaulted while teachers protested (Read at The Washington Post)
District and State News
ILLINOIS — The Secret to Chicago's School Success (Read at U.S. News and World Report)
TEXAS — Texas State Board of Education approves Mexican-American studies course under controversial title (Read at KVUE)
FLORIDA — Kids are suing Gov. Rick Scott to force Florida to take action on climate change (Read at the Miami Herald)
NEW YORK — Computer testing snafu prompts outrage from N.Y. school officials (Read at the New York Daily News)
CALIFORNIA — LAUSD School Workers Vote to Authorize Strike (Read at NBC Los Angeles)
NEVADA — Ex–Clark County teacher sues school district over firing (Read at the Las Vegas Review-Journal)
TEXAS — Commentary: Texas Has Ambitious Plans to Transform Urban Schools (Read at U.S. News and World Report)
NEW YORK — Concerns about long days add to a bumpy week for New York state tests (Read at Chalkbeat)
CALIFORNIA — After Surviving Classroom Shooting, L.A. Teacher Reconsiders What School Safety Means (Read at Education Week)
ILLINOIS — LGBT courses will be added to Illinois public schools' curriculum if lawmakers approve pending bill (Read at The Blaze)
FLORIDA — New Florida scholarship aims to boost third-grade readers (Read at the Tampa Bay Times)
Think Pieces
EXECUTIVE FUNCTION DEFICITS — Study: Kids Who Struggle With Executive Function Vastly More Likely to Experience Academic Difficulties (Read at The74Million.org)
PERSONALIZED LEARNING — Don't just talk about tech: How 'personalized learning' advocates are honing their messaging (Read at Chalkbeat)
'A NATION AT RISK'  — A Nation at Greater Risk: 7 Education Secretaries Reflect on 35 Years of Students and Stumbles, With Regret and Hope (Read at The74Million.org)
AFRICAN-AMERICAN TEACHERS —  Teacher Voice: 'As a young black male, I wish I'd had more teachers who looked like me' (Read at The Hechinger Report)
Quote of the Day
"We lack of a sense of urgency. We all served at a time when we had presidents that were really using that national bully pulpit to drive closing the achievement gap. People are exhausted with education reform or feel like it's not possible to close the achievement gap. The boulder is drifting back down the hill." —Margaret Spellings, president of the University of North Carolina and former U.S. secretary of education, on the nation's attitude toward education 35 years after the publication of "A Nation At Risk." (Read at The74Million.org)
Want the day's top school and policy news delivered straight to your inbox — for free? Sign up for the TopSheet Daybreak Education Newsletter.
Get stories like these delivered straight to your inbox. Sign up for The 74 Newsletter