EduClips: The Lingering Academic Effects of Homelessness, Florida Textbook Evaluations— and More Must-Reads From America's 10 Biggest School Districts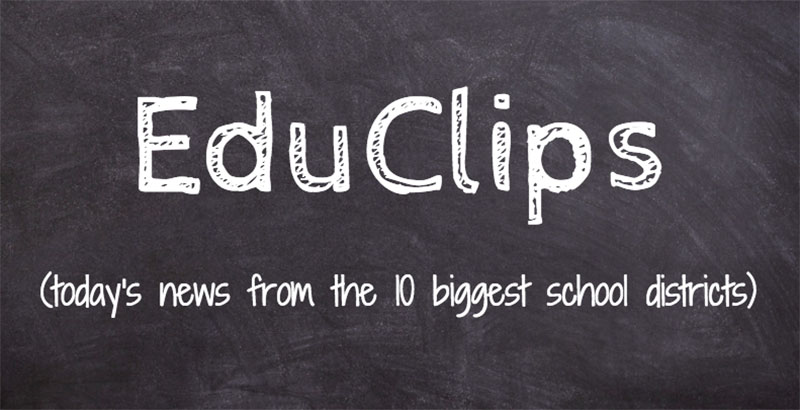 EduClips is a roundup of the day's top education headlines from America's largest school districts, where more than 4 million students across eight states attend class every day. Read previous EduClips installments here. Get the day's top school and policy news delivered straight to your inbox by signing up for the TopSheet Education Newsletter.
Top Story
HOMELESSNESS — The negative academic effects of homelessness continue long after students move into new homes, according to a study from the Education Trust-New York. Proficiency rates for formerly homeless students on state exams are nearly the same as achievement levels for currently homeless students, the study found. (Read at The New York Times)
National News
ESSA PLANS – Many State ESSA Plans Are 'Uncreative, Unambitious,' Analysis Finds (Read at Politics K-12)
BULLYING – Middle School Student Keaton Jones Exposes Bullies, And Wins Fans For His Courage (Read at NPR)
U.S. Dept. of Education  – Trump Taps Ex-Florida Chief, Lt. Governor for Top K-12 Post Under DeVos (Read at Politics K-12)
District and State News
FLORIDA — Florida Textbook Law Lets Residents Challenge School Curriculum (Read at WLRN)
ILLINOIS —  Apple CEO Tim Cook wants to teach every Chicago public school student to code (Read at USA Today)
NEW YORK — New York eases graduation requirements for students with disabilities (Read at Chalkbeat)
CALIFORNIA — How one California district narrowed its Latino achievement gap (Read at EdSource)
PENNSYLVANIA — Feds: Fake tutor defrauded Philly schools of nearly $100K (Read at Philadelphia Inquirer)
NEW YORK — New York policymakers call for $1.6B hike in school funding, as fiscal uncertainties loom (Read at Chalkbeat)
NEVADA —  A Push For Black History Month In All Clark County Public Schools (Read at OPB)
Think Pieces
INVESTMENT — Case Study: An 'Education Return on Investment' in Funding Parent Empowerment (or When Spending $1 Drives $44 in Proficiency) (Read at The74Million.org)
ARTIFICIAL INTELLIGENCE — The Solution to Our Education Crisis Might be AI (Read at Futurism)
CHARTERS — Richard Whitmire: Why I Put Myself On A Success Academy Writing Diet (Read at EduWonk)
TAX BILL — Opinion: Tax plan's proposed expansion of education savings is a game changer (Read at The Hill)
TAX BILL — Opinion: The Republican Tax Plan Is an Early Christmas Gift for Betsy DeVos (Read at Mother Jones)
Quote of the Day
"This is really challenging work. No state has seemed to figure out how to do it well, across the board, for every student, in a comprehensive manner and in a sustained way over time."— Erika McConduit, president and CEO of the Urban League of Louisiana, who help peer review second-round ESSA accountability plans. (Read at The74Million.org)
Want the day's top school and policy news delivered straight to your inbox — for free? Sign up for the TopSheet Daybreak Education Newsletter.
Get stories like these delivered straight to your inbox. Sign up for The 74 Newsletter