EduClips: Texas Conservative Group Casts Wide Net for School District Political Activity; ESSA Showdown over Vulnerable Students in FL — and More Must-Reads From America's 15 Biggest School Districts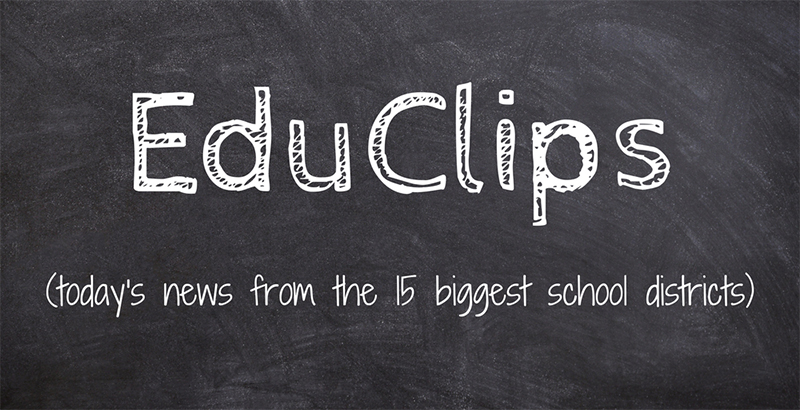 EduClips is a roundup of the day's top education headlines from America's largest school districts, where more than 4 million students across eight states attend class every day. Read previous EduClips installments here. Get the day's top school and policy news delivered straight to your inbox by signing up for the TopSheet Education Newsletter.
Top Story
SUPER BOWL REFLECTIONS — Before the Philadelphia Eagle's surprise victory yesterday, before the epic Super Bowl LII matchup with the New England Patriots even began, the first athletes out of the tunnel to play on the field was a high school football team hailing from Minneapolis, Minnesota. On Friday afternoon, the Polars of North Community High School's storied football team took to the field at U.S. Bank Stadium as part of a dress rehearsal so league camera operators could get a feel for the Minnesota Vikings' home field.
But the event masked a sobering reality: In recent years, the number of North students passing state reading and math tests has mostly been in the single digits. In 2016, just four of 54 11th-graders tested in math passed the exam, and only two of 42 10th-graders passed reading. Last year, eight sophomores out of 69 tested read at grade level, but not one junior passed the math exam. In a 74 analysis, Beth Hawkins examines the disconnect. (Read at The74Million.org)
National News
PAUL RYAN — Paul Ryan Said $1.50 More Per Week Is a Big Deal for School Secretaries. Here's the Story the Numbers Tell (Read at Politics K-12)
TEACHER APPS — Workplace: 6 top apps for teachers in 2018 (Read at USA Today)
PUERTO RICO — Crumbling Classrooms and Power Outages: Inside Puerto Rico's Storm-Damaged Schools (Read at Education Week)
SCHOOL SHOOTINGS — School Shooting Simulation Trains Teachers for the Worst (Read at The New York Times)
ESSA PILOT — Betsy DeVos Opens Up ESSA Pilot Allowing Federal Money to Follow Students (Read at Politics K-12)
District and State News
TEXAS — Conservative group casts a wide net looking for Texas school districts that get political (Read at Dallas News)
FLORIDA — Showdown in Florida Over State's ESSA Plan and Vulnerable Students (Read at Education Week)
NEW YORK — Coming to a district near you: As city expands pre-K for 3-year-olds, Major de Blasio urges families to sign up (Read at Chalkbeat)
NEVADA — Clark County schools must budget without a bottom line (Read at Las Vegas Review-Journal)
TEXAS — With Thousands Of Homeless Students, This District Put Help Right In Its Schools (Read at NPR)
CALIFORNIA — Opinion: Parents are tired of being asked for input that's just for show – school districts must give them real power to make change in the classroom (Read at LA School Report)
NEW YORK — Parents urge de Blasio to give teachers anti-bias training after cruel slavery lesson at Bronx school (Read at NY Daily News)
FLORIDA — These Students Found Their Teacher 56 Years Later (Read at U.S. News and World Report)  
CALIFORNIA — 'It's a big world out there': Teachers take math outside the classroom (Read at EdSource)
ILLINOIS — School spending per student in McHenry County ranges from $4,765 to $9,494 (Read at Northwest Herald)
Think Pieces
LISTENING — One Way to Get Your Child to Listen (Read at Wall Street Journal)
CHARTER SCHOOLS — Indiana Is Still No. 1, But Other States Are Moving Up in Annual Charter School Law Rankings (Read at The74Million.org)
STRENGTHS-BASED LEARNING — Is strength-based learning a "magic bullet?" (Read at Hechinger Report)
SCHOOL CHOICE — When School Choice Is Too Little, Too Late (Read at U.S. News and World Report)  
Quote of the Day
"A secretary at a public high school in Lancaster, PA, said she was pleasantly surprised her pay went up $1.50 a week…she said [that] will more than cover her Costco membership for the year." — A tweet from House Speaker Paul Ryan, later taken down, on the benefits of the new tax plan. (Read at Politics K-12)
Want the day's top school and policy news delivered straight to your inbox — for free? Sign up for the TopSheet Daybreak Education Newsletter.
Get stories like these delivered straight to your inbox. Sign up for The 74 Newsletter