After Super Bowl LII, These Minnesota Athletes Return to a High School Where 90% of Students Are Graded 'Falling Behind'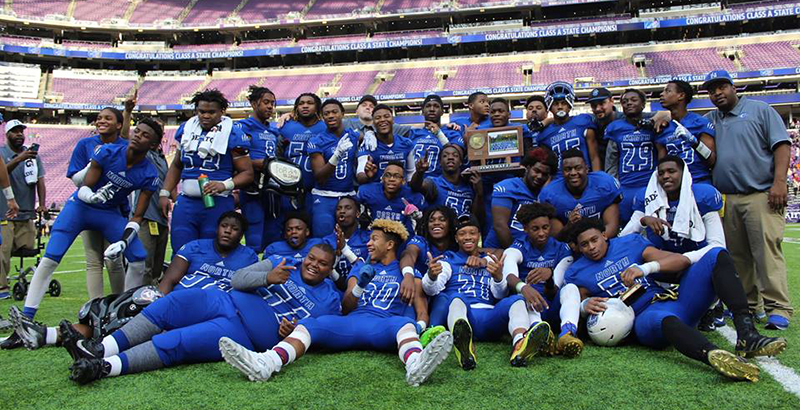 Updated Feb. 4
The first athletes out of the tunnel to play on this year's Super Bowl field won't be the New England Patriots, nor the Philadelphia Eagles — but a high school football team hailing from Minneapolis, Minnesota. But shrouded amid the glory of this great honor, bestowed and sponsored by the NFL, is the abhorrent — and possibly worsening — academic performance among the school's 400 or so students.
On Friday afternoon, North Community High School's storied football team will take to the field at U.S. Bank Stadium as part of a dress rehearsal for Super Bowl LII. Security will be too tight for outsiders to observe, but the uniformed Polars are slated to run a series of scripted plays so league camera operators — assisted by half a dozen North student journalists — can get a feel for the Minnesota Vikings' home field.
In recent years, the number of North students passing state reading and math tests has mostly been in the single digits. In 2016, just four of 54 11th-graders tested in math passed the exam, and only two of 42 10th-graders passed reading. Last year, eight sophomores out of 69 tested read at grade level, but not one junior passed the math exam.
School leaders have dismissed the data, saying the number of students opting out of standardized tests has mushroomed to the point where they are unreliable. In 2017, 36 of 105 10th-graders and 55 of 96 11th-graders did not take the state tests. Even if every single student who opted out passed the exams — supremely unlikely — that would put the school's passage rate 18 points below the state average in reading and 11 points below in math.
Equally worrisome, statistics published by Minneapolis Public Schools showing how close students are to passing grade-level tests or how far ahead they are suggest academic growth is slipping quickly. The number of students in the lowest category, "falling behind," rose from 51 percent in 2015 to 90 percent in 2017.
Friday won't be the first time the decorated team has played in the soaring glass-and-steel facility. The Polars won the 2016 state championship in the stadium, a feat they came close to repeating last year before a loss in the quarterfinals closed out their season with a 10–1 record. They've gone to the tournament in each of the past four years. And two North seniors played one last game there as a part of the state high school all-star showcase in December.
Sports is thoroughly baked into the school's DNA. The gymnasium's rafters are dripping with banners and pennants, and the 1970s brick box of a foyer is lined with cases of trophies. It's been a while since a Polar has gone on to professional athletic fame, but alumni of decades past include Pro Football Hall of Fame coach Sid Gillman, football players Bob Bjorklund and Wayne Robinson, and NBA star Khalid El-Amin.
Late last year, NFL reps visited the school with a stack of Vikings jerseys, a $5,000 check from the league's foundation for the football team and the surprise news that the students would get an insiders' view of the Super Bowl. Their coach, a popular Minneapolis police officer and North alum, got two tickets to the big game.
League leaders might have seen news celebrating North's comeback from the brink of closure seven years ago. The students are among the city's most challenged. Some 85 percent of North students live in poverty, and 90 percent are black. Nearly 1 in 3 qualifies for special education services. Nearly 1 in 10 is homeless. The tough-luck narrative — teen athletes get a front-row seat to the biggest party their city has ever thrown — must have been nigh irresistible.
In 2010, Minneapolis's then-superintendent Bernadeia Johnson proposed closing the 129-year-old North, which was rebuilt in 1973 to accommodate 2,800 students. Enrollment had fallen to a paltry 265 students, which meant the district was spending $4,000 extra per pupil just to keep the building open while providing a bare-bones academic program.
Community reaction — much of it from people who wouldn't send their own children to the school — was swift. Johnson told the community she would bring in a consulting firm to reboot the school if an enrollment target was met. In the fall of 2012, North was reborn, and enrollment has rebounded steadily, thanks in part to the lure of athletics.
A little more than 80 percent of the students who enrolled that year graduated in 2016, which the district celebrated as a milestone — the aforementioned comeback. It was an admirable 39-percentage-point increase over 2014, but it's also likely students were awarded diplomas despite performing below grade level. All but three of the 65 members of the class of 2016 took state math assessments in 2015, and only 10 passed. In 2014, 15 of the class's 68 students passed state reading exams.
Comeback notwithstanding, it will take a Hail Mary if those demographics are not to continue dictating destiny.
Other measures used to assess whether a high school graduate is ready for college or a career are also dismal. The composite score of the 70 North students who took the 2016 ACT was 15.7 out of a possible 36; Minnesota's lower-tier state colleges generally look for a 22 on admissions applications.
According to Minnesota state data, of the 53 North students who graduated in 2016, 22 enrolled in some form of postsecondary education. None attended private colleges, nor the flagship University of Minnesota. Of those students who continued their education beyond high school, 13 signed up for public two-year colleges and the rest for four-year state institutions. More than half — 55 percent — had to take high school–level remedial courses in college.
Stories like North's are playing out in cities all over the country, as communities wrestle with how to respond to a dismaying cycle. As families move away in search of better, or enroll their children elsewhere, a once-proud school struggles all the more. Once a neighborhood's population of families with school-age children drops, the problem compounds.
The memory of having been part of the run-up to the Super Bowl is no small thing. And there is, of course, a chance one of the current Polars will be back on the turf at the Vikings stadium in the future. But it's a slender reed on which to stake a young person's future.
When the NFL visited North in December, league brass suggested the experience could open students' eyes to football-related job opportunities off the field. Isn't it time to make sure the school's graduates have the basic skills any of those jobs — or any career that comes with a living wage — would require?
Get stories like these delivered straight to your inbox. Sign up for The 74 Newsletter