EduClips: School News You Missed This Week From America's 15 Biggest Districts, Including a Review of a Controversial School Reform Initiative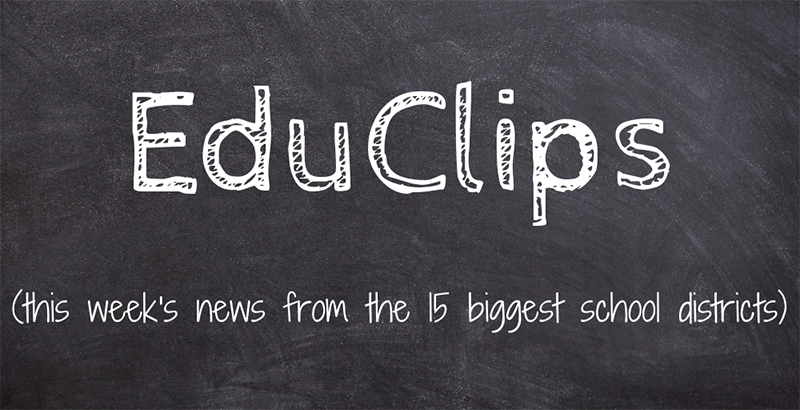 EduClips is a roundup of the week's top education headlines from America's 15 largest school districts, where more than 4 million students across eight states attend class every day. Read previous EduClips installments here. Get the week's school and policy highlights delivered straight to your inbox by signing up for the TopSheet Education Newsletter.
Philadelphia — Study Finds Mixed Results for Mayor's Community Schools Program: Community schools, a key initiative of Philadelphia Mayor Jim Kenney to transform some of the city's long-struggling schools, are not yet transformed two years into the initiative, and the effort's results have been mixed. That's the main finding of a study of the $3.25 million-a-year program by Research for Action, a nonpartisan Philadelphia nonprofit. Kenney pitched the schools as a centerpiece of his administration and a key reason the city needed to enact a controversial tax on soda. The goal of the program is to revitalize public schools with supports, resources, and a city-paid coordinator, enabling school staff to focus more on academic improvement. (Read at The Philadelphia Inquirer)
Hawaii — State Supreme Court Knocks Down Education-Fueled Tax Initiative: Just weeks before this year's election, Hawaii's Supreme Court knocked from the state ballot a measure that would have initiated the state's first statewide property tax to shore up its ailing education finances. The measure had heavy backing from the state's teachers union, which held protests to raise awareness of conditions in Hawaii's statewide school district. The system has dilapidated schools, lagging academic performance, and an ongoing teacher shortage. "This is the beginning," Corey Rosenlee, president of the Hawaii State Teachers Association, said at a press conference after the court ruled. "We still have 1,000 classrooms without qualified teachers." (Read at Education Week)
Clark County — What's in a Grade? In Las Vegas, It Depends on Where You Go to School: At Cimarron-Memorial High School in Las Vegas, a grade of F is worth 50 to 59 points on a 100-point scale. At Green Valley High in Henderson, meanwhile, failure results in a score anywhere from 0 to 59. The discrepancies stem from a Clark County School District policy that gives considerable leeway in setting grading policies. Many schools have taken advantage of that freedom to explore alternative grading schemes. (Read at the Las Vegas Review-Journal)
Chicago — District Isn't Disciplining Workers for Failing to Report Sex Abuse: Chicago Public Schools has held fewer employees accountable for failing to alert child-welfare workers about possible abuse in recent years, even though reports of student sexual abuse in Chicago schools did not decline, according to an analysis by the Chicago Tribune. The newspaper also found that, over the past decade, the district did not alert law enforcement or the Illinois State Board of Education after one of its employees failed to act on behalf of an abused child. The new disclosures follow a series earlier this year in which the Tribune documented hundreds of sex crimes against Chicago students. (Read at the Chicago Tribune)
Gwinnett County — Teenage Boy Arrested in Stabbing of Middle School Teacher: A 13-year-old boy at a Gwinnett County middle school was arrested after reportedly stabbing a teacher this week. The eighth-grader at Trickum Middle School called a language arts teacher over during a class change, then pulled out an 8-inch knife and stabbed her in the chest, according to a letter sent to parents by the school's principal. The teen then allegedly grabbed a female student but was quickly subdued and disarmed by school resource officers. He was transported to Gwinnett County's Youth Detention Center, but it was unclear what charges he will ultimately face. The stabbed teacher was conscious and talking to first responders while being transported to the hospital, according to news reports. (Read at The Atlanta Journal-Constitution)
New York City — Petition Urges Reinstatement of Arts School Principal Who Protested Program Cuts: More than 600 people signed an online petition urging New York City's Department of Education to reinstate the principal of the Lower Manhattan Arts Academy, removed last week amid rumors that he was punished for pushing back against potential program cuts. John Wenk, the school's founding principal, criticized potential cuts to programs, which included dance, acting, visual arts, drawing, music, and art history. A department spokesman said Wenk "was not terminated" but rather had agreed to resign by Dec. 31 before an arbitrator's hearing, "based on performance and misconduct as principal." (Read at Chalkbeat)
Noteworthy Essays & Reflections
HISTORY — How History Class Divides Us (Read at Education Week)
INTEGRATION — Domanico: Racial Integration Isn't the Answer to a Better Education for NYC's Black & Latino Students (Read at The74Million.org)
TEACHERS — New research shows just how much losing a teacher midyear hurts students (Read at Chalkbeat)
VIRTUAL TEACHING — In More High School Classes, the Teacher Is on a Screen (Read at The Wall Street Journal)
DEVOS — What Betsy DeVos Can Learn From Bush-Obama School Reform (Read at Education Week)
HIGH SCHOOL — How High Schools Shaped American Cities (Read at The Atlantic)
GOOGLE — Google Is Teaching Children How to Act Online. Is It the Best Role Model? (Read at The New York Times)
Quotes of the Week
"When you have these communities … where everything seems to be leaving, typically the school's one of the last big things that remains. It's like once your school closes, that seems like the end of your community, in some ways." —Greg Deskins, a high school science teacher and president of the Tazewell (Va.) Education Association, a teachers union, on the struggles of schools in rural communities. (Read at The Washington Post)
"Human flourishing is one of the basic purposes of education. In the end, though, if you don't prepare people for a job, they're not going to flourish." —Anthony Carnevale, who directs the Center on Education and the Workforce at Georgetown University. (Read at The74Million.org)
"The negative trend in math readiness is a red flag for our country, given the growing importance of math and science skills in the increasingly tech-driven U.S. and global job market. It is vital that we turn this trend around." —Marten Roorda, chief executive of the nonprofit ACT, on sharply declining math scores on this year's ACT and SAT exams. (Read at The Washington Post)
"We have never had a situation like this at our school, and I know we are all concerned about this. The fact that one of our Trickum Middle family was hurt at the hands of a student is very upsetting." —Principal Ryan Queen of the Trickum Middle School in Gwinnett County, Georgia, where a teacher was stabbed by a 13-year-old student. (Read at The Atlanta Journal-Constitution)
"The answer that you can go to McDonald's because they have Wi-Fi isn't OK. I think that's a ridiculous statement that we make to kids in poverty." —Robert Dillon, innovation director for the University City School District in Missouri. (Read at The74Million.org)
Want the week's top school and policy news delivered straight to your inbox — for free? Sign up for the TopSheet Daybreak Education Newsletter.
Get stories like these delivered straight to your inbox. Sign up for The 74 Newsletter