EduClips: School Funding as Key Midterm Issue, Nevada Lowers Bar for HS Juniors Taking ACT, California Pensions, and More Must-Reads From America's 15 Biggest School Districts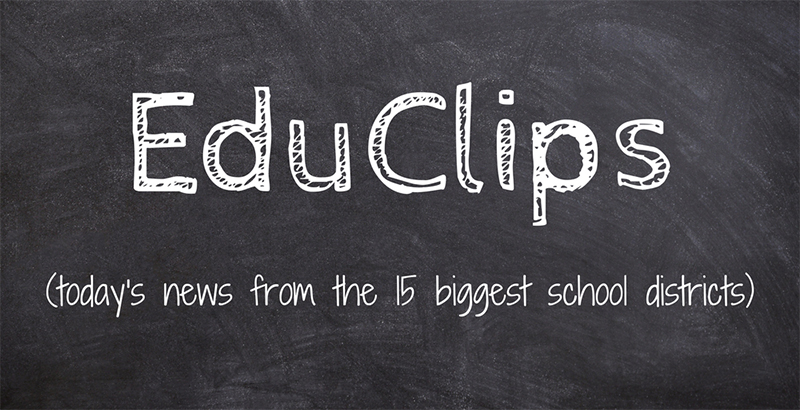 EduClips is a roundup of the day's top education headlines from America's largest school districts, where more than 4 million students across eight states attend class every day. Read previous EduClips installments here. Get the day's top school and policy news delivered straight to your inbox by signing up for the TopSheet Education Newsletter.
Top Story
EDUCATION POLITICS — How — or whether — to pour more money into public school coffers has emerged as one of the most divisive issues for states in this year's midterm elections. In at least nine states, voters this fall will consider ambitious ballot measures that seek to increase, or in some cases curtail, how much legislatures distribute to schools. Similarly, those running for governor in states including Arizona, Pennsylvania, and Wisconsin have sparred over the dynamics of their states' public school spending habits and over plans to upend how their states fund schools. (Read at Education Week)
National News
HISTORY — After Outcry, College Board Restores 250 Years to Proposed AP History Course (Read at Education Week)
DIVERSITY — Girls-only trade classes are spreading — and upending stereotypes (Read at The Hechinger Report)
EARLY EDUCATION — Big move for Big Bird: Sesame Street is entering classrooms (Read at Education Week)
CONGRESS — This Week in Education Politics: Congress Moves Forward on Trump Administration 'Workforce Education' Priorities, School Choice for Military Families & More (Read at The74Million.org)
District and State News
NEVADA — Nevada sets bar lower for 11th-graders taking ACT (Read at the Las Vegas Review-Journal)
NEW YORK — Officials promised to update a Giuliani-era agreement between the NYPD and city schools almost a year ago. So where is it? (Read at Chalkbeat)
TEXAS — Schools Eye Facial Recognition Technology to Boost Security (Read at CBS DFW)
CALIFORNIA — How California's public schools are grappling with growing pension costs (Read at The Mercury News)
ILLINOIS — Rockford schools pays more than $1 million in penalties for inappropriate spending (Read at WQAD)
Think Pieces
EDUCATION REFORM — A Plea for a Fact-Based Debate About Charter Schools (Read at The New York Times)
THE WEALTH GAP — White College Graduates Are Doing Great With Their Parents' Money (Read at The Atlantic)
SCHOOL SCHEDULES — Why a Longer School Day Could Make Learning More Compelling for Kids — and Life Less Stressful for Parents (Read at The74Million.org)
Support The 74's year-end campaign. Make a tax-exempt donation now.