This Week in Education Politics: Congress Moves Forward on Trump Administration 'Workforce Education' Priorities, School Choice for Military Families & More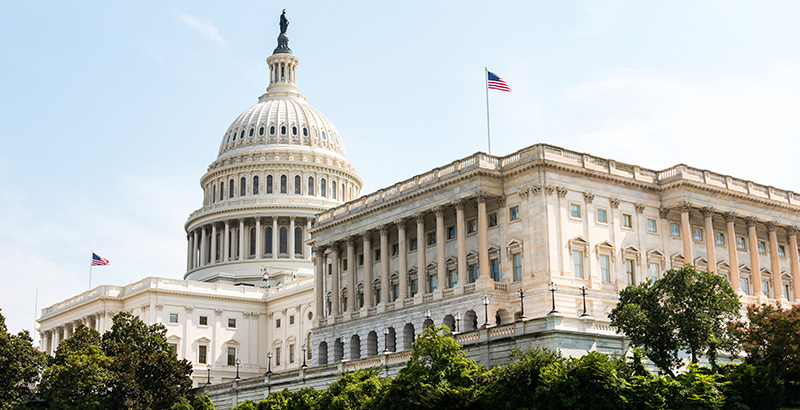 THIS WEEK IN EDUCATION POLITICS publishes most Saturdays. (See previous editions here.) You can get the preview delivered straight to your inbox by signing up for The 74 Newsletter; for rolling updates on federal education policy, follow Carolyn Phenicie on Twitter @cphenicie.
INBOX: WORKFORCE EDUCATION IN FOCUS — Following the Trump administration's launch last week of the "National Council for the American Worker," congressional committees in both chambers will highlight workforce education and training issues.
On Tuesday, the House Education and the Workforce Committee hosts an "innovation forum and showcase" that will allow 24 invited companies from committee members' districts to highlight "how they are addressing the nation's education and workforce development challenges," according to the committee. Five panels of company representatives will speak and answer questions from the House members, and they'll also have a showcase in one of the House office buildings to share their work.
On Thursday, the Senate Health, Education, Labor and Pensions Committee will hold a hearing on modernizing apprenticeship programs.
And following the committee's approval in late June of its reauthorization of the federal law, the Senate is likely to pass its Perkins bill by the end of the month, Education Week reported, citing a Senate aide.
Though the bill will have to be reconciled with a House version that passed early last year, a CTE reauthorization represents the best chance for a substantial K-12 education law change before the current session of Congress finishes at the end of the year.
President Trump, meanwhile, last week signed an executive order creating the National Council for the American Worker. It will develop a strategy to train American employees for high-demand jobs.
Part of the council's job will be to develop a national campaign to raise awareness of several issues, including the importance of STEM education. It will also help expand apprenticeships, and it called on companies to sign a pledge to create more work-based education opportunities. The executive order came with no additional funding.
"This Administration understands that a dynamic and changing economy requires dynamic and changing approaches to education and workforce development," Education Secretary Betsy DeVos said in a press release after the signing. "The partnerships announced today involve those who are best-positioned to identify ideas and drive solutions."
Business groups, including the U.S. Chamber of Commerce, also praised the move.
Education and the Workforce Committee Democrats, meanwhile, dismissed the executive order in a tweet as "just a publicity stunt" that "provides no new investments or tangible support to prepare workers for high-quality, in-demand jobs."
MONDAY: ECONOMIC MOBILITY — The American Enterprise Institute hosts the World Bank authors of a report on global economic mobility — that is, whether young people exceed their parents' standard of living or educational attainment. The report, "Fair Progress? Economic Mobility Across the Generations," found, for example, that girls are outperforming boys in higher education attainment and economic mobility in advanced countries, and that the trend is "in the similar direction in the developing world."
TUESDAY: AMATEUR ATHLETE SAFETY — A Senate Commerce, Science and Transportation subcommittee holds a hearing on changes made by the U.S. Olympic Committee, USA Gymnastics, and Michigan State University to better protect amateur and Olympic athletes from abuse.
Larry Nassar, a former doctor at Michigan State who worked with the USA gymnastics team, was accused of assaulting hundreds of young women under the guise of medical treatment; he has been convicted of multiple counts of child pornography and sexual assault of minors. The Education Department in February launched a Title IX investigation of Michigan State's handling of the incidents.
TUESDAY: FOSTER CARE — A House Ways and Means subcommittee looks at implementation of the Family First Prevention Services Act. The legislation, passed as part of a budget deal this spring, permits federal reimbursement for in-home parenting skills training, mental health care, and substance abuse treatment, with the goal of putting fewer children in foster care. The number of children in foster care rose 10 percent between 2012 and 2016, and in many places, that correlated with the opioid crisis, according to a federal report.
WEDNESDAY: MILITARY CHILDREN — The Military Child Education Coalition holds its national training seminar in downtown Washington, including a session Wednesday on school choice and military-connected children.
A bill proposed earlier this year to provide education savings accounts to some children whose parents are in the military has not been considered, either as a stand-alone measure or as part of a must-pass annual defense bill.
THURSDAY: CHARTER STIGMA? — The conservative Thomas B. Fordham Institute, noting increasingly narrowed political support for charter schools in recent months, pledges to "flog a panel of experts to examine what America's rising polarization and populism mean for charter schools." Nina Rees, president and CEO of the National Alliance for Public Charter Schools; Charles Barone, director of policy for Democrats for Education Reform; and Carlos Marquez, senior vice president for government affairs at the California Charter Schools Association, participate.
Get stories like these delivered straight to your inbox. Sign up for The 74 Newsletter