EduClips: Safety Precautions Failed to Stop Texas School Shooting but Might Have Prevented a Worse Tragedy; IL Lawmakers Allow Medical Marijuana in Schools — and More Must-Reads From America's 15 Biggest School Districts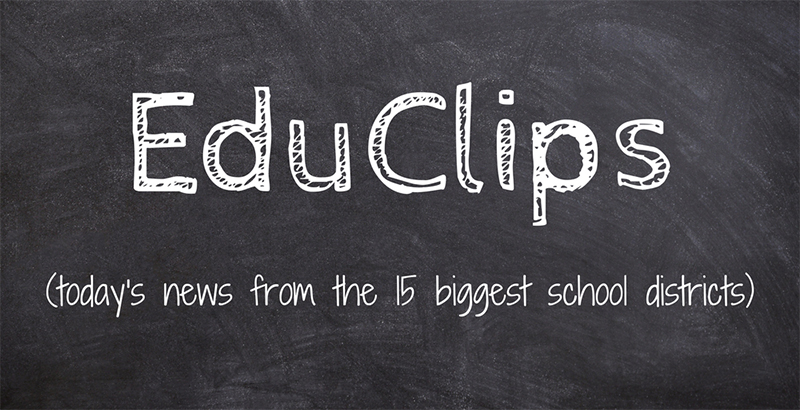 EduClips is a roundup of the day's top education headlines from America's largest school districts, where more than 4 million students across eight states attend class every day. Read previous EduClips installments here. Get the day's top school and policy news delivered straight to your inbox by signing up for the TopSheet Education Newsletter.
Top Story
TEXAS SCHOOL SHOOTING — They, like so many others, thought they had taken the steps to avoid this.
The school district had an active-shooter plan, and two armed police officers walked the halls of the high school. School district leaders had even agreed last fall to eventually arm teachers and staff under the state's school marshal program, one of the country's most aggressive and controversial policies intended to get more guns into classrooms.
They thought they were a hardened target, part of what's expected today of the American public high school in an age when school shootings occur with alarming frequency. And so a death toll of 10 was a tragic sign of failure and needing to do more, but also a sign, to some, that it could have been much worse. (Read at The Washington Post)
National News
TEXAS SCHOOL SHOOTING:
— Everything About the Texas School Shooting Seems Horribly Familiar (Read at The New Yorker)
— Obama's education secretary: Let's boycott school until gun laws change (Read at The Washington Post)
— Advocates to Betsy DeVos: Give Educators 'Meaningful Opportunities' to Inform School Safety Work (Read at Politics K-12)
— Police search for motive in Texas school shooting (Read at The Associated Press)
DEVOS — Five Things to Watch for When Betsy DeVos Makes Rare Visit to Capitol Hill (Read at Politics K-12)
District and State News
HAWAII — Amid Explosions and Lava Flow in Hawaii, One Charter Leader Offers Her School a Steady Hand (Read at The74Million.org)
GEORGIA — Diverse field in Gwinnett school board race could bring a first (Read at the Atlanta Journal-Constitution)
CALIFORNIA — Charter Backers Outspending Teachers in California Races (Read at NBC 4)
ILLINOIS — Illinois lawmakers vote to let kids take medical marijuana in school (Read at the Herald & Review)
PENNSYLVANIA — Warrant issued for fake Alicia Keys DJ who duped Philadelphia school officials (Read at The Philadelphia Inquirer)
NEW YORK — How NYC protects principals accused of sex harassment (Read at the New York Post)
CALIFORNIA — Innovative high school for new immigrant students a model in California (Read at EdSource)
NEW YORK — Principal who challenged parents at desegregation meeting speaks up (Read at NY1)
Think Pieces
SCHOOL SAFETY — 2018 has been deadlier for schoolchildren than service members (Read at The Washington Post)
TEACHERS — Two studies point to the power of teacher-student relationships to boost learning (Read at The Hechinger Report)
SCHOOL SAFETY — How Congress Has Dithered as the Innocent Get Shot (Read at The New York Times)
SCIENCE — They're the Brainstorming Smarties, and they have their work down to a science (Read at The Washington Post)
LEARNING — When the future of learning prompts uncomfortable discussions (Read at The Hechinger Report)
IMMIGRANT STUDENTS — SPLC demands equal education for immigrant children (Read at the Southern Poverty Law Center)
Quote of the Day
"My first indication is that our policies and procedures worked. Having said that, the way things are, if someone wants to get into a school to create havoc, they can do it." —J.R. "Rusty" Norman, president of the district board of trustees that oversees Santa Fe High School in Texas, where a student gunman killed 10 and injured 13 people Friday. (Read at The Washington Post)
Want the day's top school and policy news delivered straight to your inbox — for free? Sign up for the TopSheet Daybreak Education Newsletter.
Support The 74's year-end campaign. Make a tax-exempt donation now.