EduClips: Questioning Graduation Rates in Chicago, Reading the Tea Leaves on DeVos — and More Must-Reads From America's 10 Biggest School Districts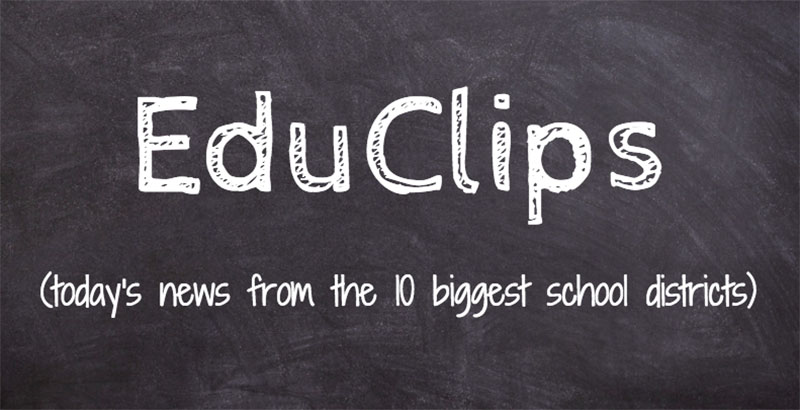 EduClips is a roundup of the day's top education headlines from America's largest school districts, where more than 4 million students across eight states attend class every day. Read previous EduClips installments here. Get the day's top school and policy news delivered straight to your inbox by signing up for the TopSheet Education Newsletter.
Top Story
DEVOS — On social media this week, U.S. Secretary of Education Betsy DeVos offered some clues about her policy priorities. She seized on America's stagnant scores on a 4th grade international reading test to make her case that education in the U.S. needs an overhaul. But her reaction to what looked like good news about rising U.S. high school graduation rates was far more subdued. (Education Week)
National News
LATIN — 50 Years After Latin Disappeared from High School Classrooms, These Educators Are Bringing It Back (Read at The74Million.org)
TEACHERS — Is Teacher Recertification Broken? (Read at Education Week)
District and State News
ILLINOIS — Analysis: Chicago Public School students fail annual tests, still graduate (Read at Chicago City Wire)
TEXAS — Disability rights advocates call for Texas to halt education data mining contract (Read at Texas Tribune)
NEW YORK — To help students with disabilities transition to adulthood, New York City is opening new resource hubs in every borough (Read at Chalkbeat)
TEXAS — How experienced is your kid's principal? New data gives you a peek (Read at Dallas News)
CALIFORNIA — California School Dashboard provides opportunity for schools "to turn data into action" (Read at EdSource)
PENNSYLVANIA­ — Philly launches effort to expand K-12 computer science classes (Read at WHYY)
ILLINOIS — Google's charitable arm donates $1.5M to CPS, Chance the Rapper's foundation (Read at Chicago Tribune)
Think Pieces
CHARTERS — Eva Moscowitz, The Charter-School Crusader (Read at The Atlantic)
STUDENT LOANS — Student Loan Debt Is Now As Big as the U.S. Junk Market (Read at Bloomberg)
TECHNOLOGY — The Futile Resistance Against Classroom Tech (Read at The Atlantic)
Quote of the Day
"The problem isn't one article, however off-base it may be. The problem is the mindset of revanchists who peddle stories like these — professional anti-reformers who go nuts when approaches other than those they sanction and control deliver results for the students whom they insist cannot learn at high levels." — Amy Wilkins, senior vice president of advocacy at the National Alliance for Public Charter Schools, on the Associated Press article on charter schools and racial isolation. (Read at The74Million.org)
Want the day's top school and policy news delivered straight to your inbox — for free? Sign up for the TopSheet Daybreak Education Newsletter.
Get stories like these delivered straight to your inbox. Sign up for The 74 Newsletter