EduClips: Puerto Rico Education Still Reeling From Hurricane Maria; State of the Union Preview — and More Must-Reads From America's 15 Biggest School Districts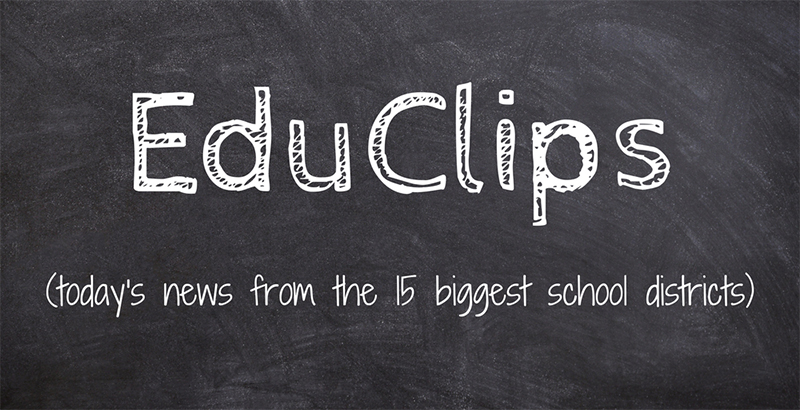 EduClips is a roundup of the day's top education headlines from America's largest school districts, where more than 4 million students across eight states attend class every day. Read previous EduClips installments here. Get the day's top school and policy news delivered straight to your inbox by signing up for the TopSheet Education Newsletter.
Top Story
STATE OF THE UNION — Washington watchers are not expecting school choice to be a big theme in President Trump's first State of the Union speech this evening. But another education issue — the fate of Dreamers, undocumented immigrants who were brought to this country as children — is almost certain to take center stage. The areas likely to get big focus in the speech also include jobs and the economy, trade, infrastructure, and national security. (Read at Education Week)
National News
DACA — Nearly 9,000 DACA Teachers Face an Uncertain Future (Read at NPR)
UNIONS — Here Are the Teachers Unions' Arguments in the Supreme Court Case on Union Fees (Read at Education Week)
SCHOOL STAFF — For low-wage school workers, lessons in survival (Read at The Washington Post)
UNIONS — It's Not Just Union Dues, It's Collective Bargaining: Looking to States That Banned Them as Post-Janus Crystal Ball (Read at The74Million.org)
FINANCIAL AID — Betsy DeVos Wants to Put Your Student Loan Money on a Bank Card (Read at Buzzfeed)
District and State News
PUERTO RICO — 'Why can't I have my life back?': In Puerto Rico, living and learning in the dark (Read at The Washington Post)
CALIFORNIA — Los Angeles DACA students who will be in the audience at Trump's State of the Union address are hoping to 'really get at their hearts' (Read at LA School Report)
NEW YORK — Second sexual assault victim at Brooklyn school says education officials failed to keep students safe (Read at the New York Daily News)
CALIFORNIA — Two senior L.A. school district officials resign amid sexual harassment allegations (Read at the Los Angeles Times)
FLORIDA — A 7-year-old boy was called a 'danger to society' and cuffed at school, his parents say (Read at The Washington Post)
ILLINOIS — Illinois education officials find another funding glitch (Read at the Peoria Journal Star)
TEXAS — Texas Education Agency seeking public comment on special education corrective action plan (Read at the Longview News-Journal)
NEVADA — Clark County School Board decides to wait on crafting gender policy (Read at the Las Vegas Review-Journal)
TEXAS — Riley tapped for state education commissioner (Read at the Eagle Tribune)
NEW YORK — This NYC teacher was skeptical of training programs like Teach for America – so she completed a teaching residency instead (Read at Chalkbeat)
Think Pieces
TEACHERS — Did new evaluations and weaker tenure make fewer people want to become teachers? A new study says yes (Read at Chalkbeat)
MONTESSORI SCHOOLS — New South Carolina Study of Public Montessori Schools Shows Majority Low-Income Students Outperforming Peers (Read at The74Million.org)
TRANSGENDER ISSUES — Transgender Issues Energize Typically Sleepy School Board Elections (Read at Governing)
SCHOOL SHOOTING — Reporter rushes to Kentucky school shooting — and learns the alleged gunman is her son (Read at The Louisville Courier-Journal
Quote of the Day
"I think basically Trenton has a reputation that we've given up on education. Even though we know that, for one thing, it saves inner-city children, there's no major investment in education." —L.A. Parker, local activist and columnist for The Trentonian. (Read at The74Million.org)
Want the day's top school and policy news delivered straight to your inbox — for free? Sign up for the TopSheet Daybreak Education Newsletter.
Get stories like these delivered straight to your inbox. Sign up for The 74 Newsletter