EduClips: Private Schools Set to Move Into Closed Chicago School Buildings; NYC's Carranza: 'As the Chancellor, I Ultimately Own Everything' — and More Must-Reads From America's 15 Biggest School Districts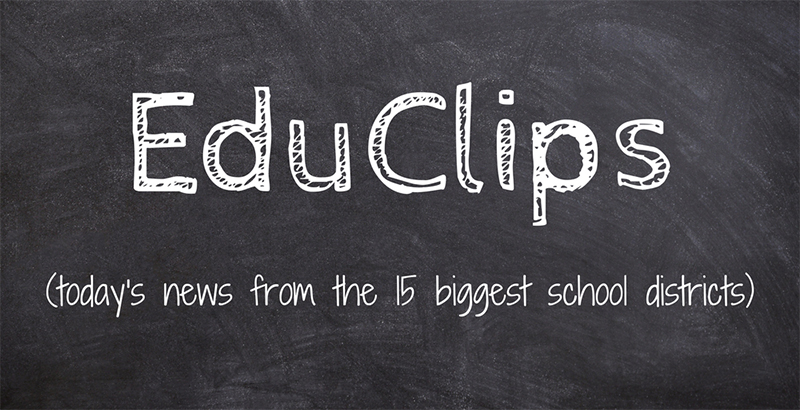 EduClips is a roundup of the day's top education headlines from America's largest school districts, where more than 4 million students across eight states attend class every day. Read previous EduClips installments here. Get the day's top school and policy news delivered straight to your inbox by signing up for the TopSheet Education Newsletter.
Top Story
TEACHER PAY — Americans overwhelmingly believe teachers don't make enough money, and half say they'd support paying higher taxes to give educators a raise.
The findings of the new poll from The Associated Press–NORC Center for Public Affairs Research come amid recent teacher strikes and other protests over low pay, tough classroom conditions, and the amount of money allocated to public schools in several Republican-led states.
Tens of thousands of Arizona teachers voted last week to strike after rejecting an offer of a 20 percent raise, because it didn't include a vow from state lawmakers not to further cut taxes before providing more money for the state's schools. (Read at The Associated Press)
National News
EDUCATION STATISTICS — How States Stack Up on Federal Funding for Teachers, Low-Income Students (Read at Politics K-12)
TEEN MENTAL HEALTH — These teens saw how poor mental health hurt their peers. So they got a law passed. (Read at The Washington Post)
AZ TEACHER PROTEST — Arizona's governor puzzled on why teachers want to walk out: 'We are delivering … what we believe they deserve' (Read at USA Today)
District and State News
ILLINOIS — Private schools, poised to grow in Illinois, move into closed Chicago public schools (Read at the Chicago Reporter)
NEW YORK — Richard Carranza: 'As the Chancellor, I Ultimately Own Everything' (Read at The New York Times)
CALIFORNIA — Charter schools are booming in California. Here's where they are growing fastest (Read at the Sacramento Bee)
TEXAS — Texas's low teacher pay is 'shameful,' largest educators lobby says (Read at Dallas News)
CALIFORNIA — Advocates accuse Bay Area district of failing to release data on student performance (Read at EdSource)
VIRGINIA — A toy gun. A social media post. And fear in a Fairfax school (Read at The Washington Post)
PENNSYLVANIA —  Should the rich rule the schools in Philadelphia and beyond? | Opinion (Read at The Philadelphia Inquirer)
FLORIDA — Florida submits revised Every Student Succeeds Act plan (Read at the Tampa Bay Times)
NEW YORK — Wadleigh middle school is safe — for now — after Harlem community rallied to stop its closure (Read at Chalkbeat)
Think Pieces
STUDENTS WITH DISABILITIES — Falling Into the Belief Gap: What It Feels Like to Realize Your Child's Teachers Have Sized Him Up and Dumbed Down Their Estimations (Read at The74Million.org)
TEACHER HOUSING — A Blueprint Experiment (Read at U.S. News and World Report)
SCHOOL SAFETY — The Post-Parkland Unity Is Officially Over (Read at The Atlantic)
SEGREGATION — Segregation incarnated in brick and mortar (Read at The Hechinger Report)
NATIVE AMERICAN STUDENTS — Why Is Oklahoma City Blocking This School for Native American Kids? (Read at Education Post)
HEAD START — Head Start centers have 'outsized role' in rural Mississippi, report finds (Read at The Hechinger Report)
Quote of the Day
"I don't know why the leaders would say that they're going to strike when we are delivering for the teachers on what we believe they deserve." —Arizona Gov. Doug Ducey, on a statewide teacher walkout set for Thursday. (Read at USA Today)
Want the day's top school and policy news delivered straight to your inbox — for free? Sign up for the TopSheet Daybreak Education Newsletter.
Get stories like these delivered straight to your inbox. Sign up for The 74 Newsletter