EduClips: Post King, What's Next for LA Schools; NCLB: 16 Years Later — and More Must-Reads From America's 10 Biggest School Districts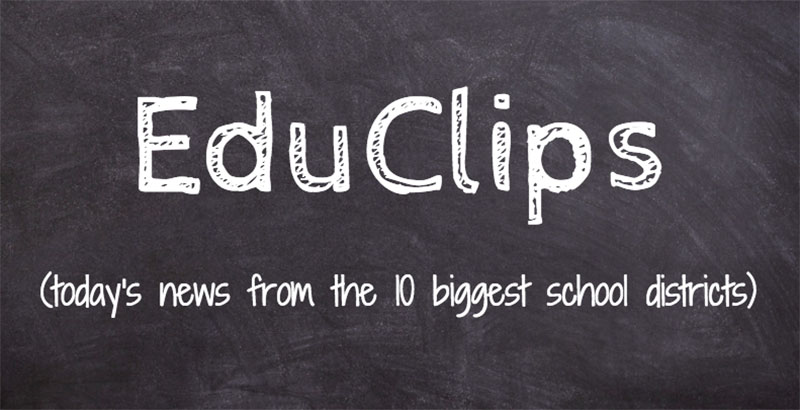 EduClips is a roundup of the day's top education headlines from America's largest school districts, where more than 4 million students across eight states attend class every day. Read previous EduClips installments here. Get the day's top school and policy news delivered straight to your inbox by signing up for the TopSheet Education Newsletter.
Top Story
MICHELLE KING — Board of Education members face tough decisions after the surprise announcement Friday that Los Angeles schools superintendent Michelle King, chief of the second-largest district in the country, will be stepping down. King said she has cancer and will not be returning to work after a four-month medical leave. The board will discuss its next move during a private session Tuesday. Among other issues, the district faces a serious financial bind exacerbated by declining enrollment and underfunded obligations to retiree health care and pensions. (Read at the Los Angeles Times)
National News
NCLB — Watch the Oral History: 15 Years After No Child Left Behind, Inside the Enduring Legacy of the Landmark Education Law (Read at The74Million.org)
TESTING — Few States Want to Offer Districts Chance to Give ACT, SAT Instead of State Test (Read at Politics K-12)
District and State News
PENNSYLVANIA — A two-year wait for retirement pay? Philly schools have a backlog of millions (Read at the Philadelphia Inquirer)
CALIFORNIA — Ballooning pension costs affecting recent education financial gains (Read at the Monterey Herald)
NEW YORK — How diverse is the teaching force in your district? A new analysis highlights the gap between students and teachers of color (Read at Chalkbeat)
VIRGINIA — Diverse Virginia school district makes push for more teachers of color (Read at The Washington Post)
TEXAS — Opinion: Helping Dreamers is the right thing to do for America (Read at the Houston Chronicle)
FLORIDA — Republican senator proposes more oversight for state voucher schools (Read at the Orlando Sentinel)
NEVADA —Schools' rejection of church flyers sparks backpack dispute (Read at Las Vegas Review-Journal)
CALIFORNIA — Bay Area schools vie for teachers amid statewide shortage (Read at the Santa Cruz Sentinel)
ILLINOIS — Opinion: Private school tax credits off to good start (Read at the Rockford Register Star)
Think Pieces
URBAN SCHOOLS — Fastest-Improving Urban School District? Why Claims Made by the New York Times and Others Are Misleading (Read at The74Million.org)
URBAN SCHOOLS REDUX — Analysis: Yes, National Media, Poor Schools With Big Challenges Sometimes Work Wonders (Read at The74Million.org)
DISCIPLINE — Keep guidelines in place that work to ensure fair discipline for black, brown students (Read at USA Today)
SCHOOL CHOICE — Public School Choice Is Harder Than It Looks (Read at The Washington Post)
SEGREGATION — Gentrification Is Making Schools Less Segregated in D.C., According to a New Study (Read at Bustle)
CHARTERS — Make Public Education a Market Economy — Not a Socialist One (Read at Education Week)
Quote of the Day
"It's not a supply problem. It's a demand problem." — Sean Perryman, education chairman of the Fairfax County, Virginia, chapter of the NAACP, on the lack of black teachers in the school district. (Read at The Washington Post)
Want the day's top school and policy news delivered straight to your inbox — for free? Sign up for the TopSheet Daybreak Education Newsletter.
Support The 74's year-end campaign. Make a tax-exempt donation now.