EduClips: Parkland Teachers Return to School Tuesday; Districts Around the Country Debate Mental Health, Security After Shooting — and More Must-Reads From America's 15 Biggest School Districts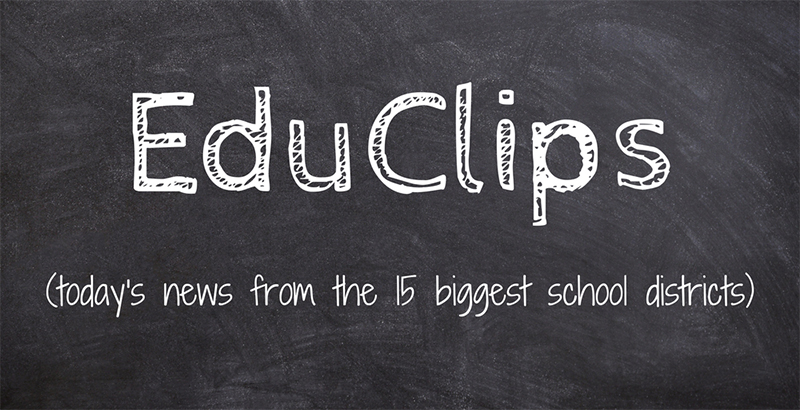 EduClips is a roundup of the day's top education headlines from America's largest school districts, where more than 4 million students across eight states attend class every day. Read previous EduClips installments here. Get the day's top school and policy news delivered straight to your inbox by signing up for the TopSheet Education Newsletter.
Top Story
UNIONS — Justice Neil Gorsuch, the only member of the Supreme Court who hasn't weighed in on mandatory public employee union dues, didn't tip his hand during oral arguments in a key case Monday.
The case, Janus v. AFSCME, pits Mark Janus, an Illinois state child support specialist, who argues that forcing him to pay union dues for collective bargaining violates his First Amendment rights, against the union that represents him. Unions say that state law forces them to represent all employees, so those who don't pay could end up as free riders who reap benefits of union contracts but don't have to financially support the organizations that fight for them. The case has high stakes for the continued influence of state and national teachers unions — which count about a third of teachers as members — in education policy fights and Democratic politics. The overall rate of union membership nationally has declined in recent decades, though public-sector workers are still five times as likely to be union members as their private-sector counterparts. (Read at The74Million.org)
National News
SCHOOL CHOICE — How Betsy DeVos Softened Her Message on School Choice (Read at Politico)
DACA — Supreme Court Deals Setback to Trump Immigration Policy on 'Dreamers' (Read at The Wall Street Journal)
SCHOOL SAFETY — These Are School Safety Bills Congress Can Already Vote on After Parkland (Read at Politics K-12)
FLU SEASON — Debunking Flu Myths: With Close to 100 Children Dead From the Virus, Leading to School Closures in at Least 23 States, Expert Calls 'Deep-Cleaning' Schools a 'Waste of Money, Time, and Effort' (Read at The74Million.org)
PEARSON — Pearson Is Selling Its U.S. K-12 Business—Despite Posting a Profit and Digital Growth (Read at EdSurge)
SCHOOL COUNSELORS — With Hundreds of Students, School Counselors Just Try to 'Stay Afloat' (Read at NPR)
ADVANCED PLACEMENT — Mississippi students increase participation rates, improve scores on AP exams (Read at The Hechinger Report)
District and State News
FLORIDA — After Parkland, Florida looks to mental health programs and campus officers as fixes. But it's underfunded both. (Read at the Tampa Bay Times)
TEXAS — Trump Praises Texas School Marshal Program at National Governors Conference (Read at Houston Public Media)
FLORIDA —Teachers return to Stoneman Douglas to prepare for students' arrival on Wednesday (Read at the Sun Sentinel)
ILLINOIS — Education Officials React to Proposal to Arm Teachers (Read at Northern Public Radio)
CALIFORNIA — 14 reports of school threats ended with 12 students, 2 adults arrested in Southern California last week (Read at the Mercury News)
TEXAS — After Florida shooting, U.S. Rep. Kay Granger of Texas proposes funding metal detectors in schools (Read at the Texas Tribune)
CALIFORNIA — Non-teaching L.A. school employees will vote on authorizing strike (Read at the Los Angeles Times)
NEW YORK — Proposed bill requires schools to warn kids about opioids (Read at the New York Daily News)
NEVADA — Parental pushback delays new CCSD transgender policy (Read at the Las Vegas Review Journal)
NEW YORK — As the U.S. Supreme Court tackles case that could weaken unions, the UFT conveys confidence (Read at Chalkbeat)
HAWAII — High school teacher on Maui suspended after showing sex video in class (Read at Hawaii News Now)
Think Pieces
DACA — The Dreamers Deferred: The courts delay an immigration deadline, which isn't an excuse for Congress not to act (Read at The Wall Street Journal)
#METOOK12 — It was only a matter of time before the #MeToo movement rocked schools (Read at The Hechinger Report)
HIGHER EDUCATION — The World Might Be Better Off Without College for Everyone (Read at The Atlantic)
PUERTO RICO — Why Puerto Rico Is Pushing to Privatize Its Schools (Read at Citylab)
VOUCHERS — Still Waiting for Convincing Evidence on School Vouchers (Read at Education Next)
DISTRICT LEADERS — Need a Little Inspiration? Read About Outstanding District Leaders (Read at Politics K-12)
PRE-K — What We Really Need to Know to Make Sure Pre-K Teachers Get the Skills They Need (Read at Education Post)
Quote of the Day
"The fees are the trade-off. Union security is the trade-off for no strikes… You can raise an untold specter of labor unrest throughout the country." —AFSCME attorney David Frederick, arguing before the U.S. Supreme Court in Janus v. AFSCME, on the possible effect of ending mandatory union dues. (Read at The74Million.org)
Want the day's top school and policy news delivered straight to your inbox — for free? Sign up for the TopSheet Daybreak Education Newsletter.
Get stories like these delivered straight to your inbox. Sign up for The 74 Newsletter