EduClips: OK Raises Pay, But Teachers May Still Strike Monday; Efforts to Overturn NY Teacher Tenure Law Win Appellate Victory — and More Must-Reads From America's 15 Biggest School Districts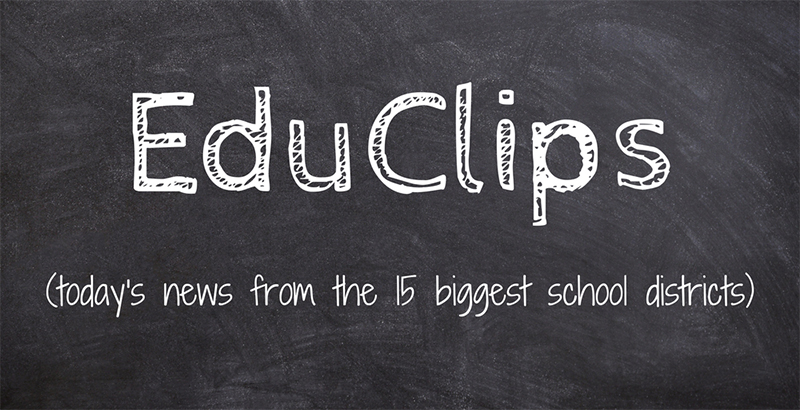 EduClips is a roundup of the day's top education headlines from America's largest school districts, where more than 4 million students across eight states attend class every day. Read previous EduClips installments here. Get the day's top school and policy news delivered straight to your inbox by signing up for the TopSheet Education Newsletter.
Top Story
OK TEACHER PAY — Oklahoma legislators approved a $6,100 pay raise for teachers on Wednesday, but the state teacher's union says that the bill is not enough and plans to walk out Monday.
House Bill 1010XX, which was described as "the largest teacher pay raise in the history of the state" passed both the state House and Senate this week. Oklahoma Gov. Mary Fallin said she would sign the bill. The state ranks 49th in the nation in teacher salaries, according to the National Education Association, in a list that includes Washington, D.C. Mississippi and South Dakota rank lower. (Read at CNN)
National News
INTEGRATION — A Look At The State Of School Integration 64 Years After Brown v. Board Of Education (Read at NPR)
DEVOS — Workers accuse Trump administration, DeVos of union-busting (Read at Washington Post)
SCHOOL SAFETY — As DeVos School Safety Panel Meets, Educators Blast Exclusion of School Voices (Read at Politics K-12)
TEEN PREGNANCY — Congress Directs Millions to Teen Pregnancy Prevention, the Latest Salvo over Program Trump Administration Plans to Scrap (Read at The74Million.org)
CENSUS — Here's How Changes to the U.S. Census Could Impact Education Funding (Read at Politics K-12)
TEACHER GRANTS — 'This situation . . . made my first four years of teaching so much harder': How a grant became a loan (Read at Washington Post)
District and State News
NEW YORK — Effort to Overturn New York's Teacher Tenure Laws Wins Unanimous Appeals Court Victory (Read at The74Million.org)
TEXAS — Number of Hispanic superintendents in Texas lags student population growth (Read at Houston Chronicle)
CALIFORNIA — After Teacher Complaints, California School District To Require Sexual Harassment Training For Students (Read at CBS Sacramento)
NEVADA — CCSD's balancing act: Preventing school violence while protecting student equality (Read at Las Vegas Sun)
ILLINOIS — Suburban districts applaud appellate decision on charter school funds (Read at Chicago Daily Herald)
TEXAS — New School Grading System in Texas Could Affect more than Education (Read at NBC DFW)
NEW YORK — New York City students can now pass Spanish exam on path to graduation (Read at Chalkbeat)
PENNSYVLANIA — Police: Ammunition, combat vest found at home of teen who allegedly threatened Delco high school (Read at the Philadelphia Inquirer)
CALIFORNIA — LAUSD moves to streamline how schools are rated, making it easier for parents to compare and evaluate them (Read at LA School Report)
NEVADA — Search for next Clark County schools superintendent heats up (Read at Las Vegas Review-Journal)
HAWAII — Hearing today on bill that would limit standardized tests (Read at Hawaii Tribune-Herald)
Think Pieces
CHARTER SCHOOLS — Can top charters truly 'replicate'? In Boston, yes — elsewhere, it's not so clear (Read at Chalkbeat)
SCHOOL DISCIPLINE — Reducing suspensions for black students is an Obama-era misstep. Betsy DeVos can end it. (Read at USA Today)
SOCIAL-EMOTIONAL LEARNING — OPINION: Teaching social and emotional skills is easy when students already have them — what about those who don't? (Read at Hechinger Report)
Quote of the Day
"I'm really concerned when you take noneducators and they sit to craft policy and to craft guidelines for school leaders without having a school leader at the table. If you don't have the practitioner [perspective], what a mess." — Joe Erardi, former superintendent of the Newtown, Conn., school district, on the lack of school representation on a federal school safety commission. The district is home to Sandy Hook Elementary School, the site of another fatal mass shooting in late 2012. (Read at Politics K-12)
Want the day's top school and policy news delivered straight to your inbox — for free? Sign up for the TopSheet Daybreak Education Newsletter.
Get stories like these delivered straight to your inbox. Sign up for The 74 Newsletter