EduClips: NYC's Absent Teacher Reserve Could Get Pricier; Schools in Los Angeles to Report Two Graduation Rates — and More Must-Reads From America's 15 Biggest School Districts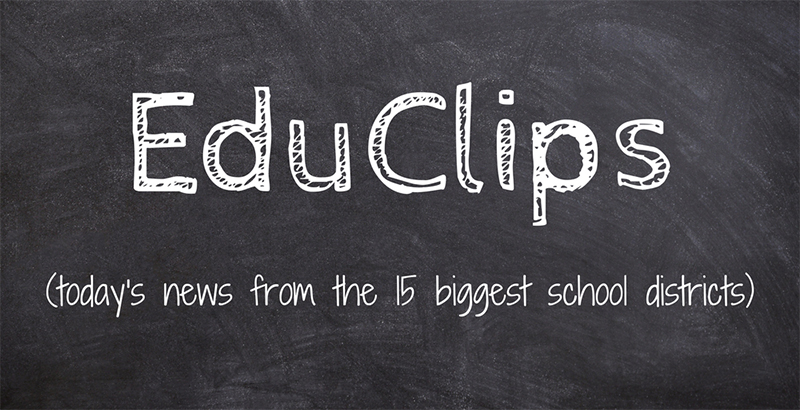 EduClips is a roundup of the day's top education headlines from America's largest school districts, where more than 4 million students across eight states attend class every day. Read previous EduClips installments here. Get the day's top school and policy news delivered straight to your inbox by signing up for the TopSheet Education Newsletter.
Top Story
DEVOS — In an interview last month with Education Secretary Betsy DeVos, the TV personality John Stossel described the Education Department headquarters as huge — the size of seven football fields — but noted as he walked the halls with DeVos that many desks sat empty. That wasn't happenstance.
"If you're going to make a case to hire more people, you better have a really good reason," DeVos told Stossel.
A little more than a year into the secretary's tenure at the department, that stringent approach to new hires looks to have had an impact on staffing levels. DeVos now oversees a significantly smaller agency than the one she took over last year.
Between the start of the Trump administration and April of this year, the department has shed more than 550 workers and reduced its overall size by 13 percent, an Inside Higher Ed analysis of recent employee data found. (Read at Inside Higher Ed)
National News
CHARTER SCHOOLS — House Lawmakers Agree on Need for Accountability at Occasionally Tense Charter School Hearing (Read at The74Million.org)
CAREER & TECHNICAL EDUCATION — Senate Education Committee Set to Consider Career, Technical Education Bill (Read at Politics K-12)
HOME ECONOMICS — Despite a Revamped Focus on Real-Life Skills, 'Home Ec' Classes Fade Away (Read at NPR)
District and State News
NEW YORK — New York City's Absent Teacher Reserve could get pricier as teachers collect raises, bonuses (Read at Chalkbeat)
CALIFORNIA — Schools in Los Angeles Will Now Report Two Graduation Rates to Reveal How Many Students Are Actually Eligible for State Universities (Read at The74Million.org)
TEXAS — STAAR glitches affected more than 100,000 Texas students, education commissioner says (Read at The Texas Tribune)
VIRGINIA — School Dress Code Unfairly Targets Girls, Fairfax Official Says (Read at NBC Washington)
NEW YORK — In a politically charged town hall, Carranza tackles segregation, testing, and charter schools (Read at Chalkbeat)
NEVADA — Nevada high court hears arguments in CCSD support staff union dispute (Read at the Las Vegas Review-Journal)
CALIFORNIA — Betsy DeVos to California: Not so fast on that federal education plan (Read at the Los Angeles Times)
PENNSYLVANIA — Solving the mystery of Room 106 (Read at The Philadelphia Inquirer)
Think Pieces
DEVOS — Betsy DeVos Remakes Higher Education in the Image of Trump University (Read at The Daily Beast)
PRINCIPALS — This Small Federal Investment in Principals Could Pay Off Big (Read at Education Post)
Quote of the Day
"When that happens, the department ends up in court and that's bad for everyone involved. The uncertainty about what the rules are is worse than any rule — bad or good — because institutions don't know what rules to follow and students feel unprotected." —David Bergeron, a senior fellow at the left-leaning Center for American Progress, on the effects of large staff cuts at the U.S. Department of Education. (Read at Inside Higher Ed)
Want the day's top school and policy news delivered straight to your inbox — for free? Sign up for the TopSheet Daybreak Education Newsletter.
Support The 74's year-end campaign. Make a tax-exempt donation now.