EduClips: NYC Specialized School Proposal Sparks Outrage in Asian Communities; IL Raises and Limits Teacher Pensions — and More Must-Reads From America's 15 Biggest School Districts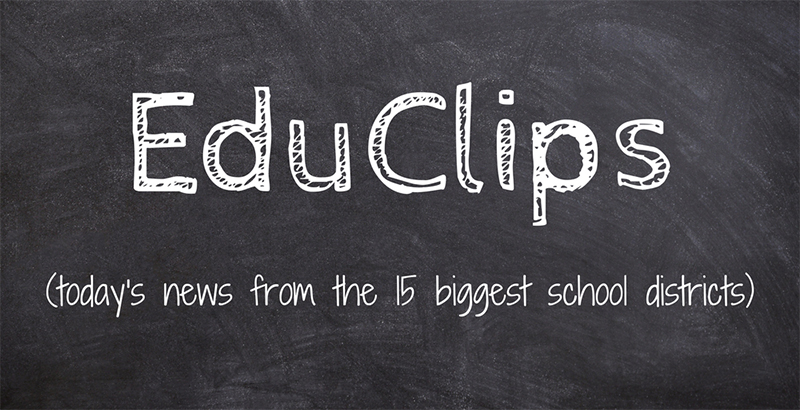 EduClips is a roundup of the day's top education headlines from America's largest school districts, where more than 4 million students across eight states attend class every day. Read previous EduClips installments here. Get the day's top school and policy news delivered straight to your inbox by signing up for the TopSheet Education Newsletter.
Top Story
SCHOOL SAFETY — Education Secretary Betsy DeVos told a Senate committee on Tuesday that the federal commission on school safety set up this year after the Parkland, Florida, school massacre will not focus on the role guns play in school violence.
The comments, provided in testimony before the Senate subcommittee that oversees education spending, perplexed senators who questioned how the commission, led by Ms. DeVos and convened by President Trump, could avoid the subject when it was a military-style assault rifle that left 17 students and staff dead at Marjory Stoneman Douglas High School.
"That's not part of the commission's charge, per se," Ms. DeVos said in response to a question from Senator Patrick J. Leahy, Democrat of Vermont, about whether the commission would look at the role of firearms in the gun violence that has plagued the nation's schools. (Read at The New York Times)
National News
IMMIGRATION — Asked again about school staff referring students to ICE, DeVos says 'I don't think they can' (Read at Chalkbeat)
DEVOS — Betsy DeVos Headed to Europe to Explore Career Education, School Choice (Read at Politics K-12)
RURAL SCHOOLS — What Budget Cuts Mean for Third-Graders in a Rural School (Read at The New York Times)
SCHOOL CHOICE — New Leader of School Choice Caucus in Congress Hails From DeVos's Home State (Read at Politics K-12)
KEN LANGONE — Billionaire Ken Langone: Public education is the 'biggest single problem confronting America' (Read at CNBC)
DAVID KOCH — David Koch Steps Down From Company, Political Groups (Read at The Wall Street Journal)
ESSA — Betsy DeVos Greenlights ESSA Plans for Nebraska and North Carolina (Read at Politics K-12)
District and State News
NEW YORK — De Blasio's specialized school proposal spurs outrage in Asian communities (Read at Chalkbeat)
ILLINOIS — In Illinois, New Budget Caps Raises and Limits Pensions for Teachers (Read at Teacher Beat)
PENNSYLVANIA — New test: 10.7 million asbestos fibers on floor at Philadelphia elementary school (Read at The Philadelphia Inquirer)
CALIFORNIA — Where Education Did (and Didn't) Matter in California's Primary: Newsom & Cox Advance in Gubernatorial Race, Reformer Tuck Leads Thurmond for Superintendent (Read at The74Million.org)
NEW YORK — State Senate overrides Cuomo's veto of full-day kindergarten bill (Read at the New York Post)
CALIFORNIA — LA Unified not directing enough money to help low-income students, report charges (Read at EdSource)
TEXAS — Parents, Schools Step Up Efforts to Combat Food-Allergy Bullying (Read at Texas Public Radio)
FLORIDA — Far fewer South Florida children ready for kindergarten, state tests show (Read at the Sun Sentinel)
NEVADA — Clark County school trustees revisit hot-button gender diverse policy (Read at the Las Vegas Review-Journal)
Think Pieces
EDUCATION & ECONOMICS — The Difference Between Roads and Education: The Human Mind (Read at Forbes)
NEW MEXICO — Aragon: New Mexico Is First State to Approve School Turnaround Plans Under the Every Student Succeeds Act. But Will Adult Politics Now Keep the Kids Waiting? (Read at The74Million.org)
TEENAGERS — Pens to Power: The Learning Network in Print (Read at The New York Times)
MISSISSIPPI — Mississippi's graduation rate gaps are among lowest in the country, report finds (Read at The Hechinger Report)
Quote of the Day
"So we'll look at gun violence in schools, but not look at guns? An interesting concept." —Senator Patrick J. Leahy, responding to U.S. Education Secretary Betsy DeVos's testimony on the limited mandate of the federal school safety commission. (Read at The New York Times)
Want the day's top school and policy news delivered straight to your inbox — for free? Sign up for the TopSheet Daybreak Education Newsletter.
Get stories like these delivered straight to your inbox. Sign up for The 74 Newsletter