EduClips: New Era of School Security Strains Miami-Dade's School Budget; Amid School Sex Abuse Scandal, Chicago Hires 250 Social Workers, Case Managers — and More Must-Reads From America's 15 Biggest School Districts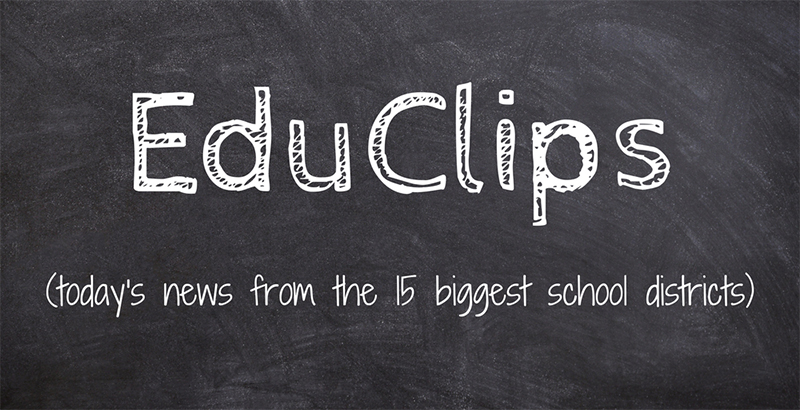 EduClips is a roundup of the day's top education headlines from America's largest school districts, where more than 4 million students across eight states attend class every day. Read previous EduClips installments here. Get the day's top school and policy news delivered straight to your inbox by signing up for the TopSheet Education Newsletter.
Top Story
SCHOOL SAFETY —The number of Americans who fear for their child's safety in school has nearly tripled over the past five years, according to a new survey.
Still, the majority of Americans believe their kids are safe at school. The poll found that 34 percent of parents said they feared for their child's physical safety, while 65 percent said they did not. In 2013, only 12 percent said they were afraid.
The findings were published by PDK International Poll, which conducts an annual survey of attitudes toward education. (Read at The74Million.org)
National News
CAREER & TECHNICAL EDUCATION — Career and Technical Education Bill Expected to Clear Senate by Month's End (Read at Politics K-12)
PARENTS — #NotHereToBakeCookies: To Get Her Kids the Schools They Deserve, Advocate & 'Mom-in-Chief' Keri Rodrigues Has Raised a Parent Army (Read at The74Million.org)
ESSA — Does ESSA Require Teachers to Be Highly Qualified? (Read at Politics K-12)
District and State News
FLORIDA — A new era of school police and online surveillance strains Miami-Dade's 2019 budget (Read at the Miami Herald)
ILLINOIS — Citing 'firmer' budget and sex abuse scandal, CPS to hire 250 social workers, case managers (Read at the Chicago Tribune)
CALIFORNIA — Walters: The new players in California school war (Read at The Mercury News)
NEW YORK — Regents use annual retreat to take stock of changes in testing, charter schools and more (Read at Chalkbeat)
ILLINOIS — Terrorism Task Force Takes On School Safety (Read at NPR Illinois)
GEORGIA — Suit: Gwinnett teacher sexually assaulted girls, but school ignored it (Read at the Atlanta Journal-Constitution)
FLORIDA — Hillsborough County has more 'persistently low-performing' schools than any other Florida district (Read at the Tampa Bay Times)
TEXAS — UNT-Dallas, El Centro launch partnership for academy to help with Texas teacher shortage (Read at Dallas News)
CALIFORNIA — As Gov. Brown urges work on new online college, community college faculty drop their opposition (Read at EdSource)
NEW YORK — Meditation and Mindfulness: How a Harlem principal solves conflict in her community (Read at Chalkbeat)
Think Pieces
PRIVATE SCHOOLS — Study: As Catholic Options Dwindle, Middle Class Retreats From Private Schools (Read at The74Million.org)
MENTORS — Mentors matter: Good teaching really can be passed down to student teachers, new research finds (Read at Chalkbeat)
U.S. DEPARTMENT OF EDUCATION — Why Trump is trying to reduce the status of the Department of Education (Read at the Brookings Institution)
SCHOOL THERAPISTS — What It's Like to Be a School Therapist (Read at HuffPost)
Quote of the Day
"You can't do this in a vacuum. If you don't bring parents and families along with you, you're building a sand castle by the sea." —Parent activist Keri Rodrigues Lorenzo. (Read at The74Million.org)
Want the day's top school and policy news delivered straight to your inbox — for free? Sign up for the TopSheet Daybreak Education Newsletter.
Get stories like these delivered straight to your inbox. Sign up for The 74 Newsletter