#NotHereToBakeCookies: To Get Her Kids the Schools They Deserve, Advocate & 'Mom-in-Chief' Keri Rodrigues Has Raised a Parent Army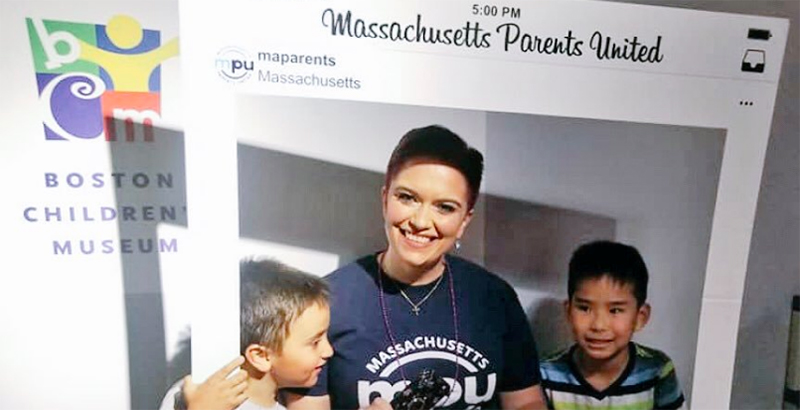 Keri Rodrigues Lorenzo was coming out of a co-working space in Boston's Dorchester neighborhood when a woman wearing a Massachusetts Parents United T-shirt stopped her to talk about the group's work advocating for families. Rodrigues listened, asking pointed questions to see how the woman would respond. After a little while, she put her hand on the woman's forearm and confessed she was the group's founder.
Or, as she likes to call herself, the Mom-in-Chief.
The canvasser responded by jumping up and down. "I can't believe it's you," Rodrigues recalls her saying.
Meet the least likely — and arguably the most successful — parent organizer in education advocacy today. In less than two years, Rodrigues has organized 10,000 Massachusetts parents by equipping people she meets to do essentially what the canvasser did: tell their stories to other parents, and solicit theirs in response.
Running into the woman felt like vindication to Rodrigues. "I live it and I breathe it," she says. "To see how it connects with another person was very emotional. It tickled me, it made me cry."
But for Rodrigues, those connections extend beyond the personal to the highly political. She was a key player in a 2016 push to raise the cap on charter schools in Massachusetts, an effort that ended in defeat after a multimillion-dollar campaign. Her organization — many of whose members fear deportation — has endorsed a lawsuit against Boston Public Schools over its policies communicating students' immigration status to the federal government. And she weighed in on the June resignation of Superintendent Tommy Chang after a turbulent three years with a scathing, GIF-peppered blog post placing blame squarely on Mayor Marty Walsh.
Now, Rodrigues, a Latina raising three boys who she hopes will become first-generation college graduates, is turning her attention to achievement gaps in a state widely recognized as a national leader in K-12 education — but that is also home to some of the country's most profound disparities between white students and their black and Latino peers.
Disparities for Latinos
Massachusetts has the nation's third-smallest four-year college completion gap for black and white students, with 52 percent of black students graduating from college within six years, versus 61 percent of whites. But for Latinos, Massachusetts ranks 37th out of the 50 states; just 49 percent finish in that time, according to 2015 federal data. That gap, U.S. Department of Education research has found, is largely explained by deficits those students experience much earlier in life.
Of the state's approximately 400 high schools, 31 have no students enrolled in MassCore, the academic classes required for entry into a state college or university, according to Education Reform Now. Latino students are twice as likely as their white peers to attend one of these schools.
Education advocates, Rodrigues says, can bring all the technocratic expertise in the world to bear on the inequities, like these, that low-income children of color face in school — but true and sustainable progress requires family participation.
In fact, she says, starting with those relationships could have changed the entire charter school landscape in the state — and they will be her strongest weapon in her new battle for school funding to help close the achievement gap.
"You can't do this in a vacuum," she says. "If you don't bring parents and families along with you, you're building a sand castle by the sea."
In Massachusetts Parents United, she says, members determine the group's priorities, chiefly neighborhood safety, affordable housing, food insecurity, and equitable access to quality schools. Rodrigues and a handful of regional parent leaders help them raise their voices at the Capitol and in other forums that working-class families of color rarely know how to navigate. Often using the hashtag #NotHereToBakeCookies, members keep the pressure on state lawmakers to address their priorities.
Equal parts petite and profane, Rodrigues is lobbying Gov. Charlie Baker to use his influence in the Republican Governors Association to push for a ban on the AR-15, the assault rifle used in most school shootings. And, in conjunction with the UMass Donahue Institute, the group published an analysis of the achievement gaps awaiting Puerto Rican hurricane evacuees attending Massachusetts schools.
Members are even turning out for meetings on topics considered too wonky to galvanize parents, such as discussions of the positive effect of unified enrollment systems — typically computerized lotteries for matching kids with schools — on student achievement.
"What she is doing is aggregating voices, giving people choices, and trusting them to make decisions," says Andy Stern, president emeritus of the Service Employees International Union and Rodrigues's mentor.
A parent first
Rodrigues is more effective than the education policy wonks who've come before her, Stern says, because she is a parent advocating for her three boys first and foremost, and an organizer second.
She's also the consummate underdog, having scrapped her way up from the most challenging circumstances: Rodrigues's first trip to the Massachusetts Statehouse was as a tween runaway.
Rodrigues's household was highly dysfunctional and volatile, and over the years she came to child protection authorities' attention six times. The last time, after she showed up at school covered in bruises, she ended up in a shelter where kids like her, who had nowhere else to go, were housed with youngsters involved in the juvenile justice system.
The few treasures Rodrigues had brought from home — gold and silver medals from the New England Conservatory of Music — were stolen or smashed. She ran away, ending up on a bench in Boston Common across from the State House. She slept there for three nights.
"No one looked for me," she wrote. "But while I was sitting there on the second night, looking up the hill at the golden dome, I started wondering why no one in that building was doing anything to make this better. What would it take to make people care that this was happening to kids like me?"
It did not turn out to be a magic, pivotal moment. From there, Rodrigues endured foster care, survived abuse, and was expelled from high school. She eventually earned a GED and enrolled at Temple University, where she studied broadcast journalism. She left without graduating to take a job with CBS News radio.
After five years as a political reporter, she ended up as a drive-time talk show host on WSAR in Fall River, Massachusetts, a port city in the Providence, Rhode Island, metro area. For three hours, five days a week, she engaged callers, earning the descriptor "pint-sized Portuguese pundit."
(Rodrigues is Irish, Venezuelan, and Portuguese. Her children are also Honduran and Ecuadoran.)
The No. 1 program in its time slot, The Keri Rodrigues Show featured a segment called "Under the Bus," which invited listeners to nominate a "bum of the week."
In 2006, she took on a controversial proposal for a plant where natural gas would be liquefied and transferred to tanker ships. The facility, Rodrigues argued, was too close to local homes. She was also an outspoken critic of a local prosecutor running for re-election and took up the cause of a woman who sued an area highway department for harassment.
In hindsight, it's clear that "I was doing community organizing on the air," she says. "I was just talking all the time."
In 2008, Rodrigues took a job organizing health care workers for SEIU, first on the East Coast and later throughout the country. She began organizing political campaigns and was elected to the Massachusetts Democratic State Committee.
She proved good at drawing attention to issues. In 2011, Rodrigues's sense of humor led her to organize several nontraditional protests on behalf of SEIU ally ProgressOhio. Among other headline-grabbing efforts, she organized a song-and-dance performance in a Bob Evans restaurant using a Britney Spears spoof to lambaste the company for moving its headquarters out of the state, and a flash mob performance inside a bank whose political action committee funded anti-labor lawmakers.
She also had three sons. Born in 2007, her oldest has attention deficit disorder and sensory issues. He was suspended 36 times in kindergarten, a cycle that Rodrigues — advocacy skills notwithstanding — couldn't interrupt.
"I was just shocked as a parent to discover how powerless I was," she says. "It was me, sitting at the table, unable to get what I needed for my kid."
Rodrigues eventually enrolled the boy in a charter school that was part of a special needs collaborative that also includes traditional district schools. Given a new evaluation and the right supports, he was even able to skip a grade.
"He's just blossomed," Rodrigues says. "He's the best kid in the world."
The personal becomes political
As a campaign consultant, she had blocked her candidates from getting questionnaires from Democrats for Education Reform. "I was like, 'No, we want nothing to do with education reform,'" she says.
But trying to find a workable school for her son shook her. "How do you even know what the options are?" she recalls. "It's like this big secret you have to unlock."
Within a year, Rodrigues was consulting for DFER Massachusetts, where she now serves on the advisory council. Soon after, she took a job as state director of Families for Excellent Schools, an advocacy organization seeking to raise the state's charter school cap. (Families for Excellent Schools closed in February 2018, following the firing of its CEO, Jeremiah Kittredge, who was accused of sexual misconduct.)
A proposal to add 12 new charter schools a year to the state's limit of 120 — the Massachusetts Charter School Expansion Initiative, also known as Question 2 — was placed on the ballot in 2016. The state's charters, which admit students primarily through a blind lottery, are widely deemed the best in the nation, with research showing a large, positive impact on student achievement. One year in a Boston charter was found to erase roughly one-third of the racial achievement gap.
"It is hard to think of an education policy for which the evidence is more clear," researchers Sarah Cohodes and Susan Dynarski wrote in a 2016 Brookings Institution report. "We have exactly the research we need to judge whether charter schools should be permitted to expand in Massachusetts."
Still, nearly $20 million was spent by the "vote no" advocacy group Save Our Public Schools, most coming from local and national teachers unions, to counter the $21.6 million reportedly spent by the Great Schools Massachusetts Ballot Question Committee in favor of lifting the cap. Ultimately, the proposal was defeated decisively in an election dominated by affluent white families, with very low turnout in communities of color thought to most want new, better-performing schools.
Angry, Rodrigues quit the day after the measure's defeat.
"Honestly, I felt I was being used as a prop," she says. "It was a lot of white men at the table. None of those people were from Massachusetts. It was really strange to me that they did not want to take advantage of my expertise and my connections to the community."
She had won elections, and she had seen the loss coming. "I think fundamentally this reform sector does not understand or respect organizing. They don't understand it's a skill set."
Families for Excellent Schools wasn't wrong to think more high-quality charter schools would benefit impoverished families, says Rodrigues. But it made the mistake of assuming those families would rally at the request of outsiders who had not first asked about their concerns. (Kittredge did not respond to calls for comment.)
Had the "Yes on 2" campaign started with relationships, it might have ended differently, she says. But, as it turned out, the parents who voted most likely got their educations on the issue from suburban teachers unions.
"We knew we needed to engage in a strong ground game," says Rodrigues. "We knew the parent-teacher relationship was sacred. And we knew the only relationship stronger than the parent-teacher relationship is the parent-to-parent relationship."
Stern agrees. "Right now, organizing is something we do when we are in trouble," he says, referring to education advocates. "Parents are really smart people," he says. "And they don't get a lot of smart information. They're capable of making good choices when given good information."
Listening to parent voice
Soon after the ballot initiative defeat, Rodrigues called Jennifer Rego and asked her to join her new organization, Massachusetts Parents United. The two knew each other from Rodrigues' talk show days. Rego, whose title is "master of the mayhem," had called in frequently — and not always in support of Rodrigues's positions.
They got to know each other personally through social media, Rego says, and before long took an interest in each other's children.
"She doesn't think she knows what your child needs," says Rego. "She wants to hear what you think they need.
"I think it probably comes from being on the radio for so much time," Rego adds. "Fall River is a poor area. She listened to those people all the time."
Parents do want better, more responsive schools for their children, Rego says. But attend a Massachusetts Parents United meeting, and you'll hear lots of more immediate issues: "Sometimes people are just trying to get their kids fed. A lot of these concerns are fighting for top spot on parents' lists."
In addition to Rodrigues and Rego, the group now has four other full-time staff and a dozen part-time organizers and chapters in East Boston, Lynn, Lawrence, Lowell, Springfield, and Salem. According to a recent profile in CommonWealth magazine, its budget has topped $1 million.
Massachusetts Parents United has taken parents to the state Capitol to push for laws that would remove weapons from the hands of individuals deemed dangerous — a "red flag" bill recently passed both chambers — and to require impoverished schools to serve breakfast during the first class period of the day (the "breakfast after the bell" bill is still wending its way through the legislature).
The group also attempted to join a union-backed coalition, Raise Up Massachusetts, that was lobbying for a special tax on income over $1 million that could raise a projected $2 billion for public education and transportation. But Massachusetts Parents United's bid, along with that of DFER and Stand for Children, sparked controversy among coalition members who were on the opposite side of the charter cap fight.
Rodrigues says the education organizations were "kicked out" of the coalition, even though, she notes, "This directly impacts our parents. It's all poverty issues." In May, organizers told The Bay State Banner they were discussing how to respond to the effort to join forces. A few weeks later, the state Supreme Court struck the measure from the 2018 ballot.
'I can't give up'
Rodrigues isn't interested in debating the legitimacy of her group's presence in education conversations. Parents, she says, are turned off by the conflict, which ultimately is a distraction. Better to start with what the community actually wants.
In the fall, Massachusetts Parents United likely will go ahead with its own plan for pushing for more state education dollars, though its effort will probably be aimed at funding things that will close opportunity gaps, says Rodrigues.
"I can't approach this as a hobby," she says. "I have three little boys bouncing on my bed at night who I can't give up on."
Disclosure: Walton Family Foundation provides financial support to Massachusetts Parents United and The 74.
Get stories like these delivered straight to your inbox. Sign up for The 74 Newsletter