EduClips: New Chicago Schools Chief Faces 'Tough Decisions'; MS-13 Gang Forces Balancing Act for NY Schools — and More Must-Reads From America's 10 Biggest School Districts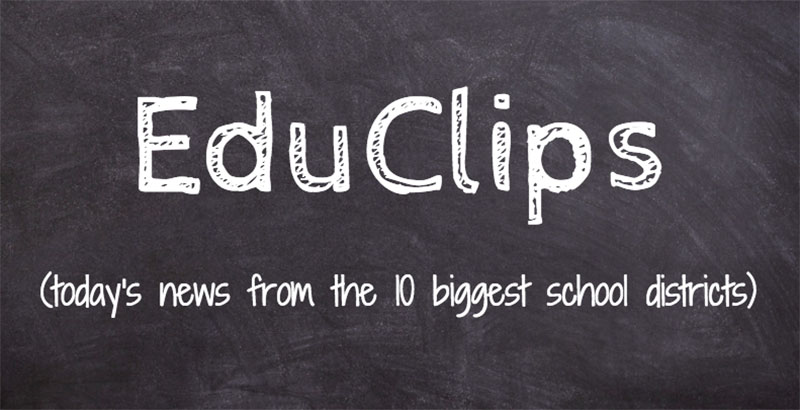 EduClips is a roundup of the day's top education headlines from America's largest school districts, where more than 4 million students across eight states attend class every day. Read previous EduClips installments here. Get the day's top school and policy news delivered straight to your inbox by signing up for the TopSheet Education Newsletter.
Top Story
ESSA — As the U.S. Department of Education examines state accountability plans under the Every Student Succeeds Act (ESSA), there is mounting concern about states' commitment to following the law, the proposals' assurances to provide quality education to historically disadvantaged students, and the department's capacity, perhaps even desire, to police it all.
So far, the process for approving plans has managed to vex Republicans, who want to give states more flexibility in devising education plans, and Democrats, who believe Obama-era regulations that inform state officials about how to implement the law should not have been eliminated. (Read at U.S. News & World Report)
National News
FIRED TEACHER — Teacher Fired Over Art History Flap Involving Nude Paintings (Read at Education Week)
EDUCATION 2018 —  The five big ed reform stories of 2018 (Read at Flypaper)
ESSA —  Answer Your ESSA Questions: What's Going on With Testing Audits? (Read at Politics K-12)
District and State News
ILLINOIS —  'Tough decisions' needed to confront issues facing CPS, incoming CEO says (Read at Chicago Tribune)
NEW YORK — MS-13 Gang Lawsuits Force New York Schools Into Balancing Act Between Safety and Civil Liberties (Read at The74Million.org)
NEVADA — Downgraded credit rating doesn't overly worry Clark County School District officials (Read at Nevada Independent)
CALIFORNIA —  The 7 hottest California education storylines we're watching in 2018 (Read at LA School Report)
NEW YORK —  Cuomo offers few new education plans for 2018, but says poor schools need more funding (Read at Chalkbeat)
FLORIDA —  What percentage of education funding should Florida's state government provide? (Read at Tampa Bay Times)
ILLINOIS —  Illinois taxpayers give $36 million to private school scholarships (Read at Chicago Business)
TEXAS — U.S. Dept. of Education: Texas Must Make Big Changes To Education Accountability Plan (Read at Texas Public Radio)
PENNSYLVANIA — University-School District Partnerships Offer Hope (Read at Education Week)
Think Pieces
NCLB — Watch the Oral History: 15 Years After No Child Left Behind, Inside the Enduring Legacy of the Landmark Education Law (Read at The74Million.org)
COLLEGE & CAREER READY —  The career-ready high-school graduate exists only in your imagination (Read at Market Watch)
TESTING — Is the Smarter Balanced National Test Broken? (Read at Real Clear Education)
UNIONS —  Will Janus v. AFSCME Rein In Out-of-Control Public Sector Unions? (Read at Weekly Standard)
Quote of the Day
"If the department is ignoring the agreement we made in the law and just choosing to implement whatever it feels like – which I believe they are in their approval of state plans so far – then this committee needs to hear from the secretary about how she intends to follow the laws that Congress agrees to." — Sen. Patty Murray, top Democrat on the Senate Health, Education, Labor and Pensions Committee, on the approval of state ESSA accountability plans. (Read at U.S. News & World Report)
Want the day's top school and policy news delivered straight to your inbox — for free? Sign up for the TopSheet Daybreak Education Newsletter.
Get stories like these delivered straight to your inbox. Sign up for The 74 Newsletter