EduClips: More Undocumented Students Apply for Aid Under CA Dream Act; WV Teacher Strike Ends — and More Must-Reads From America's 15 Biggest School Districts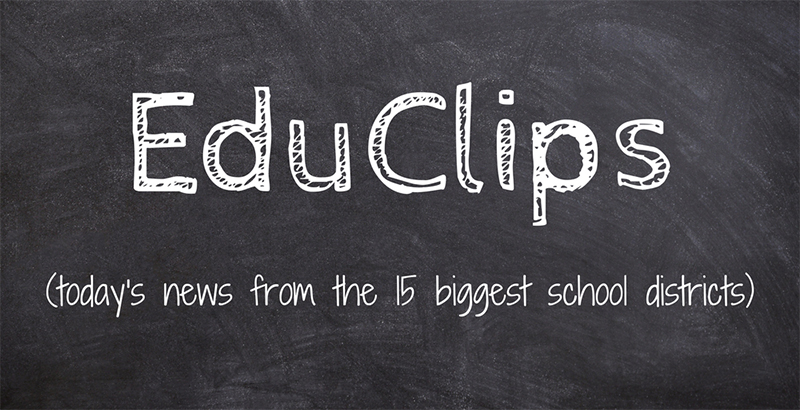 EduClips is a roundup of the day's top education headlines from America's largest school districts, where more than 4 million students across eight states attend class every day. Read previous EduClips installments here. Get the day's top school and policy news delivered straight to your inbox by signing up for the TopSheet Education Newsletter.
Top Story
STRIKE ENDED — West Virginia Gov. Jim Justice signed legislation Tuesday authorizing a contract agreement with the state's 20,000 teachers that will return 275,000 public school students to class as early as today.
"Today is a new day in education, no more looking back," Justice said at a signing ceremony for the deal, which includes a 5 percent pay raise and ends the nine-day strike. The contract also covers more than 10,000 support staff. Justice said money will be found elsewhere in the budget to allow the state to provide a 5 percent pay hike to all state employees. Some of those pay increases, however, must wait for passage of a budget bill. (Read at USA Today)
National News
TEACHER STRIKES — Could Wildcat Teachers' Strikes Spread to Other States? (Read at Bloomberg)
FLORIDA SHOOTING — After Parkland Shooting, Sen. Rubio Questions Obama-Era Guidance on School Arrests (Read at Education Week)
NATIONAL WALKOUT — "I'm missing a day of school because 17 are missing the rest of their lives": Baltimore students walk out of school for gun safety (Read at The Washington Post)
SCHOOL SAFETY — Senators Tell Schools Chiefs They Plan to Act on School Safety With More Money for Counselors, Better Security, No Mention of Guns (Read at The74Million.org)
ESSA — DeVos, Democrats Spar Over School Ratings That Omit Minorities' Performance (Read at The Wall Street Journal)
District and State News
CALIFORNIA — After educators assuaged fears, more students applied for aid under the California Dream Act this year (Read at the Los Angeles Times)
NEW YORK — De Blasio's new schools chancellor comes with baggage (Read at the New York Daily News)
ILLINOIS — School superintendent becomes school resource officer (Read at WTHI TV)
CALIFORNIA — Some California districts are downplaying the National School Walkout as others embrace it (Read at EdSource)
FLORIDA — Florida lawmakers pass union-busting education bill (Read at Orlando Weekly)
PUERTO RICO — Top school choice group advising Puerto Rico on controversial efforts to expand charters and vouchers (Read at Chalkbeat)
TEXAS — Texas attorney general targets schools' get-out-the-vote drives (Read at the Star-Telegram)
NEW YORK — De Blasio's flagship school improvement effort loses its leader — to Carmen Fariña's pet project (Read at Chalkbeat)
PENNSYLVANIA — This high school senior is one of Philadelphia's newest politicians (Read at The Philadelphia Inquirer)
NEVADA — Clark County schools try out new approaches to student discipline (Read at the Las Vegas Review-Journal)
Think Pieces
TEACHER STRIKES — Why Teacher Strikes Aren't Like Other Strikes (Hint: Teachers Often Get Paid) (Read at The74Million.org)
STEM — Eight Ways to Introduce Kids to STEM at an Early Age (Read at The Hechinger Report)
WOMEN'S HISTORY MONTH — Meet Ella Flagg Young, First Female School Superintendent of a Major U.S. City — and Ed Reform's Forgotten Thought Leader (Read at The74Million.org)
READING — When reading a book means more than just looking at text on a page (Read at The Hechinger Report)
Quote of the Day
"Historically, public-sector strikes have tended to come in waves. Teacher strikes have tended to breed more teacher strikes." —Georgetown University historian Joseph McCartin, on the recently ended teachers strike in West Virginia and the threat of one in Oklahoma. (Read at Bloomberg)
Want the day's top school and policy news delivered straight to your inbox — for free? Sign up for the TopSheet Daybreak Education Newsletter.
Support The 74's year-end campaign. Make a tax-exempt donation now.