EduClips: LAUSD Poised to Select Beutner as New Superintendent; NYC's Carranza Apologizes for Retweet — and More Must-Reads From America's 15 Biggest School Districts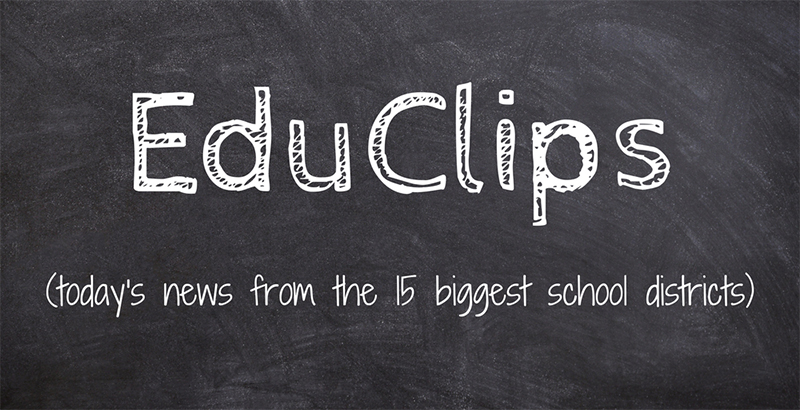 EduClips is a roundup of the day's top education headlines from America's largest school districts, where more than 4 million students across eight states attend class every day. Read previous EduClips installments here. Get the day's top school and policy news delivered straight to your inbox by signing up for the TopSheet Education Newsletter.
Top Story
LOS ANGELES SCHOOLS CHIEF — The Los Angeles Board of Education is poised to select philanthropist and former investment banker Austin Beutner to be the next superintendent of the nation's second-largest school system.
Barring a last-minute development, the only mystery is whether Beutner emerges with four or five votes from the board's seven members. Terms of his contract already have been under discussion, according to sources close to the process who requested anonymity because they are not authorized to speak.
The selection of Beutner, 58, who has no experience managing a school or a school district, would be a signal that the board majority that took control nearly a year ago wants to rely on business management skills instead of insider educational expertise. (Read at the Los Angeles Times)
National News
TEACHERS' STRIKE — Arizona teachers vow to keep striking as lawmakers negotiate (Read at Reuters)
DEVOS — Betsy DeVos Loves School Choice. But You Don't See Much of It in ESSA Plans (Read at Politics K-12)
TENNESSEE TESTING — A Cyberattack, a Cut Cable & a Software Glitch: Why Tennessee Is Discounting Student Test Scores — and Wants the Feds to Do the Same (Read at The74Million.org)
COMPUTER-BASED TESTS — Computer-based tests are another challenge for low-income students, teachers say (Read at The Washington Post)
EDUCATION LEADERSHIP — Exclusive: Education Pioneers Founder to Step Down as CEO After 15-Year Push to Train Diverse School Leaders (Read at The74Million.org)
District and State News
TEXAS — Future of Houston ISD's struggling schools now in hands of Texas Education Agency (Read at the Houston Chronicle)
NEW YORK — New City Schools Boss Backtracks On 'Wealthy White Manhattan Parents' Tweet (Read at CBS)
ILLINOIS — Records show how much SE Illinois school districts have paid for spiking teacher pensions ahead of retirement (Read at Southeast Illinois News)
CALIFORNIA — LAUSD's interim superintendent looks to liberate principals in the most struggling schools from requirement they hire teachers sent by the district (Read at LA School Report)
FLORIDA — Florida school districts and counties work to make campus security a reality (Read at Tampa Bay Online)
NEVADA — Arbitrator sides with Clark County teachers over back pay (Read at the Las Vegas Review-Journal)
NEW YORK — Lashing out at de Blasio administration, Mulgrew says educators lack paid parental leave because of 'gender bias' (Read at Chalkbeat)
CALIFORNIA — How a Major Tech Company Could Help Educate California High School Students (Read at Capital Public Radio)
ILLINOIS — Illinois pilot program connects students with therapists (Read at Education Week)
Think Pieces
PRE-K — The Perks of a Play-in-the-Mud Educational Philosophy (Read at The Atlantic)
ED REFORM — Successful Education Reform Depends on Student Buy-In (Read at National Review)
SCHOOL TRANSPORTATION — Why Tech Is Prepping to Overhaul School Transportation (Read at Forbes)
PRE-K — Finding a good preschool isn't easy: Try it. (Read at The Hechinger Report)
FLORIDA SCHOOLS — The Push for Better Schools Is Paying Off in Florida (Read at Education Post)
Quote of the Day
"I will always pay more attention in the future when I re-tweet to make sure the language that is automatically generated in the retweet is something I would say." —New York City Schools Chancellor Richard Carranza, on his sharing of a tweet at 1 a.m. Friday that read, "WATCH: Wealthy white Manhattan parents angrily rant against plan to bring more black kids to their schools." (Read at CBS)
Want the day's top school and policy news delivered straight to your inbox — for free? Sign up for the TopSheet Daybreak Education Newsletter.
Get stories like these delivered straight to your inbox. Sign up for The 74 Newsletter