EduClips: Is the South Pushing to Resegregate Its Schools?; NV's Clark County Fights Teacher Pay Raise Ruling — and More Must-Reads From America's 15 Biggest School Districts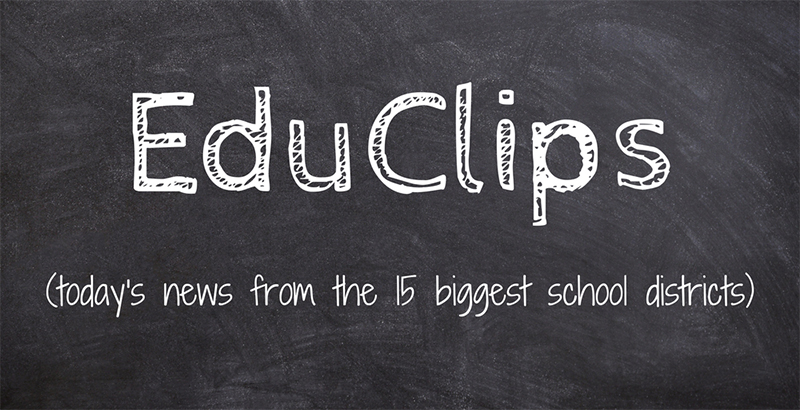 EduClips is a roundup of the day's top education headlines from America's largest school districts, where more than 4 million students across eight states attend class every day. Read previous EduClips installments here. Get the day's top school and policy news delivered straight to your inbox by signing up for the TopSheet Education Newsletter.
Top Story
ESSA— U.S. Secretary of Education Betsy DeVos is approving plans that fly in the face of the Every Student Succeeds Act's protections for vulnerable children, according to more than a dozen civil rights groups, including the Leadership Conference on Civil and Human Rights.
The groups sent a letter Tuesday to Democratic and Republican leaders on the House and Senate education committees asking them to tell DeVos to stop approving "unlawful" plans.
This is far from the first time that the civil rights community — and Democratic lawmakers — have questioned DeVos's approach to plan approval. The Alliance for Excellent Education, one of the 17 groups that signed off on the letter, put together a legal brief questioning whether some of the plans that DeVos has approved meet ESSA's requirements. And both Murray and Scott have written letters to DeVos saying she is flouting the law. (Read at Politics K-12)
National News
SEGREGATION — The South's Push to Resegregate Its Schools (Read at Bloomberg)
KY TEACHERS — Kentucky teachers plan another rally for education funding (Read at The Washington Post)
SCHOOL SAFETY — After Parkland Shooting, U.S. States Shift Education Funds to School Safety (Read at U.S. News and World Report)
THE HOLOCAUST — Remembrance Day: Ivy Schamis Was Teaching About the Holocaust When Shots Rang Out at Parkland, Killing Two of Her Students. Now the Lessons Are Deeply Personal (Read at The74Million.org)
NAEP­ — DeVos Calls School-Choice-Friendly Fla. a 'Bright Spot' in 'Stagnant' NAEP Scores (Read at Politics K-12)
VAPING — FDA Now Considers Vaping a Rising Epidemic in High School (Read at Tech Times)
PAY EQUITY — Federal Appeals Court Rules for Education Administrator in Equal Pay Act Case (Read at Education Week)
District and State News
NEVADA — Clark County School District fights teacher pay raise ruling (Read at the Las Vegas Review-Journal)
NEW YORK — Five boroughs in five days: Follow along with Chancellor Carranza on his inaugural school tours (Read at Chalkbeat)
CALIFORNIA — School board approves a new formula for funding high-need schools (Read at the Los Angeles Times)
TEXAS — Problems reported with Texas's STAAR exam — again (Read at the Texas Tribune)
PENNSYLVANIA — With broader initiative on hold, some Philly community schools press forward (Read at WHYY)
FLORIDA — After shootings, Miami Northwestern students hold walkout to condemn gun violence (Read at the Miami Herald)
TEXAS — Texas fourth-graders ranked 45th nationally in reading last year. It's not as bad as it sounds (Read at Chron)
NEW YORK — New NYC schools chief plans changes to empower neglected students (Read at the New York Daily News)
CALIFORNIA — Here's one thing that California charter schools and public school boards agree on (Read at The Sacramento Bee)
ILLINOIS — Illinois now accepting teachers from across state lines (Read at Fox Illinois)
Think Pieces
NAEP — The Shock of the New: NAEP Moved Online, but Did All Students Move With It? (Read at The74Million.org)
PERSONALIZED LEARNING — Choosing personalized learning as a strategy for educational equity (Read at The Hechinger Report)
A NATION AT RISK — WATCH: 35 Years After 'A Nation at Risk,' the Inside Story of the 36 Pages That Changed American Education (Read at The74Million.org)
Quote of the Day
"The lessons of the Holocaust came into our classroom. There we were talking about how we're going to combat hate, and a complete hater busted into our class and killed two of our classmates." —Ivy Schamis, who was teaching a course on the Holocaust at Marjory Stoneman Douglas High School when a gunman killed 17 people, including 2 students in her class. (Read at The74Million.org)
Want the day's top school and policy news delivered straight to your inbox — for free? Sign up for the TopSheet Daybreak Education Newsletter.
Support The 74's year-end campaign. Make a tax-exempt donation now.