EduClips: Inside San Francisco's 'State of Emergency' on Black Achievement; Federal Judge Rules on High School Kneeling Ban — and More Must-Reads From America's 10 Biggest School Districts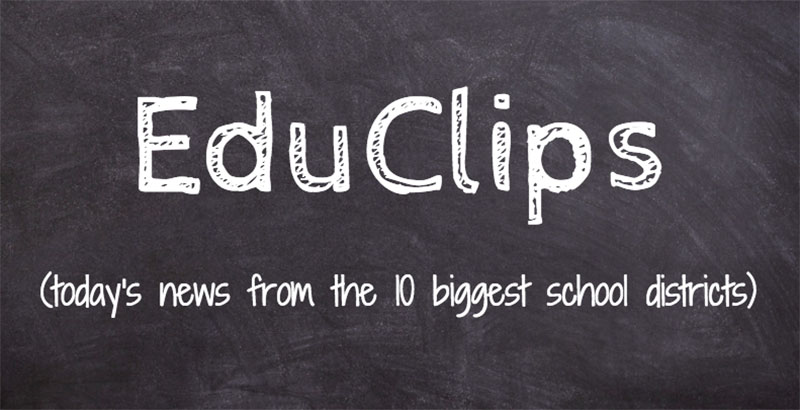 EduClips is a roundup of the day's top education headlines from America's largest school districts, where more than 4 million students across eight states attend class every day. Read previous EduClips installments here. Get the day's top school and policy news delivered straight to your inbox by signing up for the TopSheet Education Newsletter.
Top Story
KNEELING CONTROVERSY — A federal district judge in California has granted a preliminary injunction blocking a school district policy that required athletes to stand during the national anthem at sporting events. The case was sparked by a varsity football and basketball player at California's San Pasqual Valley High School who kneeled during the anthem at two games in the fall.
The student said in a court declaration that he was protesting to express his "personal feelings and concern about racial injustice in our country." Echoing protests carried out by National Football League players, similar protests have occurred at high schools across the country. (Read at Education Week)
National News
EDUCATION 2018 — 12 Important Education Storylines We'll All Be Reading About in 2018 (Read at The74Million.org)
STUDENT LOANS — Elizabeth Warren wants the Education Department's use of earnings data investigated (Read at Washington Post)
CONGRESS — Opening Gavel: Your Guide to States' 2018 Legislative Sessions (Read at Education Week)
District and State News
CALIFORNIA — Inside the fight over how to address San Francisco's 'state of emergency' for black student achievement (Read at Los Angeles Times)
NEVADA — Clark County School District teetering on edge of insolvency (Read at Las Vegas Review-Journal)
NEW YORK — As Governor Cuomo lays out his 2018 agenda, here's what that could mean for New York's schools (Read at Chalkbeat)
ILLINOIS — Judge Refuses to Order School to Suspend Transgender Policy (Read at U.S. News & World Report)
CALIFORNIA — 3 keys to helping California's Latino English learners achieve (Read at LA School Report)
FLORIDA — Florida considers timeline for ESSA revision (Read at Tampa Bay Times)
TEXAS — North Texas School Districts Tapped by State to Create Local Accountability Systems (Read at Kera News)
Think Pieces
MERIT PAY — The Benefits of Merit Pay? New Study Shows That Federally Funded Teacher Bonuses Led to Improved Student Performance (Read at The74Million.org)
COLLEGE SAVINGS PLANS — Congress's expansion of 529 plans is modest but appropriate (Read at AEI)
Quote of the Day
"It's been broken for a long time. I see IT companies coming to San Francisco and so much money coming in for the city, but our kids won't be able to live here or participate." — Geraldine Anderson, mother of three, on the black student achievement 'state of emergency' in San Francisco. (Read at LA Times)
Want the day's top school and policy news delivered straight to your inbox — for free? Sign up for the TopSheet Daybreak Education Newsletter.
Support The 74's year-end campaign. Make a tax-exempt donation now.