EduClips: In TX Courts, Questions About Whether Charter Schools Are Private; New LAUSD Chief Beutner Faces Tough Road Ahead With Teachers — and More Must-Reads From America's 15 Biggest School Districts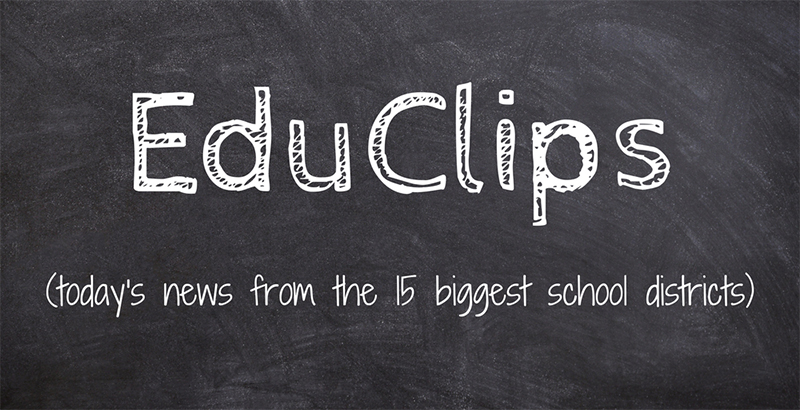 EduClips is a roundup of the day's top education headlines from America's largest school districts, where more than 4 million students across eight states attend class every day. Read previous EduClips installments here. Get the day's top school and policy news delivered straight to your inbox by signing up for the TopSheet Education Newsletter.
Top Story
OHIO — No matter the outcome of Tuesday's primary vote in the 2018 Ohio governor's race, already one of the most closely watched in the country, the electorate won't be greeted with any fresh faces.
Democrat Richard Cordray and Republican Mike DeWine, the state's two most recent attorneys general, have emerged as frontrunners after decades in the public eye. To win, they'll have to fend off challengers with comparable or greater name recognition. Former Cleveland mayor and eight-term congressman Dennis Kucinich has needled Cordray from the left, while Lt. Gov. Mary Taylor's Trumpian bid has clearly spooked DeWine, the veteran of seven statewide races.
All four candidates have built lengthy careers in anticipation of an opportunity like this. But their time on the stage is quickly being overshadowed by a far-reaching scandal that has developed right alongside them — one that makes Ohio the rare state in which education could sway the outcome in several major elections. That's why a race occurring in the aftershock of Donald Trump's historic 2016 victory, featuring a cameo by a Middle Eastern dictator, may hinge on the most parochial of concerns: a shuttered charter school, the Electronic Classroom of Tomorrow (ECOT); its political patrons, including most of the notable Republicans in the state; and the money that passed between them. (Read at The74Million.org)
National News
AZ TEACHERS' STRIKE — In aftermath of #RedForEd walkout, Arizona teachers vow to continue political activism (Read at USA Today)
SCHOOL SAFETY — AP review: More than 30 mishaps from armed adults at schools (Read at the San Francisco Chronicle)
IMMIGRATION — Pending Tennessee Law Could Lead Children of Immigrants to Leave School, Advocates Fear (Read at Nashville Public Radio)
ESSA — ESSA: Which States Are Eschewing School Grades? (Read at Politics K-12)
VAPING — 'Juuling' Craze: Schools Scramble to Deal With Student Vaping (Read at Education Week)
District and State News
TEXAS — Are charter schools private? In Texas courts, it depends why you're asking (Read at The Texas Tribune)
CALIFORNIA — Austin Beutner's got his work cut out for him if he wants to win over LAUSD teachers (Read at the Los Angeles Times)
NEVADA — New Clark County schools chief faces angst over selection process (Read at the Las Vegas Review-Journal)
CALIFORNIA — L.A. Unified school bus drivers and teacher assistants are planning a daylong strike (Read at the Los Angeles Times)
NEW YORK — A month into the job, it's clear Chancellor Carranza isn't Carmen Fariña version 2.0 (Read at Chalkbeat)
ILLINOIS — Will Illinois Be the Next State to Require Public Schools to Teach LGBT History? (Read at Education Week)
FLORIDA — Parkland students face dilemma over standardized tests (Read at Sentinel Source)
NEW YORK — New York's top policymakers leave open questions about testing, teacher evaluations (Read at Chalkbeat)
FLORIDA — With fewer teachers around, some schools find backups from far away (Read at the Tampa Bay Times)
Think Pieces
SCHOOL SAFETY — Pache & Rotherham: Being Prepared for a School Shooting Doesn't Mean Scaring Kids. It Just Means the Adults Have to Be Ready (Read at The74Million.org)
MATH — Why U.S. Students Are Bad at Math (Read at U.S. News and World Report)
FREE SCHOOL LUNCH — Free school lunch for all, meant to reduce stigma, may also keep students healthier (Read at Chalkbeat)
AP CLASSES — Eighth-graders taking Advance Placement language classes? Sí. (Read at The Washington Post)
TEACHING — 20 judgments a teacher makes in 1 minute and 28 seconds (Read at The Hechinger Report)
SCHOOL SAFETY — Threat assessments crucial to prevent school shootings (Read at The Conversation)
TEACHING — 11 Teachers Who Aren't Afraid to Keep It Real (Read at Education Post)
Quote of the Day
"This ECOT thing is going to be one of those local issues that trumps national issues. No pun intended." —Stephen Dyer, an education fellow at the progressive think tank Innovation Ohio, on the role that a scandal stemming from an online charter school called the Electronic Classroom of Tomorrow could play in Ohio's gubernatorial election. The state's primary is Tuesday. (Read at The74Million.org)
Want the day's top school and policy news delivered straight to your inbox — for free? Sign up for the TopSheet Daybreak Education Newsletter.
Get stories like these delivered straight to your inbox. Sign up for The 74 Newsletter