EduClips: Illinois Assumes Sweeping Authority Over Chicago Special Education; North Carolina Teachers Stage One-Day Protest — and More Must-Reads From America's 15 Biggest School Districts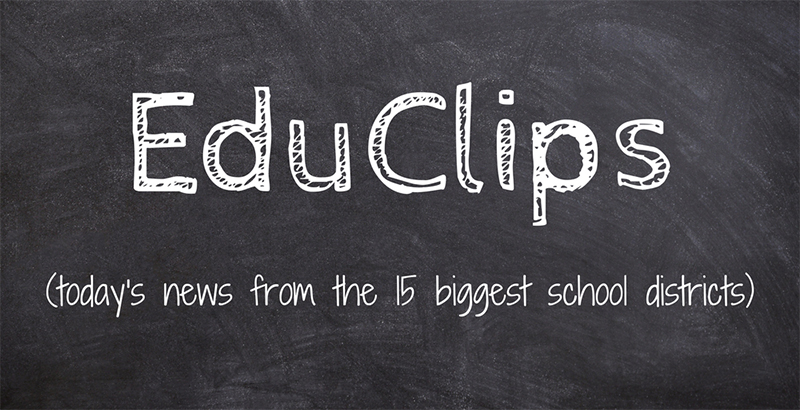 EduClips is a roundup of the day's top education headlines from America's largest school districts, where more than 4 million students across eight states attend class every day. Read previous EduClips installments here. Get the day's top school and policy news delivered straight to your inbox by signing up for the TopSheet Education Newsletter.
Top Story
NC TEACHER WALKOUT — The nationwide teacher protest movement spread to a sixth state on Wednesday as thousands in North Carolina rallied at the Capitol for higher pay and more money for schools. It was the first mass walkout for teachers in the state.
In the months since the movement began, teachers have walked out in deep-red states and purple states; in states with booming economies and ones that are struggling; in states where school funding scrapes the bottom, and others where the numbers are closer to the national average.
Despite the diversity and seemingly endless energy, the movement has limits. Most states have schools that are funded more or less equally from state and local coffers, with voters making many financial decisions close to home. But North Carolina shares something with other walkout states: Its state government plays an unusually strong role in funding education and setting its priorities, often superseding the influence of school districts. (Read at The New York Times)
National News
DEVOS — DeVos: State Bans on Public Money to Religious Schools Should Go to 'Ash Heap of History' (Read at Politics K-12)
CHARTER SCHOOLS — Are Charter Schools Legal in Washington State? As Sector Continues to Grow, Court Will Take Up the Question — Again (Read at The74Million.org)
DEVOS — Senate Confirms Trump Nominee for Deputy Secretary Under Betsy DeVos (Read at Politics K-12)
District and State News
ILLINOIS — State assumes sweeping authority over CPS special education practices (Read at the Chicago Tribune)
TEXAS — When Texas Standardized Tests Have Glitches, Special Education Students Can Be Deeply Affected (Read at Houston Public Media)
CALIFORNIA — Charter school backers' support for former LA mayor's bid for governor grows (Read at EdSource)
NEW YORK — Betsy DeVos visits yeshivas in NYC but skips public schools (Read at the New York Daily News)
CALIFORNIA — Analysis: This Is Austin Beutner's First Week as L.A.'s New Schools Chief. Here Are 3 Things That Should Top His To-Do List (Read at The74Million.org)
NEW YORK — In New York, students of color lack access to advanced coursework, new analysis finds (Read at Chalkbeat)
Think Pieces
GOOGLE — Schools Shouldn't Trust Google Search Because It Reinforces Racism, Researcher Argues (Read at Education Week)
LOS ANGELES — Can a Business Exec Save One of the Largest School Districts in America? (Read in Governing)
IMMIGRANT STUDENTS — Williams: Trump Continues Anti-Immigrant Assault by Ending the Education Department's Office Serving English Learners (Read at The74Million.org)
SCHOOL DISCIPLINE — Fewer Suspensions, More 'Hugs and Bubbles': Oklahoma City's Experiment in School Discipline (Read at The Wall Street Journal)
PHYSICS — OPINION: AP Physics as a force for civil rights? (Read at The Hechinger Report)
Quote of the Day
"These amendments should be assigned to the ash heap of history." —U.S. Department of Education Secretary Betsy DeVos, on the so-called Blaine amendments that prohibit taxpayer funding of sectarian activities such as religious schools. (Read at Politics K-12)
Want the day's top school and policy news delivered straight to your inbox — for free? Sign up for the TopSheet Daybreak Education Newsletter.
Support The 74's year-end campaign. Make a tax-exempt donation now.