Analysis: This Is Austin Beutner's First Week as L.A.'s New Schools Chief. Here Are 3 Things That Should Top His To-Do List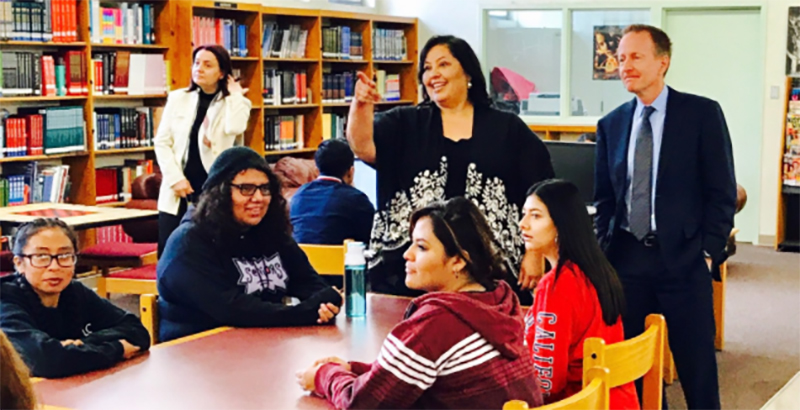 This article was produced in partnership with LA School Report.
Austin Beutner took over as Los Angeles schools chief on Tuesday. He was hired for bold action, and he's vowed to make hard choices.
Here's where he can start.
1 Close the opportunity gap for kids in the highest-need communities.
Although students in the district have made some academic gains in recent years, far less than half are proficient in math, reading, and writing. Students of color and low-income students are faring even worse. Immigrants continue to arrive in L.A.'s classrooms with no English skills, and the number of homeless students grew by 50 percent to more than 17,000 last year.
About half of LA Unified graduates aren't eligible to attend California's public universities. Less than 10 percent of African-American and Latino boys graduate eligible to even apply to the Cal State or UC college systems.
On California's new school rating system, the California School Dashboard, 52 percent of LA Unified's schools earned a D or an F in English language arts, and 50 percent earned a D or an F in math. There are 234 schools that earned a D or an F in both English and math.
And students in poverty continue to slip even as some other groups make gains. L.A.'s fourth-graders in poverty lost 2 points in math on the latest national test scores but gained 3 points in reading.
As Beutner has said, he will need to focus on communities most in need.
"There's still a big opportunity gap between what kids can achieve and what they are actually achieving," he said at his first news conference several weeks ago. "All the resources that need to go to the communities most in need are not getting to the communities most in need. Less than a third of the kids are proficient in math. That's the language of the future. Less than 40 percent are proficient in English. I think we are looking at some hard choices ahead. There's no way around it."
2 English learners can be a success story.
English learners make up almost a quarter of the district, but they are making no progress in test scores — which presents a ripe opportunity for turnaround for Beutner.
LA Unified's English learners didn't show any improvement for the second year in a row on state tests — only 4 percent were proficient in English and 5 percent in math. Eighth-grade math scores for L.A.'s English learners haven't budged in two years on national tests, though they rose 6 points in reading. Only 17 percent of LA Unified's English learners are graduating college- or career-ready.
LA Unified is making progress with its reclassification rate, which allows students to take mainstream classes, including those that will give them the opportunity to be eligible for the state's public universities, known as A-G courses. LA Unified projects that it has nearly doubled its reclassification rate this year, after Superintendent Michelle King pushed the money spent on coaches who help English learner teachers, known as Title III coaches, from the control of the district's central office to local district offices to reallocate to schools as they saw fit.
The progress needs to continue, especially for long-term English learners, who make up one-fifth of all English learners.
English learners also need to have more access to bilingual and dual-language immersion programs, as research indicates that dual-language immersion is the most effective model to educate students who have limited English skills and close the achievement gaps between English learners and their peers over the long term.
In an interview with The New York Times, Beutner said math is the language of the future, but less than one-third of LA Unified students are proficient in math. The numbers are even lower for English learners. There's new research that shows that integrating math education with English language development can be a key to advancement for California's English learners. Other districts in the state are finding success with innovative programs for English learners that Beutner can encourage in LA Unified.
If Beutner can further probe what's working and accelerate those gains, English learners can turn into a success story for the district.
3 Right the financial ship.
Beutner's contract is for three years. If he can't get the books in order, the district could be in the red by $380 million and the state could be running it by then.
To keep dollars, LA Unified needs to keep students (that means higher achievement; see Task No. 1) — and to find new ones (that means preschool and expanding offerings like the district's early education dual-immersion programs). The district continues to lose 12,000 students every year.
But LA Unified would have to find 1 million more students to cover the $15.2 billion it owes for retiree health benefits. By 2030, more than half of the district's budget will go toward health benefits.
Tackling that and pension debt won't happen without union buy-in, so contract negotiations will be key to getting the finances in order.
The district appears to be taking a harder line in current negotiations with school workers than it did in February, when, despite parents' pleas, it approved a contract with eight labor unions that commits to funding employees' generous health benefits at current levels for the next three years.
While the majority of school board members voted for the contract, they did vow to be tougher in ongoing salary negotiations. Negotiations continue with the teachers union, which has been working without a contract for a year and plans to hold a rally May 24.
Parents are now ostensibly going to get a chance to have some input into labor contracts through a new committee announced in February by Interim Superintendent Vivian Ekchian, but which has not yet convened. It's not a seat at the negotiating table, which parents have been asking for, but it was a nod toward the importance of parent voice.
And Beutner will have to add his voice to the lobbying efforts for more money from the state and federal governments. Last week, he agreed that the current funding level of $15,000 per child is not enough, but he added, "We also have to make sure we are best using the resources we do have."
Esmeralda Fabián Romero contributed to this story.
Get stories like these delivered straight to your inbox. Sign up for The 74 Newsletter