EduClips: From a Deadly California Shooting to NYC Educators Prioritizing Anti-Hate Classes to Combat Spike in Anti-Semitism, School News You Missed This Week at America's 15 Top Districts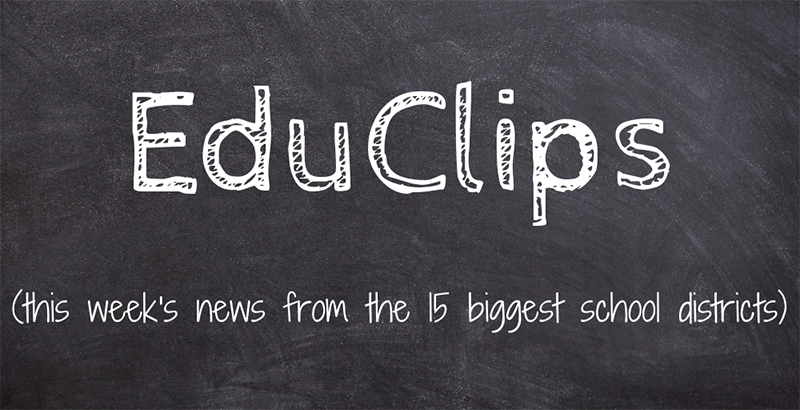 EduClips is a roundup of the week's top education headlines from America's 15 largest school districts, where more than 4 million students across 10 states attend class every day. Read previous EduClips installments here.
CALIFORNIA — 16-Second Spasm of Violence Leaves 2 Dead at a Southern California High School: Two students were killed and three injured during a shooting at Santa Clarita's Saugus High School Thursday morning. One of the injured students has already been released from the hospital, and the others were held overnight Thursday. The suspected shooter is also hospitalized in grave condition after a self-inflicted gunshot wound. All of the schools in the William S. Hart Union High School District, which includes Saugus, were closed Friday. Officials said Thursday the motive was unclear and they did not know if there was a connection between the shooter and the victims. "I'm bewildered and looking for answers — the question as to why all this would happen," one student who knew the shooter said. "So many questions no one has the answers to." (Read at the Los Angeles Times and LAist)
NEW YORK — Anti-Semitic Crime Spike Brings No-Hate Class to More Brooklyn Schools: A "dramatic" rise in anti-Semitic crimes in Brooklyn has spurred local advocates and officials to double the number of schools teaching anti-bias classes in the borough. The Anti-Defamation League and Brooklyn Borough President Eric Adams announced this week a $250,000 effort to double the footprint of the "No Place for Hate" program, allowing the classes to reach as many as 10,000 students across 40 schools, Anna Quinn reports. (Read at Patch)
NATIONAL — Supreme Court's Conservative Majority Appears to Back Trump Plan to End DACA, Potentially Putting Thousands of Students and Teachers at Risk of Deportation: During oral arguments this week, the Supreme Court's conservative majority seemed to side with President Trump over DACA, which protects some 700,000 undocumented immigrants brought to the U.S. as young children. Liberal Justice Stephen Breyer emphasized the human toll of ending the program, while Trump-appointed Justice Neil Gorsuch questioned the argument that the president needed stronger policy reasons for ending the program. Mark Keierleber was inside the courtroom. (Read at The 74)
CHICAGO — Here's How Much Chicago's Tentative Deals With the Teachers Union Will Cost Taxpayers: After an 11-day strike rocked the city, both the mayor and the union notched some wins in the contract, which the union voted on Thursday and Friday and which still requires a vote from the Chicago Board of Education. This year, the district will cover the cost — around $137 million — with the money it saved by not paying teachers during the strike and some surplus tax funds it received from the city. That means the 2019-20 budget is balanced, but it's unclear how the district will meet its financial obligations going forward. The contract is expected to cost an extra $1.5 billion over the next five years. Cassie Walker Burke breaks down the numbers. (Read at Chalkbeat)
TEXAS — Students Still Fighting for Special Education Services: Years after the federal government found that Texas was illegally denying students special education services, thousands of children are still not getting the support they need. Shelby Webb looks at how students and families are coping and why the state is still failing to meet its obligations. (Read at the Houston Chronicle)
● Related: 250,000 Kids. $277 Million in Fines. It's Been 3 Years Since Feds Ordered a Special Ed Reboot in Texas — Why Are Students Still Being Denied? (Read at The 74)
FLORIDA — How Did a Dad with a Criminal Past Get to Volunteer in a Tampa Middle School? At first, Tony Lorenzo Hart was an outstanding volunteer at Adams Middle School in Hillsborough County, supporting educators and getting more dads involved on campus. Then, in October, he failed a background check because of his criminal history. (He's served two stints in prison, for crimes that did not involve children.) Now the district is grappling with why he was allowed to volunteer at all and how to better navigate such delicate situations, Marlene Sokol reports. (Read at the Tampa Bay Times)
TEXAS — Dallas Trustees Considering Cameras in Every Special Education Classroom: One Dallas schools trustee has proposed recording every special education classroom in the district. State law already requires special education classrooms to be recorded if a parent, trustee or staff member requests it. Some are concerned about the cost of additional cameras and worry that they might make teacher retention more difficult. Eva-Marie Ayala explains the debate. (Read at The Dallas Morning News)
● More from Texas: As Texas Moves to Replace Houston's School Board, Here Are 7 Things to Know About the Takeover (Read at The 74)
Noteworthy Opinion & Analysis
SCHOOL SCHEDULE: Kamala Harris Wants to Align the School Day to Parents' Work Schedule. Does It Do More Harm or Good? (Read at The Philadelphia Inquirer)
E-SPORTS: Why Colleges Are Betting Big on Video Games (Read at The Atlantic)
HEALTH: Banning E-Cigarettes Could Do More Harm Than Good (Read at The New York Times)
DEVOS: Betsy DeVos Might Outlast Them All (Read at HuffPost)
What Else We're Reading
RESEARCH: Secret Service Report Says 'Prevention Is Key' in Addressing School Violence (Read a recap at Education Dive; read the full report)
PODCAST: The American Dream and Social Mobility for the Children of Immigrants (Listen at NPR's The Indicator)
Q&A: How the Muppets Became Revolutionaries: An Interview With Sesame Street's VP of Curriculum and Content (Read at Edutopia)
TV: 'Blue's Clues' Returns, and Silence Is Still the Star (Read at The New York Times)
SOLUTIONS: Motor City Students to Benefit From a Different Kind of Horsepower Through New Partnership (Read at Chalkbeat)
Quotes of the Week
"The data just do not support that. With a high school diploma alone, it's very hard to earn the kinds of wages one would need to support a family." —Thomas Brock, a research professor and director of the Community College Research Center at Columbia University, on a recent poll showing that many young Americans believe that a high school diploma alone is enough for success. (Read at USA Today)
"I was afraid I was going to go in, and not come back out. What is your plan to end gun violence so that way students can feel safe going to school?" —Nora, 12, to Democratic presidential candidate Kamala Harris during an October town hall in Ankeny, Iowa. (Read at The 74)
"Everyone thinks we're fine, but we're not fine. Our kids aren't fine and they're never gonna be. Please tell people we're not fine." —Nakiya Wakes, mother of two schoolchildren in Flint, Michigan, where high levels of lead in the water are feared to have sparked emotional and behavioral problems at school. (Read at The New York Times)
"What more would you have the government say?" —Justice Neil Gorsuch, questioning whether the Trump administration needed to offer more reasons for its decision to terminate the Deferred Action for Childhood Arrivals (DACA) program, which protects some 700,000 undocumented immigrants brought to the U.S. as young children. Gorsuch and other members of the court's conservative majority appeared during oral arguments to side with Trump in his desire to end the program. (Read at The 74)
"Choose civility." —Motto of Howard County, Maryland, found on the bumpers of many cars. A redistricting plan to balance the number of low-income children enrolled in schools has led to protests, racist emails and a death threat against the superintendent. (Read at The New York Times)
— With contributions from Andrew Brownstein 
Support The 74's year-end campaign. Make a tax-exempt donation now.