EduClips: FL House Approves Bill to Post 'In God We Trust' in All Public Schools; A Day of National Confrontation Over School Shootings — and More Must-Reads From America's 15 Biggest School Districts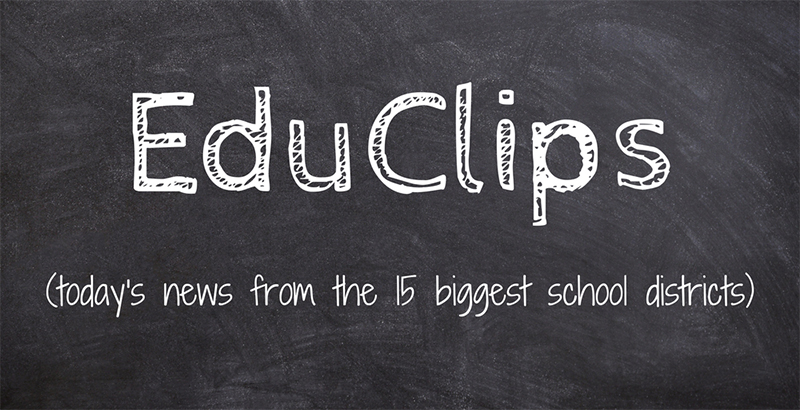 EduClips is a roundup of the day's top education headlines from America's largest school districts, where more than 4 million students across eight states attend class every day. Read previous EduClips installments here. Get the day's top school and policy news delivered straight to your inbox by signing up for the TopSheet Education Newsletter.
Top Story
SCHOOL SHOOTING — It was a day of tense exchanges, emotion-packed speeches, and confrontation as lawmakers, students, and parents sparred on Wednesday over what to do about shootings in American schools.
From the nation's capital to Florida's State House, people affected by gun violence delivered pain-laced addresses to crowds of passionate supporters, and President Trump listened to a group he had summoned to discuss the problem. There was also some poignant symbolism. The New York Times examines 11 dramatic moments in a day of confrontation over guns. (Read at The New York Times)
National News
MORE ON FLORIDA SHOOTING:
Why arming teachers is highly unlikely (Read at Politico)
Trump Pushes Concealed Weapons for Teachers, End to Gun-Free School Zones as Florida Shooting Survivors Plead for 'Significant Change' (Read at The74Million.org)
"Let the Youth Lead': Student Activists Nationwide Demand Change After Parkland Shooting (Read at Education Week)
SECESSION — In North Carolina, a Move to Allow School District Secession (Read at U.S. News and World Report)
ESSA — Seventeen States Get More Time on Their ESSA Plans (Read at Education Week)
ADVANCED PLACEMENT — Massachusetts and Maryland lead on key measure of Advanced Placement access (Read at The Washington Post)
MEDICAID — District Leaders Warn That Potential Medicaid Changes Could Squeeze Services (Read at Politics K-12)
District and State News
FLORIDA — Florida House approves bill to post "In God We Trust" in all public schools (Read at the Tampa Bay Times)
TEXAS — State Board of Education members blast Bush for 'misleading' mailer claiming he contributed $4 billion to Texas schools (Read at Dallas News)
NEW YORK — Segregation, struggling schools, 'a larger vision': What Councilman Mark Treyger is watching as NYC gets a new schools chief (Read at Chalkbeat)
FLORIDA — Miami-Dade County Asks 'How Safe Are Our Schools?' (Read at CBS Miami)
NEVADA — Clark County students stage 17-minute walkout over gun violence (Read at the Las Vegas Review-Journal)
TEXAS — Texas District Says Students Protesting Gun Violence Will Get Suspended (Read at the Huffington Post)
GEORGIA — Victim was 'used, manipulated' by Gwinnett teacher guilty of sex abuse (Read at the Atlanta Journal-Constitution)
CALIFORNIA — California research project timed to elevate education in fall elections, inform next governor (Read at EdSource)
NEW YORK — This test-prep passage about Robert E. Lee made a New York City teacher feel 'angry and sick' (Read at Chalkbeat)
CALIFORNIA — Suspension rates for black male students in California higher for foster youth, rural students (Read at Mercury News)
Think Pieces
ESSA — With Newfound Power, States Will Not See Equal Success and Need Serious Help to Raise the Floor (Read at The74Million.org)
MEDIA LITERACY — K-12 Media Literacy No Panacea for Fake News, Report Argues (Read at Education Week)
Quote of the Day
"When it comes to creative thinking, the evidence from states so far is less than promising." —Anne Hyslop, independent education consultant and former senior policy adviser at the U.S. Department of Education, on state accountability plans under the Every Student Succeeds Act. (Read at The74Million.org)
Want the day's top school and policy news delivered straight to your inbox — for free? Sign up for the TopSheet Daybreak Education Newsletter.
Get stories like these delivered straight to your inbox. Sign up for The 74 Newsletter