EduClips: ESSA Plans 'Not Encouraging' on Equity, Ed Trust Says; School Closures in NYC — and More Must-Reads From America's 10 Biggest School Districts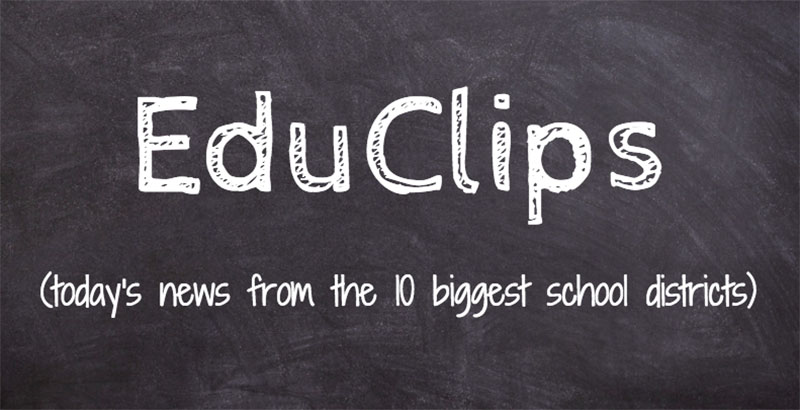 EduClips is a roundup of the day's top education headlines from America's largest school districts, where more than 4 million students across eight states attend class every day. Read previous EduClips installments here. Get the day's top school and policy news delivered straight to your inbox by signing up for the TopSheet Education Newsletter. Note: EduClips will go on a brief holiday break starting tomorrow and will resume Jan. 2.
Top Story
EQUITY — The Education Trust, a Washington-based organization that advocates for minority and poor students, said state plans to implement the Every Student Succeeds Act are "not encouraging" when it comes to educational equity. "For all the talk about equity surrounding ESSA, too many state leaders have taken a pass on clearly naming and acting on schools' underperformance for low-income students, students of color, students with disabilities, and English learners," concludes an Ed Trust report. (Read at Politics K-12)
National News
TAX BILL — How Education Fared in Congress's Tax Deal Compromise: Teacher Tax Deductions, Charter Financing & 3 More Noteworthy Fixes (Read at The74million.org)
ESSA — Betsy DeVos's Team Asks Seven States for More ESSA Specifics (Read at Politics K-12)
District and State News
NEW YORK —New York City to Close 14 Failing Schools, Including 9 in Renewal Program (Read at The74million.org)
CALIFORNIA — California school district targets underlying issues to combat chronic absenteeism (Read at EdSource)
TEXAS — Report: Low Graduation Rates at Texas Charter Schools (Read at Texas Public Radio)
FLORIDA — Florida Department of Education posts proposed Schools of Hope rules (Read at Tampa Bay Times)
NEW YORK — With new 'Rise' schools, de Blasio tiptoes through a school-closure minefield (Read at Chalkbeat)
ILLINOIS — Education funding, Amazon touted in Rauner's top 10 accomplishments (Read at Chicago Sun Times)
CALIFORNIA — SF school leaders, advocates wary of Silicon Valley group aiming to tackle achievement gap (Read at San Francisco Examiner)
Think Pieces
HISTORY — What American-History Classes Aren't Teaching (Read at The Atlantic)
UNIONS — New Study Shows America's Largest Teachers Union Spent Big to Win Republican Allies as Democrats Lost Ground (Read at The74million.org)
STEM — What STEM Students Need to Know (Read at WSJ)
Quote of the Day
"If you teach someone the truth of what happened, then they cannot help but to change their perception of what reality is." —Kristin Kirkland, a history teacher at Neshoba Central High School in Philadelphia, Mississippi, on teaching about the civil rights movement. (Read at The Atlantic)
Want the day's top school and policy news delivered straight to your inbox — for free? Sign up for the TopSheet Daybreak Education Newsletter.
Support The 74's year-end campaign. Make a tax-exempt donation now.