EduClips: DeVos Pans Past ED Reform Efforts; NY, CA Propose School Budgets — and More Must-Reads From America's 10 Biggest School Districts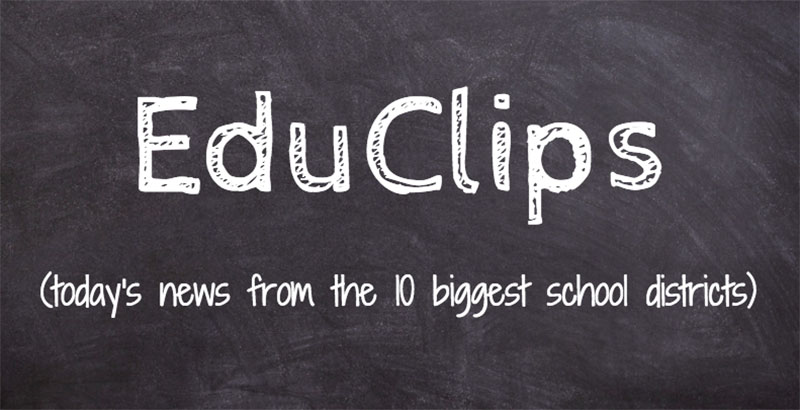 EduClips is a roundup of the day's top education headlines from America's largest school districts, where more than 4 million students across eight states attend class every day. Read previous EduClips installments here. Get the day's top school and policy news delivered straight to your inbox by signing up for the TopSheet Education Newsletter.
Top Story
DEVOS — In unusually pointed language, U.S. Education Secretary Betsy DeVos took aim at the education plans of her predecessors — in particular, the landmark No Child Left Behind law, passed during the George W. Bush administration, and the Obama administration's Race to the Top and School Improvement Grants programs.
"Perhaps the lesson lies not in what made the approaches different, but in what made them the same: the federal government…. The lesson is in the false premise: that Washington knows what's best for educators, parents, and students," she said. Though it played on familiar themes, the speech was tougher than DeVos's typical remarks, which have been highly scripted and unassuming during her first year in office, as she has sought to rebound from a contentious confirmation process, low public popularity, and public events that are often marked by protesters. (Read at The74Million.org)
National News
DEVOS — Fact-check: Weighing 7 claims from Betsy DeVos's latest speech, from Common Core to PISA scores (Read at Chalkbeat)
ACHIEVEMENT — Nation's Schools Stuck in 'Average' Range on Annual Report Card (Read at Education Week)
IMMIGRATION — Los Angeles Dreamers march on D.C., joining hundreds of undocumented youth in demanding Congress pass Dream Act this week (Read at LA School Report)
UNIONS — As Oral Arguments Near in Landmark Janus Case, Both Sides Prepare for Possible End to Mandatory Union Dues (Read at The74Million.org)
ED TECH — Ed-Tech Company Clever to Help Schools Track Tech Usage — for a Cost (Read at Education Week)
District and State News
NEW YORK — Facing a state budget crunch, Gov. Cuomo proposes modest 3 percent education boost (Read at Chalkbeat)
CALIFORNIA — California Gov. Brown Proposes $4 Billion Boost for Schools and More Local Control (Read at Education Week)
FLORIDA — Proposal to end school board pay heads back to Florida Constitution Revision Commission (Read at the Tampa Bay Times)
NEVADA — Nevada ranks last in U.S. for education, but officials upbeat (Read at the Las Vegas Review-Journal)
TEXAS — State, not schools, denied kids special ed services, Texas administrators say (Read at Dallas News)
NEW YORK — What you should know about seven people who could be the next New York City schools chancellor (Read at Chalkbeat)
CALIFORNIA — L.A. Unified approves a plan to reveal more information about its schools (Read at the Los Angeles Times)
ILLINOIS — Illinois program helps rural students access AP classes (Read at the Chicago Tribune)
Think Pieces
TEACH FOR AMERICA — Survey: Nearly 90 Percent of Principals Who Supervise TFA Members Would Recommend Hiring Them (Read at The74milion.org)
GIFTED STUDENTS — A Better Way to Teach the Gifted — and Everyone Else (Read at The Wall Street Journal)
HIGHER EDUCATION — The False Promises of Worker Retraining (Read at The Atlantic)
Quote of the Day
"When we try the same thing over and over again, yet expect different results, that's not reform — that's insanity." — Betsy DeVos, U.S. Education Secretary on the failures of past attempts to reform K-12 education (Read at The74Million.org)
Want the day's top school and policy news delivered straight to your inbox — for free? Sign up for the TopSheet Daybreak Education Newsletter.
Get stories like these delivered straight to your inbox. Sign up for The 74 Newsletter