EduClips: Fate of 50 NYC Turnaround Schools to Be Decided This Year, Mayor Says; TX Won't Pay to Educate Migrant Kids in Shelters — and More Must-Reads From America's 15 Biggest School Districts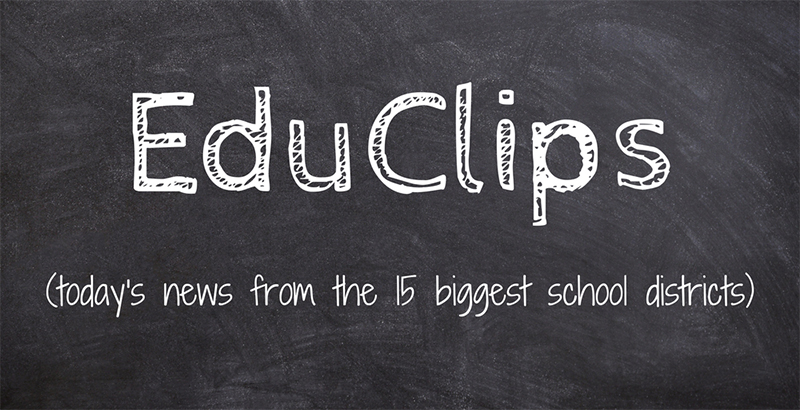 EduClips is a roundup of the day's top education headlines from America's largest school districts, where more than 4 million students across eight states attend class every day. Read previous EduClips installments here. Get the day's top school and policy news delivered straight to your inbox by signing up for the TopSheet Education Newsletter.
Top Story
KAVANAUGH — Judge Brett Kavanaugh, who is in the midst of a heated confirmation hearing, has been clear that he backs school choice, predicting that the Supreme Court would uphold vouchers and working in 2000 to defend a publicly funded state scholarship program that allowed Florida students to attend private and parochial schools.
Should he be confirmed and join the court, there's a very good chance he could consider another case concerning school choice and the appropriate role of government funding for religious schools.
The Supreme Court ruled 7-2 last year, in a case known as Trinity Lutheran, that a religiously affiliated preschool couldn't be excluded from a state grant program that provided upgraded safety materials for playgrounds simply because it was run by a church. (Read at The74Million.org)
National News
TEACHERS — The Second Shift: What Teachers Are Doing To Pay Their Bills (Read at The New York Times)
STUDENT ACHIEVEMENT — State Grades on K-12 Achievement: Map and Rankings (Read at Education Week)
GREEN SCHOOLS — What Are Schools Doing to Go Green? (Read at The New York Times)
District and State News
NEW YORK — Mayor de Blasio says fate of 50 turnaround schools will be decided this year (Read at Chalkbeat)
TEXAS — Texas won't pay to educate migrant kids in shelters. Now two charter schools are scrambling. (Read at the Texas Tribune)
PENNSYLVANIA —Teachers leave Philly schools at especially high rates, new study says (Read at the Philadelphia Inquirer)
NEW YORK — 74 Interview: NYC Schools Chief Richard Carranza Talks Integration, Smart Parents, Renewal Schools, and Quality Assurance Across 1,800 Schools (Read at The74Million.org)
CALIFORNIA — Start of school met with teacher unrest in the West Coast (Read at Politico)
PUERTO RICO — Bienvenidos! JCPS battles teacher shortage by recruiting from Puerto Rico (Read at Insider Louisville)
TEXAS — Texas expects thousands more special education students. But where are the teachers? (Read at the Houston Chronicle)
CALIFORNIA — It's too early to move all California middle and high schools to a later start (Read at the Los Angeles Times)
HAWAII — Hawaii DOE Looks to Strengthen Its Student Discipline Code (Read at Honolulu Civil Beat)
NEVADA — Discipline policy change will surrender classrooms to problems (Read at the Las Vegas Review-Journal)
Think Pieces
TEACHING — Raising Student Performance the Right Way: Can Good Teaching Be Taught? (Read at The New York Times)
PARENTS — Rich parents are paying millions to be able to walk their kids to school (Read at Business Insider)
CHARTERS — Shuls: Do Charter Schools Take Districts' Money? Only If You Think Children, and the Funding That Comes With Them, Are District Property (Read at The74Million.org)
NEW BOOK — From Poverty to Rocket Scientist to CEO, a Girl Scout's Inspiring Story (Read at NPR)
PERSONALIZED LEARNING — A "handmade forerunner" of personalized learning, forged by teachers (Read at The Hechinger Report)
Quote of the Day
"I do believe one of these cases will ultimately have to be decided by the Supreme Court. There is the open question left after Trinity Lutheran … as to whether or not states may rely on their Blaine Amendments to exclude religious options from school choice programs." —Tim Keller, senior attorney with the Institute for Justice, which brought several of the cases. (Read at The74Million.org)
Want the day's top school and policy news delivered straight to your inbox — for free? Sign up for the TopSheet Daybreak Education Newsletter.
Support The 74's year-end campaign. Make a tax-exempt donation now.