EduClips: Congress Moves to Overhaul Higher-Ed Act; Hitting 'Pause' in Texas Schools Post-Harvey — and More Must-Reads From America's 10 Biggest School Districts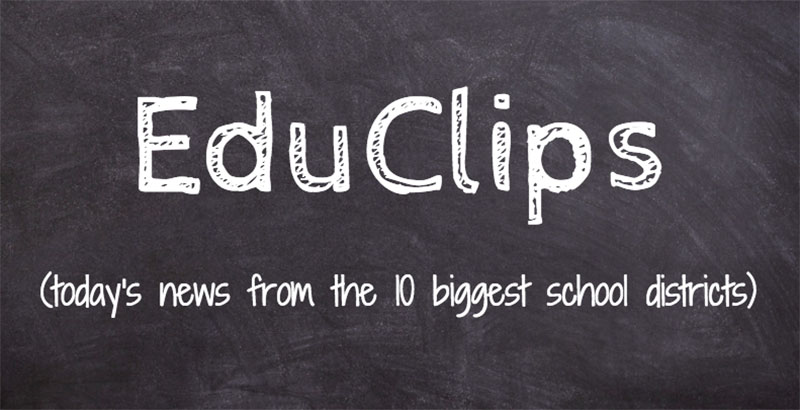 EduClips is a roundup of the day's top education headlines from America's largest school districts, where more than 4 million students across eight states attend class every day. Read previous EduClips installments here. Get the day's top school and policy news delivered straight to your inbox by signing up for the TopSheet Education Newsletter.
Top Story
HIGHER EDUCATION — On Tuesday, Congressional Republicans embarked on an extensive rewrite of the nation's higher education laws. While many elements pursue bipartisan goals, such as simplifying the federal financial aid process, some elements could dismantle Obama-era regulations designed to protect students from predatory for-profit colleges. (Read at The New York Times)
National News
POLITICS —  Most Educators at Least Slightly Wary of Wading Into Politics, Survey Says (Read at Politics K-12)
ENGAGEMENT — Only Half of Students Think What They're Learning in School Is Relevant to the Real World, Survey Says (Read at The74Million.org)
District and State News
TEXAS — Abbott suggests hitting pause button in grading schools hit hardest by Harvey (Read at Chron)
ILLINOIS — Top Chicago Public Schools attorney resigns following ethics probe that led to CEO's exit (Read at Chicago Tribune)
CALIFORNIA — L.A. school board sticks with early start for school (Read at Los Angeles Times)
NEVADA —  Charter school authorization process puts Clark County in a bind (Read at Las Vegas Review-Journal)
FLORIDA — How safe is your child's school zone? This map will show you. (Read at Miami Herald)
NEW YORK — As budget talks begin, top New York lawmaker eyes cuts from Washington (Read at Chalkbeat)
CALIFORNIA — Big changes in requirements to become a special education teacher in California (Read at EdSource)
NEVADA — Clark County School employees sue Teachers Health Trust (Read at Las Vegas Review-Journal)
Think Pieces
RESEARCH — 10 Charts That Changed the Way We Think About America's Schools in 2017 (Read at The74Million.org)
SEGREGATION  — Opinion: Do Black Students Need White Peers? (Read at Wall Street Journal)
CIVICS — Teaching the 'unwritten Constitution' (Read at Brookings)
UNIONS — When union protections disappear, poor schools lose teachers, new research finds (Read at Chalkbeat)
Quote of the Day
"States should require every potential high school graduate to pass a test on the reasoning behind core democratic values, and civics teachers should be evaluated on what proportion of their students pass. Getting the passing rates up might take some time, since teachers would have to understand the principles and be willing to wade into issues and field challenges from offended parents." —Paul Hill, founder of the Center on Reinventing Public Education. (Read at Brookings)
Want the day's top school and policy news delivered straight to your inbox — for free? Sign up for the TopSheet Daybreak Education Newsletter.
Get stories like these delivered straight to your inbox. Sign up for The 74 Newsletter