Only Half of Students Think What They're Learning in School Is Relevant to the Real World, Survey Says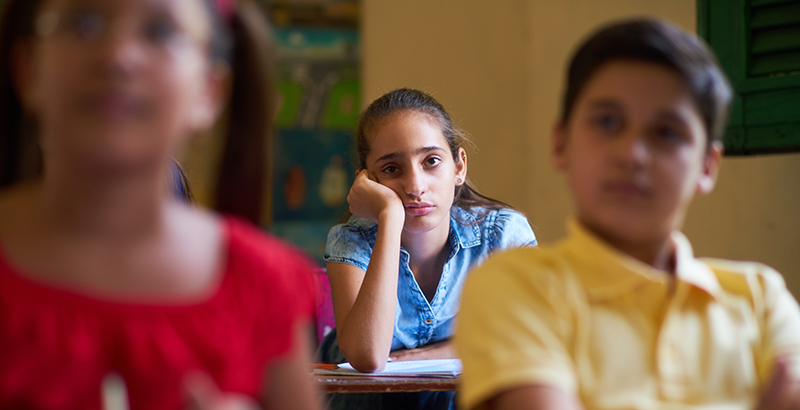 About half of students do not feel that what they learn in school will help them outside the classroom, according to a new survey.
Just 54 percent of middle schoolers and 46 percent of high schoolers think their studies are relevant, according to new data from the nonprofit YouthTruth. Relevance was rated lowest on the survey of various measures of student engagement: if students take pride in their work, if they enjoy going to school, if their schoolwork is relevant, if they try to do their best, and if their teachers' expectations help them with that goal.
Still, the majority of students — 78 percent of elementary students and about 60 percent of middle and high school students — say they are engaged in school.
"It is disheartening to hear that less than half feel what they're learning in school feels relevant," said Jen Wilka, executive director at YouthTruth. "Our nation's schools are under a lot of pressure with academic testing and standards, they are operating with fewer resources than they deserve, so there is a lot of pressure and not as much room for creativity as ideally there should be."
If schools could show students how their learning applies in the real world, this would be a big boost to engagement numbers, Wilka said.
Girls are most likely to report taking pride in their work: 74 percent, compared with 66 percent of boys and 44 percent of students who identify their gender in another way.
Half of students say they enjoy going to school most of the time.
Engagement is higher in smaller schools, where 68 percent are engaged, compared with 57 percent at large schools.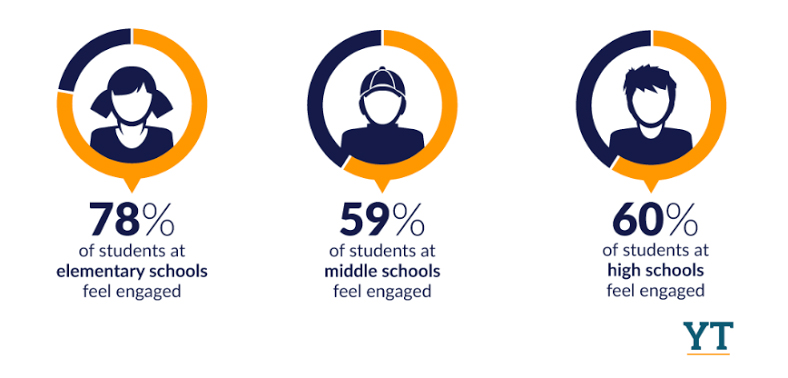 The data were collected from 233,982 students in grades 3 to 12 from 2012 to 2017. The survey is not nationally representative, as the data came only from schools that use YouthTruth for school climate survey research. Elementary students do not report race; the secondary students are 34 percent Latino, 22 percent white, 18 percent black, 10 percent multi-racial, and 5 percent Asian.
The data reflect past research that shows student engagement numbers are generally between 40 and 60 percent. A 2013 Gallup poll also found that engagement decreases as students continue through school. Eight in 10 elementary students reported that they were engaged, compared with 6 in 10 middle schoolers and 4 in 10 high schoolers.
According to a 2011 report on the literature surrounding student engagement, interest in the field has been developing over the past two decades as policymakers and educators look for solutions to low achievement and the dropout rate. "For many students, dropping out of high school is the last step in a long process of disengagement," the authors wrote. Terms like project- or place-based learning have become solutions for some schools to bring the real world into the classroom.
"We know from the existing and growing body of research that student engagement is one really important component of creating a positive school culture, and we know creating positive school culture is relevant for student success academically and in life," Wilka said.
Get stories like these delivered straight to your inbox. Sign up for The 74 Newsletter