EduClips: Carranza Urges NYC Students to Avoid Friday Walkout; State Bullying Laws Weigh Safety, Privacy Concerns — and More Must-Reads From America's 15 Biggest School Districts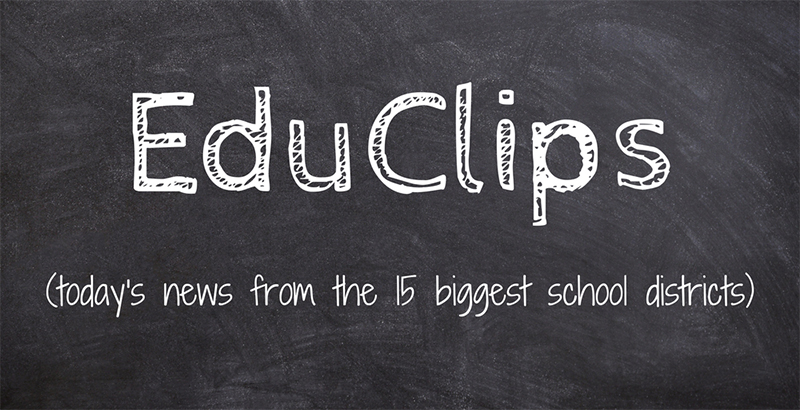 EduClips is a roundup of the day's top education headlines from America's largest school districts, where more than 4 million students across eight states attend class every day. Read previous EduClips installments here. Get the day's top school and policy news delivered straight to your inbox by signing up for the TopSheet Education Newsletter.
Top Story
SCHOOL SHOOTINGS — A majority of U.S. teens are fearful of a shooting taking place in their school, and their parents are similarly concerned, according to a new survey from the Pew Research Center.
In the wake of the mass shooting that killed 17 students and educators at a Parkland, Fla., high school in February, 57 percent of teens ages 13–17 report being "very worried" or "somewhat worried" about a shooting in their own schools, according to Pew. Just 13 percent of the teenagers who responded to the survey said they were not at all worried.
Pew conducted the survey in March and April, in the weeks following the massacre in Parkland — the deadliest school shooting in an American high school — and amid the massive student walkouts and marches that have taken place across the country in support of ending gun violence in schools and communities. Another wave of student walkouts is set for April 20, which marks the 19th anniversary of the mass shootings at Columbine High School in Colorado. (Read at Education Week)
National News
BULLYING — 'Jacobe's Law' Would Make New York the Latest State to Require Schools to Notify Parents When Children Are Bullied. But Critics Cite Safety, Privacy Concerns for Outed Youth (Read at The74Million.org)
TEACHER PROTESTS — Arizona teachers begin voting on whether to strike (Read at The Hill)
BARBARA BUSH — Remembering Former First Lady Barbara Bush, an Advocate for Literacy (Read at Education Week)
CIVIL RIGHTS — A Civil Rights Activist Filed Thousands of Disability Complaints. Now the Education Department Is Trying to Shut Her Down (Read at The74Million.org)
SCHOOL SAFETY — School Safety Forum Held by Florida Senators Highlights Prevention, Security (Read at Politics K-12)
SANDY HOOK — Parents of children who died in Sandy Hook shooting sue Alex Jones for defamation (Read at The Hill)
SCHOOL SAFETY — 8-year-old arrested after allegedly bringing gun to elementary school (Read at The Washington Post)
District and State News
NEW YORK — Carranza discourages student participation in Friday's gun violence walkout — which could come with consequences (Read at Chalkbeat)
PUERTO RICO — In Puerto Rico, the public pushes for more say in school reform (Read at The Christian Science Monitor)
CALIFORNIA — The power game behind the search for a new L.A. schools leader (Read at the Los Angeles Times)
ILLINOIS — Medical Marijuana for School Students Approved by Illinois House (Read at CBS Chicago)
NEVADA — Clark County teachers protest district's pay freezes (Read at Education Week)
CALIFORNIA — Big money from charter backers has potential to reshape governor's race (Read at the Los Angeles Daily News)
HAWAII — Are Hawaii Schools Doing Enough to Address Bullying? (Read at the Honolulu Civil Beat)
NEW YORK — It's now easier for siblings to attend the same NYC school. Here's how that could affect transfers, gifted programs and diversity. (Read at Chalkbeat)
TEXAS — Why do cities, counties and school districts have wacky boundaries? Curious Texas brings the history (Read at Dallas News)
Think Pieces
ESSA — ESSA Analysis: Betsy DeVos Set the Rules for States' New Education Plans, So Why Is She Blaming Local Leaders for Following Them? (Read at The74Million.org)
TEACHER STRIKES — The Teacher Strikes Show That Workers Are Really, Finally, Fed Up (Read at Fast Company)
SEGREGATION — OPINION: Six decades later, Brown v. Board of Education ruling is still only an aspiration (Read at The Hechinger Report)
Quote of the Day
"I believe in civil rights. I believe they are the fabric of America, and I have said since Trump was elected that the one thing his administration couldn't take away from me and others was the right to file a civil rights complaint." —Marcie Lipsitt, a Michigan advocate for students with disabilities, on the U.S. Department of Education's decision to close pending civil rights investigations brought by "mass filers" that it said place an "unreasonable burden" on resources. (Read at The74Million.org)
Want the day's top school and policy news delivered straight to your inbox — for free? Sign up for the TopSheet Daybreak Education Newsletter.
Get stories like these delivered straight to your inbox. Sign up for The 74 Newsletter