EduClips: Battling Segregation in NYC and Chicago; Cold Front Reveals Poor School Infrastructure — and More Must-Reads From America's 10 Biggest School Districts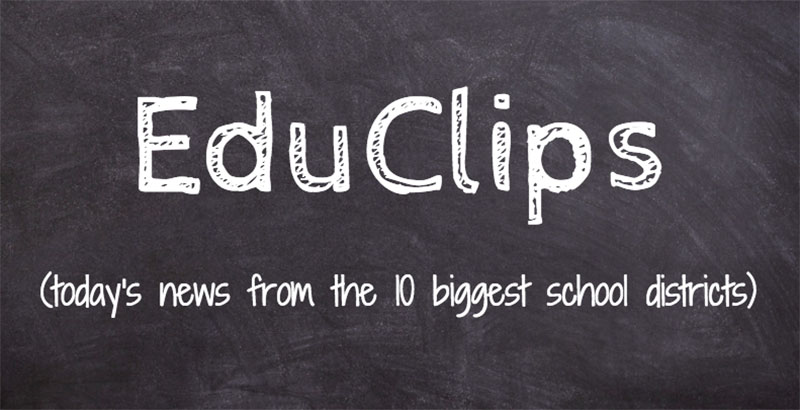 EduClips is a roundup of the day's top education headlines from America's largest school districts, where more than 4 million students across eight states attend class every day. Read previous EduClips installments here. Get the day's top school and policy news delivered straight to your inbox by signing up for the TopSheet Education Newsletter.
Top Story
SCHOOL INFRASTRUCTURE — Unusually cold weather along the East Coast this month forced some schools to cancel class for lack of heat, raising concerns about the state of infrastructure and equity in the nation's schools. Perhaps the most publicized and criticized, Baltimore City Public Schools, closed all schools for two days last week after 60 schools reported heating problems.
The 2017 Infrastructure Report Card gave American public schools a grade of D+ overall and noted that 53 percent of schools need repairs, renovations, and modernization to be considered "good." (Read at The74Million.org)
National News
HIGH SCHOOL — Held back, but not helped: Louisiana reverses course on its strict policy to hold back students who fail standardized tests instead, it will add supports to help them pass (Read at The Hechinger Report)
IMMIGRATION — Teacher v. Trump: How an Educator's Lawsuit (Temporarily) Halted the President's DACA Repeal (Read at The 74Million.org)
SCHOOL TURNAROUND — Trump Education Dept. Advises States on Leftover School Turnaround Money (Read at Politics K-12)
District and State News
ILLINOIS — School Segregation In Chicago: What The Data Shows (Read at The Patch)
NEW YORK — New York's most segregated school districts can now apply for integration training (Read at Chalkbeat)
CALIFORNIA — Gov. Brown proposes ambitious education agenda in his final state budget (Read at EdSource)
NEW YORK —A possible hurdle as New York City searches for a new schools chief: low pay (Read at Chalkbeat)
NEVADA — Clark County School Board aims to find new superintendent by mid-April (Read at Las Vegas Review-Journal)
TEXAS — Low scores, falling enrollment likely to close five Dallas schools (Read at KHOU)
ILLINOIS — Rauner vetoes part of education reform laws (Read at Illinois News Network)
Think Pieces
ESSA — Rotherham: From Planning to Practice, 2018 Is the Year the Every Student Succeeds Act Gets Interesting (Read at The74Million.org)
TEACHERS — Why Are Our Most Important Teachers Paid the Least (Read at The New York Times)
HIGHER EDUCATION — Higher Education Is Drowning in BS. And it's morally corrosive to society (Read at the Chronicle of Higher Education)
INNOVATION — 3 Biggest Education Innovation Questions For 2018 (Read at Forbes)
HATE SPEECH — Henry Louis Gates Brilliantly Anticipated Today's Illiberal Movement to Ban Hate Speech (Read at Tablet)
Quote of the Day
"I didn't want them to think that I was just going to do nothing. I told them, 'No, I'm going to fight.' " — Miriam Gonzalez Avila, Los Angeles teacher and DACA recipient, on what she told her students about her decision to file suit against President Trump to fight the repeal of the law. (Read at The 74Million.org)
Want the day's top school and policy news delivered straight to your inbox — for free? Sign up for the TopSheet Daybreak Education Newsletter.
Support The 74's year-end campaign. Make a tax-exempt donation now.