NewsfeedEduClips: Today's Top Education News &nbspEduClips: After Near-Miss in Seattle, LAUSD Teachers May Be Next to Strike; Carranza Set to Approve Integration Plan for Brooklyn Schools — and More Must-Reads From America's 15 Biggest School Districts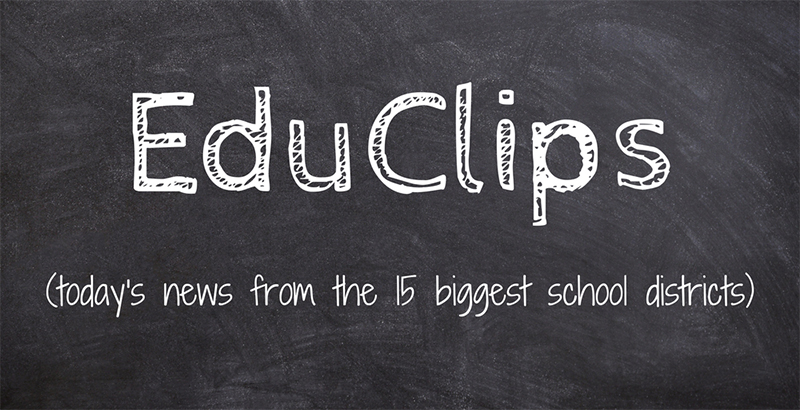 EduClips is a roundup of the day's top education headlines from America's largest school districts, where more than 4 million students across eight states attend class every day. Read previous EduClips installments here. Get the day's top school and policy news delivered straight to your inbox by signing up for the TopSheet Education Newsletter.
Top Story
DEVOS — Education Secretary Betsy DeVos came to Washington to promote the cause of her life — school choice. Republicans controlled both the House and Senate. President Trump had promised a $20 billion program.
But more than a year and a half later, the federal push is all but dead.
That's partly because DeVos herself emerged badly damaged from a brutal confirmation process, with few people — even in her own party — interested in taking up her pet cause.
She's also been stymied by division among Republicans over the idea of federal incentives for school choice. And Democrats are united against her. (Read at The Washington Post)
National News
BOOKER — EXCLUSIVE: Senator Cory Booker Speaks Out About Newark School Reform, Equity, and Mark Zuckerberg's Millions Ahead of a Possible Run for the Presidency (Read at The74Million.org)
SCHOOL SECURITY — Will States Allow Districts to Arm Educators Using Federal Funds? (Read at Politics K-12)
U.S. EDUCATION DEPARTMENT — Senior executives at Education Department may be pushed into new jobs (Read at The Washington Post)
KAVANAUGH — A Parkland Victim's Dad Tried to Meet Brett Kavanaugh but Made Waves Instead (Read at Politics K-12)
SCHOOL SECURITY — Teaching in the Age of School Shootings (Read at The New York Times)
ED TECH — 5 Big Tech Trends Worth Watching This School Year (Read at Education Week)
ARIZONA — Arizona Lawmakers Cut Education Budgets. Then Teachers Got Angry. (Read at The New York Times)
DUNCAN — Arne Duncan: Betsy DeVos Turns a Blind Eye to Injustice (Read at Education Week)
District and State News
CALIFORNIA — Teachers' Strike Narrowly Avoided in Seattle, but Los Angeles Might Be Next (Read at Education Week)
NEW YORK — Carranza is ready to approve an integration plan for Brooklyn middle schools. Here's a guide to the potential changes. (Read at Chalkbeat)
TEXAS — Texas schools agency botched award of huge no-bid contract on special ed student data, audit finds (Read at Dallas News)
NEW YORK — The Test That Changed Their Lives (Read at The New York Times)
FLORIDA — Florida, schools getting $95.8 million for Puerto Rico students (Read at Florida Politics)
CALIFORNIA — Expanded suspension ban gets approval from California Legislature (Read at EdSource)
TEXAS — With rising property taxes, TEA asks lawmakers for less school money (Read at KXAN)
NEVADA — Test results show Nevada students improving in English, math (Read at the Las Vegas Review-Journal)
FLORIDA — If we close the academic achievement gap, kids and community will reap the rewards (Read at the Miami Herald)
ILLINOIS — Illinois libraries receive grants for after-school programs (Read at Associated Press)
Think Pieces
TEACHER PAY — The salary slide: as other professionals see growth, teachers' pay stagnates, new report finds (Read at Chalkbeat)
PRIVATE SCHOOLS — Private School Advantages Overhyped, Study Says, Offering Fodder to Vouchers' Critics (Read at The74Million.org)
INDIANA — Commentary: 5 Lessons From an Indiana District That Worked With an Outside Partner to Turn Around Its Troubled Schools (Read at The74Million.org)
RACE — OPINION: Confessions of a white teacher in an urban school (Read at The Hechinger Report)
Quote of the Day
"I would rather that my neighbors go to a great school and hate me, than love me and continue to go to a bad school." —Sen. Cory Booker, who as mayor of Newark, New Jersey, oversaw the city's contentious school reform efforts. (Read at The74Million.org)
Want the day's top school and policy news delivered straight to your inbox — for free? Sign up for the TopSheet Daybreak Education Newsletter.
Submit a Letter to the Editor