Democrats Look to Win Elections and Big Education Victories — in the South. No, Seriously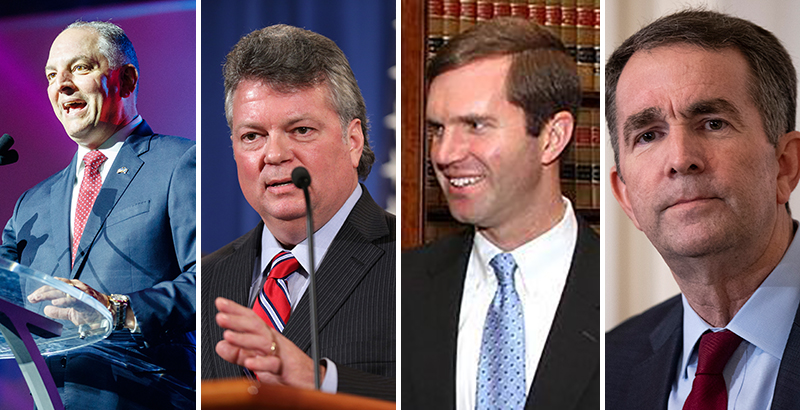 The results of several elections on Tuesday — and, in Louisiana, next Saturday — will help decide who governs in four Southern states, and the fate of public education will play no small role in determining the victors.
Under normal circumstances, they wouldn't raise many eyebrows: While President Trump's relative popularity in each state will influence their outcomes, they have no true national implications. And the South has gradually become one of the least competitive battlegrounds in the country as Republicans have swept statewide offices and entrenched deep-red majorities in legislatures.
Yet this year, polls are tight across the board. In Mississippi, Louisiana and Kentucky, Democrats have a healthy shot at winning or holding governors' offices. In Virginia, they could finally break through and take control of the General Assembly, giving the party unified control over state government for the first time in 26 years. In all four states, the key to a blue breakthrough could be education, which often gets sidelined in national elections by hot-button topics like abortion or immigration.
In an interview with The 74, Mason-Dixon Polling & Strategy CEO Brad Coker noted that all three Democratic gubernatorial candidates had temporized on culture war narratives by "lining up right up with their Republican opponents … and taking the social issues off the table. Their strategy has been, 'Let's focus on schools, which cuts across party lines.'"
"In each of these states, you have competitive Democratic candidates," he continued. "And in the South, which has been very, very red recently, that in and of itself is noteworthy. Part of that equation, at least for the last year, has been to focus as much as possible on local issues, with education usually topping the list."
Whether the gambit will succeed will become clear in a little over three weeks.
Mississippi: Can the Democrats' ideal candidate win?
Mississippi is among the most comfortable places in the country for Republicans to get elected. Though the party has only held unified control over state government since 2012 — a vestige of the old-school Southern Democratic hold over the area — residents haven't favored a Democratic presidential candidate since Jimmy Carter, and virtually all prominent politicians in the state ride with the GOP.
Well, Democrats have nominated the exception to the rule: four-term Attorney General Jim Hood, who is running against Lt. Gov. Tate Reeves this year. The latest polling puts Hood just three points behind Reeves, who had to spend millions to vanquish primary opponent Bill Waller, the longtime chief justice of the state supreme court. Waller has since declined to endorse Reeves, which would have gone a long way toward binding up the party's wounds heading into November.
The general election has been no less truculent, with part of the energy stemming from big disagreements on education policy. Despite running in one of the reddest states in the country, Hood has made huge increases in school spending — including a $3,000 teacher pay raise and universal pre-K for Mississippi children — one of the hallmarks of his campaign. In fact, both have called for a pay bump, a testament to the state's persistently low salaries for teachers and classroom aides.
In making a bid for their support, though, Reeves committed a noteworthy faux pas, filming an education-focused advertisement at a private school funded by one of his own campaign donors. He also agitated local teachers unions earlier this year by working to send more money to a state program subsidizing private school tuition for special needs students. The wave of teachers' strikes over the past two years has mostly bypassed the Deep South, but angry educators could prove a huge asset to Hood.
Still, Coker says the state's overwhelmingly Republican tilt likely puts it out of reach, even to a known quantity like Hood. While it still carries a big stick in the Northeast and Midwest, organized labor likely won't deliver a surprise victory in conservative bastions like Mississippi.
"Just because these teachers unions get behind something doesn't necessarily mean it's going to flip the table," he said. "I always hear about, 'The teachers came out for this or that,' and that may mean a lot in many, many states. In the South, it just doesn't have the same clout that it has in a state like Minnesota or New York or New Jersey."
Kentucky: RedForEd redux?
The central question in what has become a nasty re-election fight for Republican Gov. Matt Bevin is this: Can partisan loyalties overcome personality deficits?
Bevin has been the least popular governor in the country for much of his time in office (he was superseded in that dubious honor only recently, by Rhode Island's Gina Raimondo). That's largely a product of his rather pugilistic approach to politics. A conservative businessman from Louisville, Bevin first made a name for himself as a gate-crasher by embarking on a doomed primary challenge against Sen. Mitch McConnell in 2014. The next year, he rode his Tea Party cachet (and substantial fortune) to the GOP's gubernatorial nomination, earning frequent comparisons to another unfiltered outsider running for office at the time. Since then, he's continued to throw elbows at will: He infamously warned of the possibility of bloodshed in the event of a Clinton victory in 2016, and he insulted even his Republican opponents after surviving a vigorous primary challenge in May.
He has often aimed his broadsides at Kentucky's teachers. When legions of school employees walked off the job last spring as part of a wave of #RedForEd protests for higher salaries and education funding increases, he "guaranteed" that some children had been sexually assaulted while left unsupervised during the demonstrations. Similarly, he blamed the shooting of a 7-year-old in April on teachers who had launched a wave of unsanctioned "sick-outs" to close schools again.
Whatever Bevin's rhetorical excesses, it's his substantive record that has overwhelmingly driven teacher dissatisfaction over the past few years. He made Kentucky a right-to-work state in 2017, striking a serious blow against unions even before last year's controversial Supreme Court ruling in Janus v. AFSCME. This summer, he campaigned with Education Secretary Betsy DeVos in an unsuccessful effort to create a state-level voucher program to subsidize private school tuition. The Kentucky Labor Cabinet even investigated district superintendents' emails and capitol visitors' logs to identify teachers who participated in the sick-outs, threatening to fine those who repeated the tactic.
His opponent, Democratic Attorney General Andy Beshear, has energetically courted the support of alienated teachers and their allies by proposing a $2,000 pay raise and attacking Bevin for cutting education spending. The son of popular former governor Steve Beshear, whom Bevin succeeded, the attorney general has even cultivated some Republican supporters outraged over Bevin's hard-charging brand of politics. The most recent polling suggests a tie between the two men.
Still, Coker noted that Kentucky remains deep red and partial to President Trump. The governor's 2015 victory over Attorney General Jack Conway, a Democrat who led in most polls heading into Election Day, came as a surprise to many.
"When Bevin won the first time, he was actually behind in every poll by eight or nine points," he said. "Conway was ahead in every poll, and in this race, it's actually tied. Bevin is damaged goods … but Trump's approval is in the high 50s, particularly in the rural counties where Democrats need to flip votes from last time. Just as an observer of Kentucky, there have been a lot of problems with some of the polling underestimating Republicans in previous races."
Louisiana: Can a popular incumbent hold on?
Louisiana Gov. John Bel Edwards is in some ways the inverse of Matt Bevin: a well-liked Democratic office holder who has defied political gravity for years by tacking to the center. His survival, like Bevin's, is a test of whether constituents will vote against their typical partisan preferences.
The early signs suggest he's in for a fight. Edwards had hoped to win 50 percent of the state's "jungle primary" in October, which would have given him a second term automatically; instead, he garnered just 46 percent, with his two closest Republican rivals splitting 52 percent between them. The incumbent will face businessman Eddie Rispone in a second round of voting on Nov. 16, the outcome of which is now seen as a toss-up.
Political experts painted the disappointment as a reflection of national trends. Edwards triumphed over expectations to win his first term four years ago — not because of polling miscues, as Bevin had, but because Democrats have gradually been purged from statewide offices in recent years as local voters have become less willing to split their tickets. Edwards's 2015 victory was largely credited to his Blue Dog profile — he campaigned as a foe of surging budget deficits and has disappointed liberals by signing restrictions on abortion — and a significantly compromised opponent. If Republican turnout in the runoff mirrors Louisianans' enthusiastic support for President Trump, the thinking goes, Edwards can start packing his bags now.
If he can refocus the spotlight on his record locally, including on schools, his prospects might be considerably stronger. Edwards has fought against a heavy current of reform during his time in office, unsuccessfully attempting to curb the growth of charter schools and private school vouchers. But his administration has earned plaudits more recently by securing a teacher pay raise, and he has worked with Republicans in the state legislature to win new funding for public schools more broadly.
Eva Kemp, director of the Louisiana chapter of the advocacy group Democrats for Education Reform, says the organization will throw all of its support behind Edwards's re-election bid. Whatever their early differences with the governor on issues of school choice, she said, his broader agenda — fighting for millions of dollars for the state pre-K program in his latest budget, as well as extending the juvenile age for some criminal charges to 17 — shows that "he's not just looking out for K-12; he's looking out for all low-income families and children."
"When Eddie Rispone talks about ending Medicaid expansion, when he talks about reversing the criminal justice reform, or when he talks about whether or not immigrants are welcome in Louisiana, those clearly impact public education when you think about young children growing up in this state," she said.
Virginia: Can Team Blue finally sweep? 
Unlike in the other three states, Virginia's governorship isn't up for grabs. Democratic Gov. Ralph Northam, elected in 2017, will remain in office no matter what — surprising though that might be to those who called for his ouster following the revelation that his medical school yearbook contained images depicting blackface.
But the remainder of his term will be defined by the outcome of Tuesday's legislative elections. Republicans, who once held commanding majorities in both houses of the Virginia General Assembly, are now clinging to just a one-vote majority in the state Senate and a three-vote lead in the House of Delegates. And while the Democrats' push to flip control has mostly centered on their stalled attempts to pass gun control laws, the stakes for K-12 schools are high as well.
In October, the Virginia Board of Education revised its Standards of Quality, which delineate funding mandates for educational programs in the state. The new standards call for close to $1 billion of new education spending in the next biennial budget, including large sums for school districts that serve high concentrations of low-income students.
"The biggest issue is funding, funding, funding," said Kimberly Bridges, a professor of education at Virginia Commonwealth University and a former policy analyst at the Virginia Department of Education. "The composition of the legislature will help determine whether any of those initiatives get funded."
Though total school spending has increased in Virginia over the past decade, local districts have had to chip in more as aid from Richmond has dwindled.
"We still have many school districts that are operating at levels below the Great Recession, and we have local cities and counties trying to step up and cover more because the state appropriation hasn't yet returned to the funding levels of '08-'09," Bridges added.
Although a huge cash infusion may sound ambitious enough, some on the Left have set even loftier goals for what they might accomplish under unified Democratic control. One item for Northam's consideration could be a repeal of Virginia's right-to-work law, which was one of the first in the nation to be passed in 1947. Though insiders predict that the move could be a bridge too far, Northam won his first term thanks partially to the organizing strength of state teachers unions.
Given the state's prohibition on governors serving consecutive terms, as well as his own tainted political profile, Northam is likely serving his last two years in elected office. If he wants to leave a legacy, Democratic majorities could help get him there.
Get stories like these delivered straight to your inbox. Sign up for The 74 Newsletter