#EDlection2018: In Connecticut Primaries, Acclaimed Teacher Jahana Hayes Handily Wins Democratic Nomination for Congress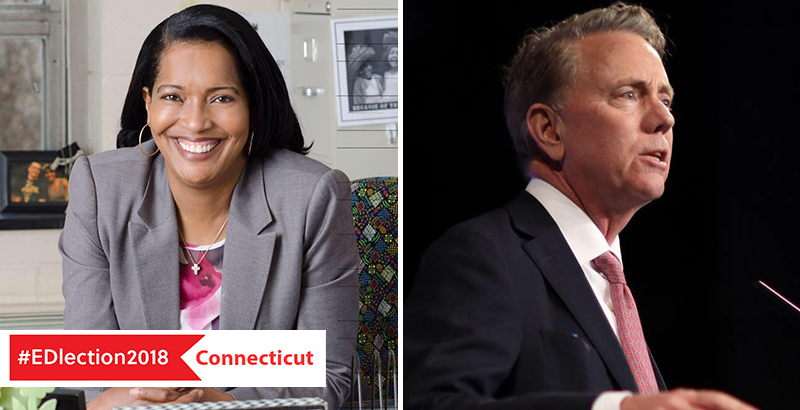 EDlection 2018: From coast to coast, The 74 is profiling a new education-oriented campaign each week. See all our recent profiles, previews, and reactions at The74Million.org/Election (and watch for our Election Night live blog Nov. 6)
Of the hundreds of educators running for office this year, the best-known is Jahana Hayes. A former National Teacher of the Year, the first-time candidate has gained national attention for waging an impressive campaign to become Connecticut's first black congresswoman.
On Tuesday night, she got closer to her goal, dispatching her Democratic primary opponent to win the party's nomination in the 5th Congressional District. Former Meriden, Connecticut, mayor Manny Santos, who won the Republican primary, will take on Hayes this fall in a contest in which she is favored.
Connecticut was one of four states to hold elections this week, a preliminary to the hotly anticipated 2018 midterms. In Wisconsin, State Superintendent Tony Evers easily won the Democratic primary to face Republican Gov. Scott Walker this fall. The two candidates have already spent months sniping at each other over the issue of education.
In Connecticut, Hayes won a surprisingly large victory against opponent Mary Glassman, a local city official and well-known politico who had been seen as an early favorite in the race. Hayes rode to victory partially on the strength of her background as a former teen mother who escaped poverty to become an acclaimed educator.
Both women ran as progressives, advocating for increased education spending and opposing the policies of U.S. Secretary of Education Betsy DeVos. The main point of contrast between the two lay in depth of experience. Glassman maintained that years spent in politics made her the more seasoned choice, while Hayes countered that her life struggles qualified her to represent voters from tough cities like her hometown of Waterbury. In a year when novice candidates have made startling gains in Democratic primaries, Hayes won handily, 62 percent to 38 percent.
Santos prevailed in a three-way GOP contest against businessman Rich DuPont and psychologist Ruby Corby O'Neill. Though the 5th District, which contains most of western Connecticut, is seen as the most competitive district in the state, all three Republicans faltered in their fundraising totals, and Santos is seen as a long-shot candidate against Hayes.
Santos has advocated for the repeal of the Common Core State Standards and says that the federal government should play "no role" in overseeing local schools.
The Hayes-Santos face-off wasn't the only race highlighted on Tuesday. Though Connecticut is one of the most reliably Democratic states in the country, the governor's race has been rated as a toss-up by election forecasters on account of Democratic Gov. Dannel Malloy's striking unpopularity around the state. Malloy is not running again.
Ned Lamont, a wealthy telecommunications entrepreneur, was previously the Democratic nominee for senator in 2006, when he was defeated by incumbent Sen. Joe Lieberman. His education agenda prioritizes fixing the state's school funding formula, diversifying the teacher workforce, and promoting STEM in schools. In his victory speech Tuesday night, he proposed consolidating social services in cities and towns across the state so property taxes can be cut.
In prior campaigns, Lamont has touted his experience as a volunteer teacher in Bridgeport's Warren Harding High School — though Joe Ganim, the city's mayor and Lamont's primary opponent, accused him of exaggerating his service there.
Bob Stefanowski, who managed an upset win in the GOP primary, has vowed to eliminate Connecticut's income tax, which is a source of funding for public schools. Both men say they will work to bring down the state's soaring public pension costs, though that will require working with state teachers unions that have been known to bargain hard over benefits.
Get stories like these delivered straight to your inbox. Sign up for The 74 Newsletter