DeVos: Texas Violated Rights of Tens of Thousands of Students With Disabilities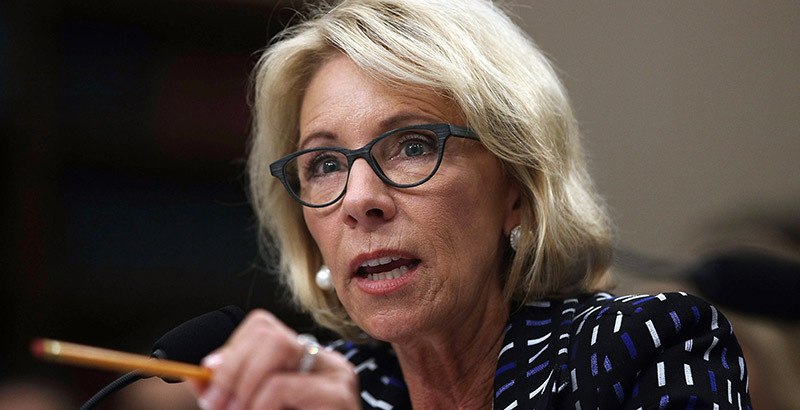 The U.S. Department of Education said Thursday that Texas violated federal special education law when education officials there adopted a policy that sought to lower the number of students eligible for disability services.
Through the policy, which effectively denied special education services to thousands of children, the Texas Education Agency failed to identify, evaluate, and educate students as required by the Individuals with Disabilities Education Act.
The Department, whose 15-month review followed an explosive investigation from the Houston Chronicle, told Texas officials that they must design a plan to identify students inappropriately denied services and find a way to assist them.
"Every child with a disability must have appropriate access to special education and related services that meet his or her unique needs," Education Secretary Betsy DeVos said in a statement. "Far too many students in Texas had been precluded from receiving supports and services under IDEA. I've worked directly with Commissioner Morath on resolving these issues, and I appreciate the Texas Education Agency's efforts to ensure all children with disabilities are appropriately identified, evaluated, and served under IDEA. While there is still more work to be done, leaders in the state have assured me they are committed to ensuring all students with disabilities can achieve their full potential."
In 2004, state officials began to evaluate school district special education programs based on whether 8.5 percent or fewer of their students received special education services. That target was eliminated last year, following the Chronicle's investigation, which found that the policy encouraged districts to deny services to students, contributing to a substantial drop in the number identified as disabled.
Read more about that investigation here.
In response to Thursday's news, Gov. Greg Abbott, a Republican, gave the state education agency seven days to draft a corrective action plan.
"The corrective action plan called for by the Governor will outline the specific steps TEA will take to address all the identified issues," Education Commissioner Mike Morath said in a statement. "Parent and special education advocacy group representatives will play an ongoing integral role in helping shape this plan, as well as all efforts of the agency in the years ahead. My top priority has and continues to be to improve outcomes for all students in Texas."
Get stories like these delivered straight to your inbox. Sign up for The 74 Newsletter