DeVos Proposes 'Microgrants' Amid Coronavirus School Closures, Continuing Push for School Choice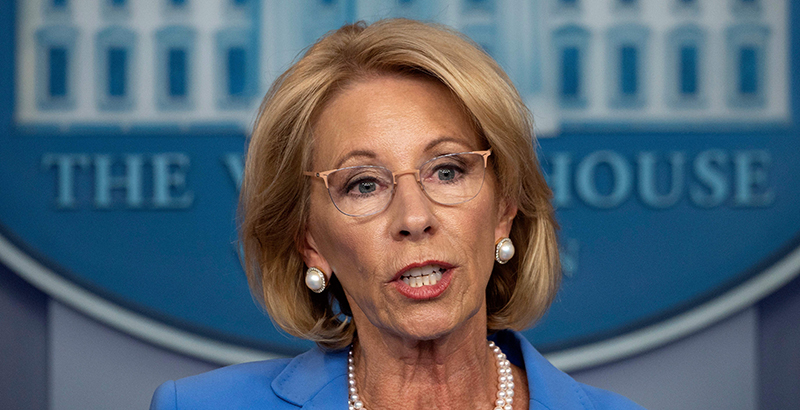 With schools across the country closed because of the coronavirus, Education Secretary Betsy DeVos urged Congress on Friday to provide "microgrants" to disadvantaged students whose schools have "simply shut down."
But to longtime DeVos followers, the proposal may sound familiar. Though she gave few specifics about the proposal when she announced it during a White House coronavirus briefing, her comments generally fell in line with her many years of school choice advocacy — in particular, her support of taxpayer-funded private school tuition.
In an email, an Education Department spokesperson said the proposed "Continue to Learn" microgrants would allocate federal funding for students to receive "educational services provided by a private or public school."
"I've always believed education funding should be tied to students, not systems, and that necessity has never been more evident," DeVos said during the briefing — comments that resembled her pre-pandemic push for "Education Freedom Scholarships." That proposal would provide federal tax credits to people who donate to school scholarship programs for private school tuition and other education expenses.
With campuses across the country shuttered as the virus spreads, many schools have transitioned to remote instruction, mostly through online learning. In six states, all public schools have been closed through the end of the academic year, according to Education Week. As of Monday, the virus had resulted in 2,405 deaths in the U.S., according to the Centers for Disease Control and Prevention.
But some education leaders have resisted the transition to remote learning. In Philadelphia, for example, the district prohibited remote learning that counts toward students' grades because of concerns that it was unable to provide equitable instruction to all students. Last week, city school officials approved a plan to buy 50,000 computers for students in order to offer remote instruction by April 17.
The Education Department spokesperson said the microgrants would allocate funding for disadvantaged students whose schools have been closed for at least a month, with an emphasis on children who receive special education or are eligible for the Supplemental Nutrition Assistance Program, which supplies food stamps. Recipients could use the federal money to buy computers and software, internet access, and instructional materials like textbooks and tutoring. For children with disabilities, the grants could be used for educational services and therapy.
The proposal would also provide money to teachers to help them "pivot to supporting all of their students in a different environment than they've been used to," DeVos said.
The proposal has already received pushback from Randi Weingarten, president of the American Federation of Teachers, who accused DeVos in a tweet of making "our lives harder." Though she said federal grants for schools is crucial, she pushed back on how DeVos characterized education leaders' response to the crisis.
"I don't know any district that 'simply shut down,'" Weingarten tweeted.
DeVos didn't specify how much money she's asking Congress to allocate or offer a timeline for when the grants may be available. But she did commend school leaders who have innovated to teach children during a time of unprecedented upheaval.
"It's an important moment to realize that learning can and does happen anywhere and everywhere," DeVos said, noting a recent conversation with Joy Hofmeister, Oklahoma's superintendent of public instruction. "She told me, 'School isn't a building. It's students, teachers and families working together to advance learning.' She's right, and that's our shared mission."
Get stories like these delivered straight to your inbox. Sign up for The 74 Newsletter