Defiance on 'Net Neutrality': Montana Governor Goes to Helena High School to Declare State's Break With FCC Mandate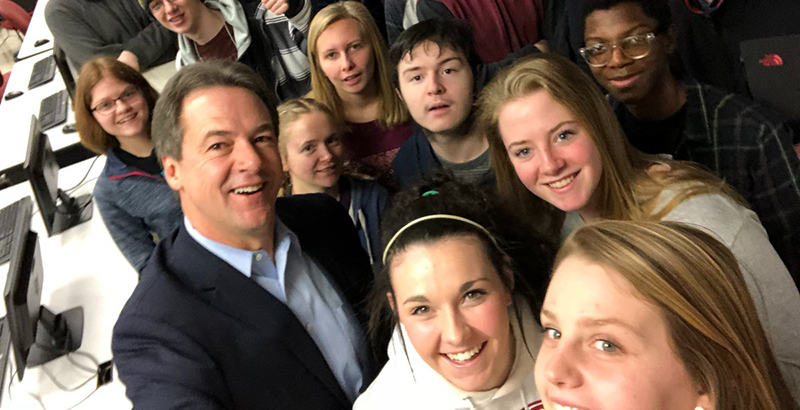 For students at Helena High School's computer science class, Monday morning began like any other start to the school week. But then, with only five minutes' notice, students in the classroom just six blocks from Montana's state capitol looked up from their screens and got an impromptu civics lesson — from the governor himself.
A month after the Federal Communications Commission dialed back Obama-era "net neutrality" rules designed to protect online consumers, Montana Gov. Steve Bullock came to class to hit back with an executive order. Bullock — a Democratic governor in a state that voted overwhelmingly for Trump in 2016 — made Montana the first state to break with the new federal rules and require all internet contracts to follow net neutrality principles. It's possible, however, that it won't be the last: Lawmakers in several states have already proposed legislation that would create similar rules, and 20 state attorneys general have sued the FCC over the repeal.
But for Montana, there's a hitch: The FCC said states could not create their own rules, so Bullock's order could face legal challenges.
In Helena, the classroom of future coders and software engineers included student body president Bryndon Wilkerson, a senior who hopes to pursue a career in computer science.
"Net neutrality ensures that all students will have full access to what they need in order to receive the best education they can get, because net neutrality protects all information," she told The 74. "All information is created and treated equally."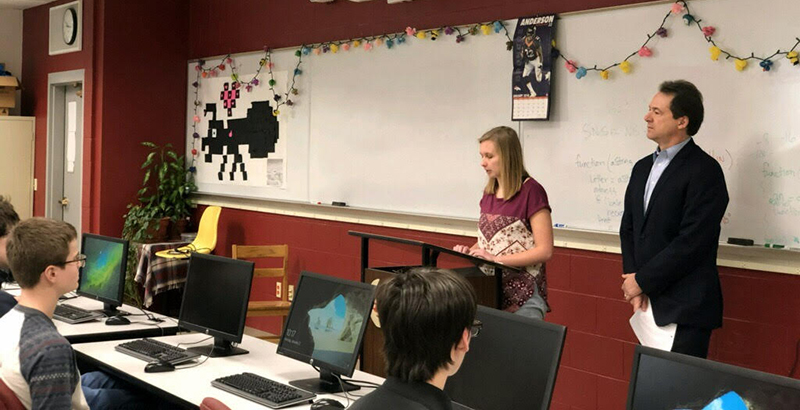 Bullock's decision to announce the change at Helena High — from which he graduated in 1984 and which his children currently attend — comes after education advocates raised concerns about how the net neutrality repeal could affect the classroom, especially those in Montana's remote rural corners.
"The loss of internet neutrality principles threatens the future of the students standing in this room," Bullock said Monday. "When the FCC repealed its net neutrality rules, it said consumers should choose. The [government] of Montana is one of the biggest consumers of internet services in our state. Today we're making our choice clear: We want net neutrality."
Adopted by the FCC in 2015, net neutrality required internet service providers — like Verizon and AT&T — to treat all web traffic the same.
In December, the FCC's five-member commission voted 3–2 along party lines to kill the rules — a decision Republicans, like FCC Chairman Ajit Pai, hail as a victory for the free market. Democrats, on the other hand, have warned that the repeal could allow internet companies to create a "tiered" system in which customers have to pay extra to access certain content.
Wilkerson, Helena High's student body president, explains it this way:
"In my calculus class, we have online homework outside of class so we can focus on learning materials during class," she said. "Without the protection of net neutrality, internet service providers can make the decision, if they want, to slow down my calculus website."
Bullock's order stipulates that, in order to receive a contract with the state, internet providers in Montana agree they won't block or throttle internet traffic or create tiered payment plans to access certain types of online content, noting that "the free and open exchange of information, secured by a free and open internet, has never been more essential to modern social, commercial, and civic life."
Although the repeal's effects on teens became the focal point of Bullock's announcement, one Helena High student likely carried the most sway: the governor's daughter.
"She wondered if there was anything he could do about it instead of just standing by and letting it happen," said Buffy Smith, Helena High's computer science teacher. Smith said Bullock signed the order in her classroom because of the issue's consequences for young people.
Reflecting on Monday's event, Wilkerson said she was excited Montana took the lead and became the first state to adopt its own rules. "It's not really a noticed state," she said. "It's a small state — more cows than people — and we are taking a stand on this and we're standing up to Trump. I hope that inspires other states to do the same thing."
Support The 74's year-end campaign. Make a tax-exempt donation now.