CDC Study Finds Teachers 'Central' To COVID Transmission When Distancing, Masks Not Enforced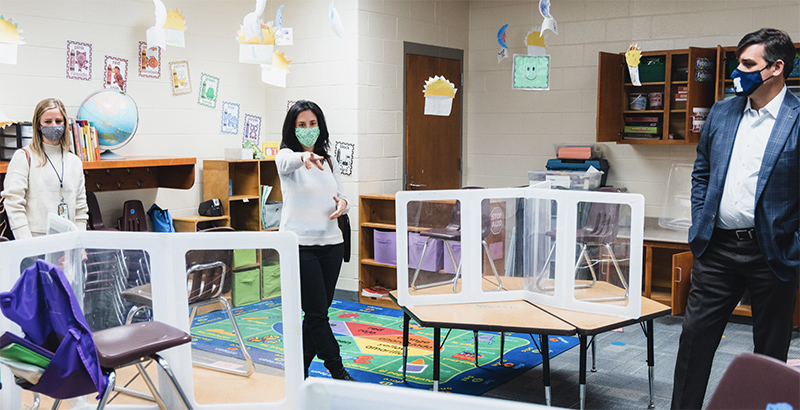 When schools don't consistently enforce precautions such as social distancing and mask wearing, teachers can play a "central" role in COVID-19 transmission, according to a Centers for Disease Control and Prevention study released this week.
Over an eight-week period that included 24 in-person school days, educator-to-educator and educator-to-student transmission in one district contributed to half of the 31 cases of the virus linked to schools, researchers found. Of 69 additional family members of the teachers and students, 18 tested positive. The study was conducted in six elementary sites in the Marietta City Schools, outside of Atlanta, Georgia.
While schools employed plastic dividers between desks, students were less than 3 feet apart in the classroom. And even though the district mandated mask use, students ate lunch in their classrooms, which might have contributed to the spread, according to the study. CDC Director Rochelle Walensky said earlier this month that "breaches in mask wearing" can increase spread.
"These findings suggest that educators can play an important role in in-school transmission and that in-school transmission can occur when physical distancing and mask compliance are not optimal," the authors wrote. They added that previous studies have shown that even when community rates are high, transmission within schools can be prevented when staff and students implement all of the safety precautions.
The study strengthens local teacher unions' argument that educators should be vaccinated before in-person learning resumes and it serves as a warning to districts considering a return to school in areas where case rates remain high. The researchers found that "small group instruction" for students and teachers having meetings or eating lunch together may have contributed to the spread.
"School buildings can be safe for teachers and kids, but the layered mitigation and testing and tracing must be implemented to curb the risk of transmission, with vaccine availability as another layer of protection," American Federation of Teachers President Randi Weingarten said in a statement. "We hope school districts examine it closely."
Marietta schools Superintendent Grant Rivera was a co-author of the study and the district has already taken additional steps in response to its findings. Teachers are now discouraged from eating together and hold more of their meetings virtually. Staff members relocated large equipment like copiers and moved furniture that took up space in workrooms and classrooms and prevented physical distancing.
"Masks are required in our district and we remind our students every day to ensure that they are worn properly," said Jen Brock, a spokeswoman for the district.
But so far, Georgia is not vaccinating teachers under age 65. Gov. Brian Kemp said last week that teachers may soon be added to the priority list.
"We continue to hope that all Georgia educators will soon be eligible as the study showed the higher occurrence of adult-to-adult transmission and the vaccine will help reduce this risk," Brock said.
According to CNN, 28 states now include teachers among those eligible for vaccines.
While the study's authors echoed Walensky's statements that schools can reopen without teachers being vaccinated, they called vaccination a "critical component" in preventing spread of the disease. They added that even after teachers are vaccinated, schools should continue to follow recommended safety measures because most children are not yet eligible for vaccines and there's still limited evidence on transmission of the virus after vaccination.
Get stories like these delivered straight to your inbox. Sign up for The 74 Newsletter