Braun Scores Upset Victory in Indiana GOP Senate Primary, Besting School Choice Advocates Rokita, Messer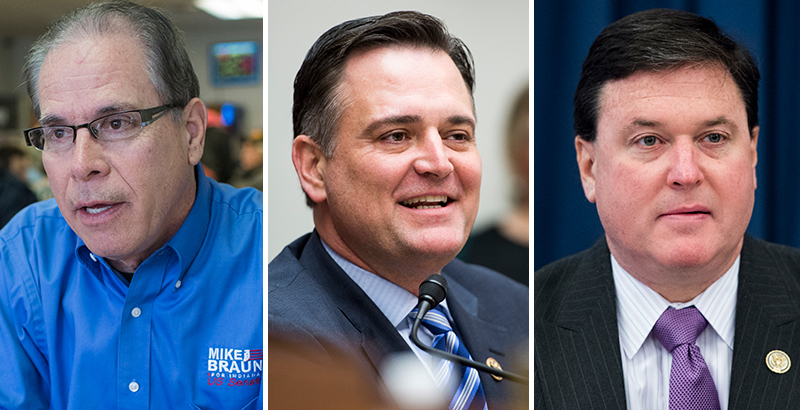 Indiana businessman and self-styled outsider Mike Braun won the Republican primary for U.S. Senate, beating out well-known Republican congressmen Todd Rokita and Luke Messer in a costly and vitriolic race.
Though Rokita and Messer, both strong school choice advocates, had substantive K-12 education records, the race didn't focus on the issue. The three GOP candidates disagreed little on policy; instead, they sniped at one another over residency, treatment of staff, and past ties to Democrats. Each tried to outdo the other in proving his fealty to President Donald Trump.
Braun, who self-funded a large portion of his campaign, ran ads portraying Rokita and Messer as indistinguishable politicians, long focused on winning, while he had real-life business experience.
Braun will face Democratic Sen. Joe Donnelly in November. Donnelly is widely considered one of the most vulnerable Senate Democrats, and control of the Senate could very easily come down to one or two seats.
The noxious tone of the primary is already affecting the general election: a Democratic super PAC released an ad last night with video of Messer and Rokita accusing Braun of buying the seat, The Indianapolis Star reported. With Braun leading the way, the candidates spent millions on ads, most of them negative, in the most expensive race in the country this year.
Braun won with about 41 percent of the vote, with Rokita taking 30 percent and Messer 29 percent.
With their terms up in the House, Rokita, who chairs of the House subcommittee covering K-12 education, and Messer, who founded the Congressional School Choice Caucus, will depart Congress at the end of the year. Messer was just honored as a "charter champion" by the National Alliance for Public Charter Schools.
Support The 74's year-end campaign. Make a tax-exempt donation now.