Behind That Nobel Prize for Economics, an Innovation for Schools? How 'Nudge Theory' Is Already Being Tested in Classrooms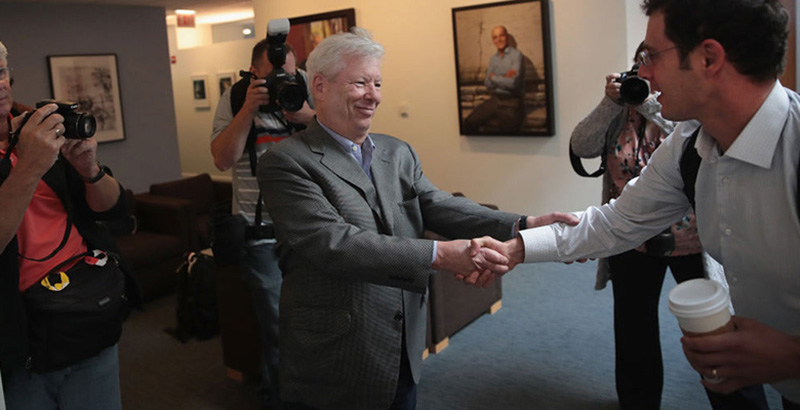 In 2015, administrators at Georgia State University turned to behavioral economics to solve an enrollment problem. The school, renowned for its success in graduating low-income and minority students, wanted to reduce the growing proportion of its freshman class that didn't make it to campus. Often stumbling through a byzantine enrollment process without assistance, almost 19 percent of admitted freshmen never matriculated.
The school enlisted the help of researcher Lindsay Page, a professor at the University of Pittsburgh who wrote the book on "summer melt." Building on her previous research with co-author Ben Castleman, the school worked with edtech startup AdmitHub to design "Pounce," a virtual assistant that communicates with students via text message with deadline reminders and instructions on how to submit complex paperwork. The results were striking: After implementing the program in 2016, Georgia State saw a 21.4 percent reduction in summer melt and a 3.9 percent increase in enrollment.
(The 74: New Tools to Fight 'Summer Melt': How One University's Texting Campaign Is Keeping Freshmen on Track)

The popular description for schemes like these is a "nudge" — a small, cheap intervention that alters a consumer's choice. Nudge theory, as it is known, is largely the product of the economist Richard Thaler, who won the Nobel Prize in economics on Monday. In awarding the prize, the Royal Swedish Academy of Sciences wrote that "Thaler's contributions have built a bridge between the economic and psychological analyses of individual decision-making."
Nudges are meant to achieve socially beneficial ends. Perhaps the most famous example, detailed in Thaler's best-selling 2008 book, is the move to make organ donor status the default for people renewing their driver's license. Thaler also suggests promoting retirement savings by enrolling employees automatically into expertly designed pension contribution plans. In both instances, subjects would easily be able to opt out — but if no actions were taken, their choices would be pushed in a useful direction with minimal outside interference.
As with any field that is heavily dependent on individual choice, nudge theory has applications in education as well. Thus far, experts have focused mainly on college enrollment, which is already beset by a thicket of forms and processes that act as a barrier against the uninitiated.
"You lose something like a third of the students — mostly poor, minority, first-generation — who are accepted to college, pay the deposit, and don't show up in the fall," said David Kirp, a professor of public policy at the University of California, Berkeley. "Kids could have changed their minds, but it's often the case that they get overwhelmed by all the stuff they've got to do: get your FAFSA stuff in, get your high school grades in, register for courses, all that stuff."
In the hopes of prodding more students to continue on to post-secondary education, some states aren't stopping with direct outreach and assistance. Idaho has killed the application altogether for in-state students at its public universities, automatically enrolling every graduating senior in either a two- or four-year program.
But the K-12 level may be even more ripe for experimentation with choice. With more than 50 million students enrolled in public elementary or secondary schools, nudges around the margins could lead to millions more gaining diplomas, completing college, and winning industry credentials. Among the small-bore interventions already being attempted:
This year, 25 states will require that their students take the SAT or ACT. By giving the test during school hours and waiving the fee for low-income students, states like Illinois, Michigan, and Colorado have partially closed their income gap in college attendance.
In 2016, the Obama administration approved a pilot program to allow authorities in five states to use Medicaid information to enroll qualified families in the federal school meals program. A targeted version of the program based in New York City increased student participation by 7 percent.
Broward County School District in Florida moved in 2005 to make gifted education screenings universal, increasing its black student participation by 80 percent and Hispanic student participation by 130 percent. Now all second-graders in the district are tested at their schools, with staff members deployed to work with families reluctant to join the program.
The cost of each nudge is low — sometimes as much as a few dollars per student. But the downstream effects for students and their families are potentially enormous.
"The bigger impact is getting people to realize you can make sense of seemingly irrational choices people make," Kirp said. "You can provide them with information that's going to affect their lives. It makes no logical sense for someone to pass on college because they can't figure out a FAFSA form. But it happens."
Support The 74's year-end campaign. Make a tax-exempt donation now.