Attorney General Sessions Announces $25 Million in Additional School Safety Funds, Saying Grants 'Will Serve Both Safety and Peace of Mind'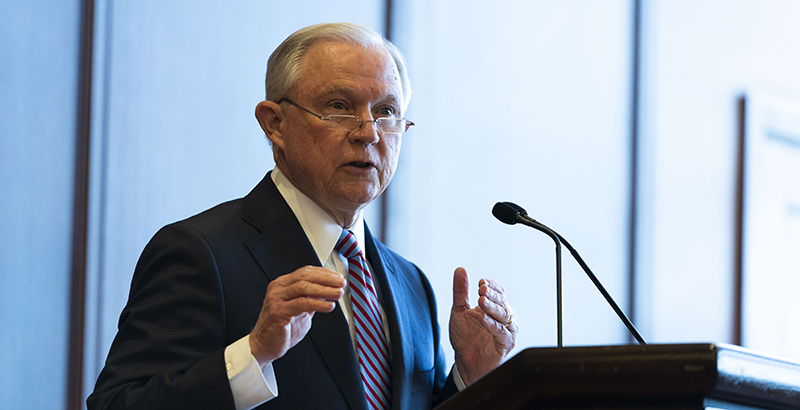 Attorney General Jeff Sessions formally announced on Monday that the Department of Justice will funnel millions of dollars in additional funding to school safety initiatives designed to curtail gun violence in the nation's schools.
Speaking at the annual National Association of School Resource Officers conference in Reno, Nevada, Sessions promised $25 million in additional funding for "better training, and for technology to improve emergency reporting" under the Students, Teachers, and Officers Preventing (STOP) School Violence Act. This funding adds to the annual $50 million appropriated under the act — which President Donald Trump signed in March — for the development and operation of reporting systems, school threat assessments, and technology such as metal detectors.
"We think that [this funding] can be very helpful. These grants will serve both safety and peace of mind," said Sessions, one of four cabinet secretaries on the federal School Safety Commission. It was unclear if the $25 million is an annual or one-time appropriation.
Supporters of the act maintain that it will provide resources to thwart school gun tragedies, while opponents say it avoids the central issue of gun control. There is scant evidence that investment in bolstered technology effectively prevents such attacks.
Sessions also took the opportunity to tout the heroic role of school resource officers in stopping, or at least lessening the severity of, several recent school-based gun incidents. There was Deputy Blaine Gaskill of St. Mary's County, Maryland, who in March "stopped a school shooter within seconds of him opening fire," Sessions said. There was Deputy James Long of Marion County, Florida, who in April "heard a gunshot at his school, and within three minutes, he had the suspect in custody." And just a month ago, Officer Mark Dallas of Dixon, Illinois, "confronted a shooter who was about to enter a school gymnasium where hundreds of students were practicing for graduation." They exchanged fire, and Dallas injured and subdued the gunman. Each of the eligible Dixon High School students graduated the following Sunday.
"Each one of you have gone above and beyond the call of duty, and each one of you has an inspiring story to share," Sessions said.
Other school resource officers not mentioned in Monday's address have also received recognition: Officer John Barnes, for example, sustained a nonfatal gunshot wound to the arm after confronting and engaging the shooter who killed 10 people in May's attack at Sante Fe High School in Texas. There are between 14,000 and 20,000 school resource officers in about 30 percent of the country's schools, according to NASRO's most recent estimations.
The last 15 minutes of Sessions's about 25 minute-long speech, however, diverted away from school safety to the heated topic of illegal immigration. Sessions emphasized that the administration's recent crackdown is on immigrants who enter the country illegally, and he reiterated the administration's long-contested assertion that swarms of criminals, gangs, and drug dealers are crossing the border without proper prosecution.
The focus on immigration comes as Sessions and the administration have faced earnest pushback across the political spectrum for their "zero tolerance" approach to immigration policy, which separated about 2,000 children from their families between April and May alone. Sessions controversially cited a Bible verse earlier this month to justify the policy.
Although the administration announced last Wednesday that it would stop separating families, Trump took to twitter Sunday to call for immediate deportation of illegal immigrants "with no Judges or Court Cases."
As tensions continue, hundreds of protesters lined up outside of the Peppermill Resort in Reno prior to Monday's address, with some attempting to block Sessions's entrance. Signs included "ABOLISH ICE" and "Lock Sessions & Trump Up."
"It's terribly important to show solidarity with the immigrant community," one protester told KRNV News 4. "…We care about [these] people."
Support The 74's year-end campaign. Make a tax-exempt donation now.