Police Officer Thwarts School Shooting in Illinois After Exchanging Gunfire, Injuring Attacker; At Least 41 Killed and 70 Injured at Schools in 2018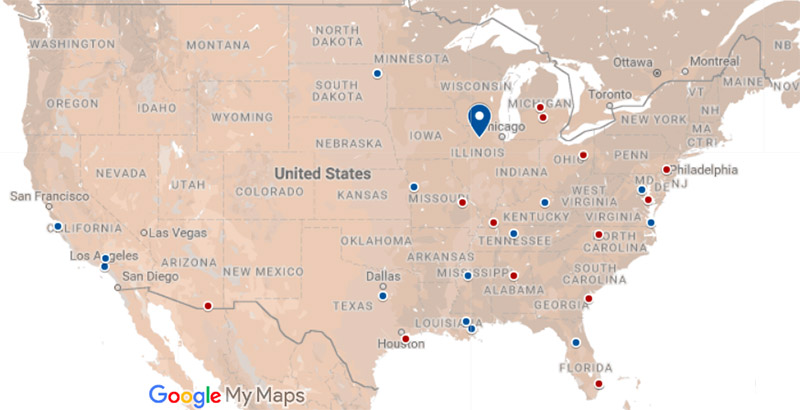 The 74 will be tracking gun-related injuries and deaths at schools throughout 2018. Bookmark this page for the latest reports, or sign up to receive updates straight to your inbox via The 74 Newsletter.
A school shooting in northern Illinois last week ended without harm to students or staff when a school resource officer shot and injured the gunman.
Seniors at Dixon High School were having a graduation rehearsal on May 16 when the suspect, identified as Matthew Milby, 19, of Dixon, opened fire shortly after 8 a.m. Mark Dallas, the school's resource officer for five years, promptly confronted Milby and chased him out of the school and down a nearby street, according to The New York Times.
Milby — identified by most media outlets as a former student — shot a few rounds at the officer but missed, law enforcement reports stated. Dallas then shot back, hitting Milby. After being treated for non-life-threatening injuries, the suspect was taken to Lee County Jail the next day and charged with three counts of aggravated discharge of a firearm, with bond set at $2 million, the Times reported. Police said the weapon, a 9-millimeter semiautomatic rifle, belonged to Milby's mother.
Authorities and politicians alike have praised Dallas for his bravery, hailing him as a "hero." He was placed on administrative leave afterward, in accordance with policy.
"I could not be more proud of the police officer and the way he responded in this situation," Dixon Police Chief Steve Howell told reporters. "Because of his heroic actions, countless lives were saved. We are forever indebted to him for his service and his bravery."
Politicians such as Illinois governor Bruce Rauner also took to social media to express their gratitude.
The May 16 shooting was one of three school shootings in an eight-day span, with a non-fatal attack on May 11 in Palmdale, California, and the massacre in Santa Fe, Texas, on May 18 that left 10 people dead. In 2018, at least 41 people have been killed and 70 have been injured due to school shootings. Learn more about each incident with our interactive map:

This map includes school shootings that took place on campus where a person was injured or killed. Incidents resulting in injury are labeled blue, while incidents resulting in death are labeled red. The most recent incident is indicated with a larger icon. Click on the icons to see details about each incident.
Behind the numbers:
Nationally, nearly 1,300 children (17 years old and younger) die from gunshot wounds each year and 5,790 are treated for injuries, according to a recent Centers for Disease Control and Prevention report. While unintentional firearm deaths and homicides of children have decreased in recent years, suicides have spiked.
Among child gun deaths between 2012 and 2014, 53 percent were homicides, 38 percent were suicides, and 6 percent were unintentional.
Less than 3 percent of youth homicides and less than 1 percent of youth suicides occur at school, according to a recent report by the National Center for Education Statistics.
If we've missed a school incident you think should be included in our coverage, please send an email to info@the74million.org, and bookmark this page for the latest reports of incidents involving the discharging of a firearm on school property that results in a wound or fatality.
Support The 74's year-end campaign. Make a tax-exempt donation now.